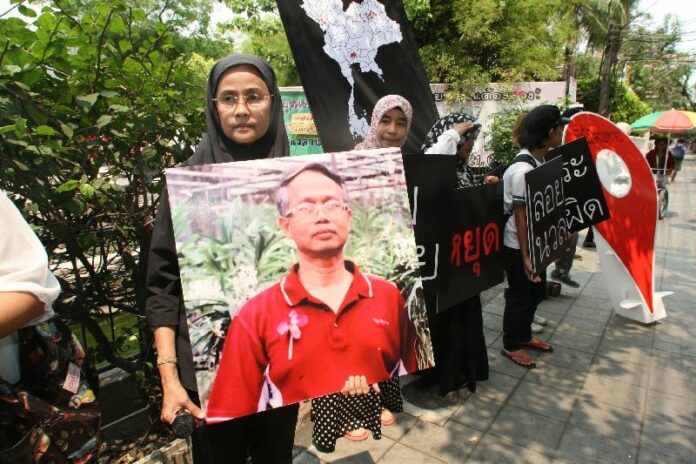 BANGKOK — Activists held a brief rally in Bangkok to mark the 11th anniversary of the abduction of a lawyer who represented suspects in human rights cases during the administration of Prime Minister Thaksin Shinawatra.
Somchai Neelapaijit was last seen at around Soi Ramkhamhaeng 69 in eastern Bangkok on 12 March 2004. Witnesses said they saw four to five men park a car next to Somchai, carry him into the vehicle, and drive away. Prior to his abduction, Somchai was representing several defendants charged with terrorism and insurgent activities in Thailand's southern border provinces.
Although Somchai's fate remains unknown, then-Prime Minister Thaksin told the press in January 2006 that Somchai was dead, citing "inside information" provided by intelligence agencies.

Activists mark the 11th anniversary of the abduction of human rights lawyerSomchai Neelapaijit in Bangkok, 12 March 2015.
Today Somchai's wife, Angkhana Neelapaijit, led a small group of activists to stage a symbolic demonstration in the alley where Somchai was abducted more than a decade ago. One of the activists held a large cutout of a location symbol in map applications with text that said: "At this spot, someone was abducted."
Speaking to reporters, Angkhana said it has been proven that Somchai's abduction was engineered by state officials, yet no government has had the "courage" to reveal the facts behind his enforced disappearance.
"There's still obscurity even to this day. The perpetrators go unpunished." Angkhana said, "My family never received justice that we have been calling for 11 years, because every government is only concerned with its own image. It doesn't care about human dignity."
Five police officers were arrested in connection with Somchai's abduction, but the court later acquitted all defendants, citing insufficient evidence. Angkhana's request for a re-opening the case was dismissed by the Criminal Court in 2014.
"Apart from Lawyer Somchai, there have been many ordinary people who were disappeared. These people insisted on their own rights, yet state officials see them as enemies," said Angkhana.
She urged Thai authorities to pass a law that specifically criminalizes forced disappearance, as advised by international human rights NGOs. Under current Thai laws, individuals suspected of abduction face the relatively milder charge of "illegal detention."
Somchai rose to fame among circles of rights activists in Thailand by representing defendants who were accused of taking up arms against authorities in the southern border provinces of Pattani, Yala, and Narathiwat – a region known as the Deep South. Shadowy insurgent groups started staging waves of attacks on the military and police in January 2004 with the aim of restoring the Islamic kingdom of Pattani, which was incorporated into modern day Thailand in the early 20th century.
At the time of his disappearance, Somchai was representing five Muslim men accused of participating in a raid on a military barrack. Somchai told the media that his clients were tortured by police while in custody, a claim Thai police vehemently denied. The five men were later acquitted in court.
The latest high-profile case of suspected abduction in Thailand involved Porlachee Rakchongcharoen, an activist known as "Billy" who challenged Thai authorities' attempts to evict Karen communities in Kaeng Krachan National Park. Porlachee was last seen when he was detained by park rangers on 17 April 2014.
Chaiwat Limlikitaksorn, chief of the Kaeng Krachan National Park, insisted that Porlachee was released hours after his detention, but the his family believes Porlachee wasabducted by park authorities because of his activism.