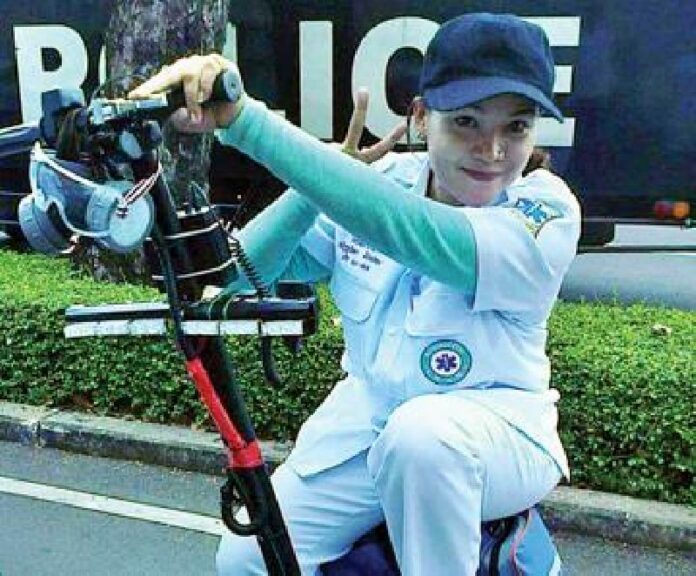 BANGKOK – A volunteer nurse who witnessed the killing of two fellow medics by soldiers in a Bangkok temple during the 2010 crackdown on Redshirt protesters has been abducted from her home by security officers, according to her family.
Nattathida Meewangpla was taken from her residence in Samut Prakarn province at around 3.30 pm on 11 March, her relatives told Khaosod yesterday.

Nattathida Meewangpla showing photos she took of the incidents on 19 May 2010 to a Khaosod reporter, 21 Feb 2012.
According to her cousin, Nattathida received a phone call from men who said they wanted to visit her home and discuss a possible land purchase. However, the potential buyers turned out to be two soldiers and three plain-clothed security officers, who arrived at Nattathida's house and ordered her to come with them for interrogation.
The soldiers said they didn't need a warrant to detain Nattathida because they were acting under martial law, according to Nattathida's cousin, who asked not to be identified by name. Martial law, which was imposed by the ruling junta last May, allows the military to detain individuals without charges for up to seven days.
Nattathida has not been heard from since the arrest, her relatives say.
"They simply told her to bring some clothes. They didn't say on what charges they arrested her," her cousin told Khaosod. "They didn't say where they were taking her, and they wouldn't let us photograph them. We have been too afraid to tell the police."
Speaking to Khaosod today, a spokesperson of the military junta denied that soldiers detained Nattathida, and suggested that "individuals with ill-intention" might have falsely claimed to act in the junta's name in order to "mislead society."
"Please be confident that every action and mission of the security officers is in accordance with boundary of the laws," said Col. Winthai Suwaree. "The enforcement of laws is also done when necessary and with clear reasons. By principle, it only affects people who violate the laws and individuals who support them."
Winyat Chartmontri, a member of the pro-bono lawyer group called Free Thai Legal Aid, said he has been appointed by Nattathida's family to seek answers from the junta about her disappearance.
The lawyer said he would visit the junta's headquarters at 1 pm tomorrow to demand an explanation about her alleged abduction.
"Such action has made her family concerned about her safety, and it constitutes a violation of human rights," said Winyat, who has represented other suspects who detained by the military since the coup.
Nattathida's boyfriend said he hasn't heard from Nattathida since 11 March, and insisted that she has not been involved in any illegal activities.
"Since I started dating her, Waen [Nattathida's nickname] liked to volunteer as medic to help people of all sides when there were protests, including Redshirts, Yellowshirts, and other groups," said her boyfriend, who requested that his name not be printed. "If the officers proceed with this case based on facts, Waen won't be found guilty of any crimes, because she has not done anything wrong."
Nattathida, a volunteer nurse, was a key witness in the 2013 court inquest concerning the deaths of six civilians inside Wat Pathumwanararm Temple during the military's final assault on Redshirt demonstrators on 19 May 2010.

Screenshot from footage of soldiers firing into Wat Pathum temple,19 May 2010.
The court ruled that soldiers who were standing on the skytrain track across from the temple were responsible for the deaths, which included two volunteer medics, Kamolkate Akhard, 25, and Akradech Khankaew, 22.
The temple had been designated as "safe zone" by authorities, and was housing hundreds of demonstrators at the time.
Speaking to Khaosod in 2012, Nattathida said she was initially afraid to participate in the court inquest.
"At first I was too scared to step forward, because I was afraid I would be harmed, and I couldn't accept what happened, but now I am ready," Nattathida said on 21 February 2012. "Medics who perform their duty in battlefields are protected by Geneva Convention. But volunteer medics who helped people [on 19 May] ended up under the hail of gunfire."
Despite the court ruling on 6 August 2013, government officials and military commanders who oversaw the crackdown have refused to take responsibility for the deaths.
Gen. Prayuth Chan-ocha, who commanded the First Region Army in 2010, told the press after the ruling that he did not want to "interfere" with court procedures, but that the inquest should not be seen as the final verdict. He also insisted that "the army never ordered anyone to harm anyone" and that "none of my subordinate officers ever admitted to shooting anyone dead."
"What happened during the protest was that the army only tried to keep the situation under control," said Gen.Prayuth, who is now Prime Minister after leading a military coup last May. "We have our legal team closely watching the issue … please stop looking at the army as the accused. The army is not the accused."
Since seizing power from a Redshirt-backed government on 22 May 2014, Gen. Prayuth has extensively curtailed civil rights in Thailand by banning political protests, intimidating the media, and detaining hundreds of individuals in army camps without warrants for interrogation and "attitude adjustment" sessions.
Last May, the junta held a Redshirt activist incommunicado for three weeks – violating the seven-day limit under martial law – before admitting to the public that she was in military custody. The activist, Kritsuda Khunasen, fled Thailand shortly after she was released and accused soldiers of torturing her while she was in their custody.