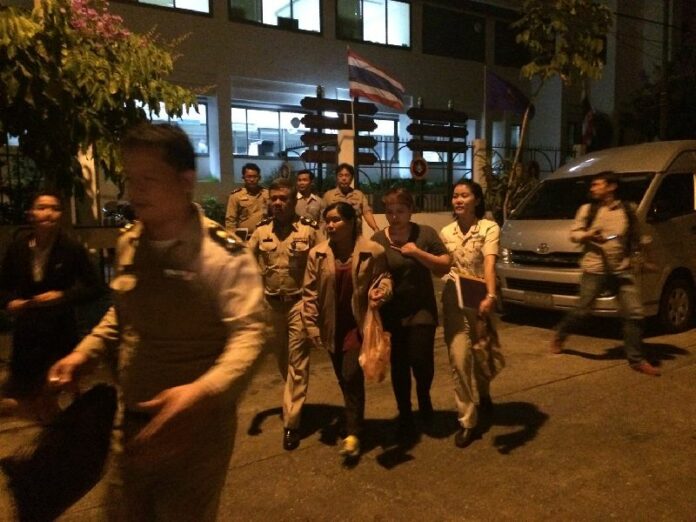 BANGKOK — Junta chairman and Prime Minister Prayuth Chan-ocha has insisted that soldiers did not harm a 36-year-old woman who was held incommunicado in military custody for six days and later accused of participating in a terror plot.
The general's comment came in response to outcry from human rights groups concerning the disappearance of former volunteer medic Nattathida Meewangpla, who was taken from her residence without explanation by five soldiers on 11 March.

Nattathida Meewangpla flashing an anti-coup hand gesture while police escort her to their HQ in Bangkok on 17 March 2015.
After six days of detention, during which Nattathida was unable to contact the outside world, soldiers transferred her to police headquarters, where she was charged with conspiring in a terror network.
According to Gen. Prayuth, the military merely "invited" Nattathida to "talk."
"We didn't arrest her at all. We simply invited her at her home for a talk, and she came," Gen. Prayuth said. "If we had announced it, there would have been a panic."
He continued, "We only invite people and release them. She understood and cooperated with us. It's only a discussion. We didn't arrest her. If we arrested her, she would have been in jail."
Nattathida is currently being held in prison while she awaits trial for terrorism charges.
"Let me stress that we never harmed her," Gen. Prayuth said. "We are even less likely to harm her because she's a woman. Can soldiers be that cruel? If so, we wouldn't have lasted til this day."
A junta spokesperson initially denied that Nattathida was in military custody, but later retracted the statement, citing a lack of communication among security units.
According to Nattathida's cousin, the five soldiers who showed up at her house on 11 March did not explain why she was needed for interrogation.
"They simply told her to bring some clothes. They didn't say on what charges they arrested her," her cousin told Khaosod. "They didn't say where they were taking her, and they wouldn't let us photograph them."
According to police, Nattathida has confessed to transferring money to members of an alleged terrorist group, but claimed to have no knowledge of their plan, which reportedly involved planting bombs in five locations across the capital city. Although the original plan was not carried out, the network successfully facilitated the grenade attack at the Criminal Court on 7 March 2015, police say.
Under martial law, which was imposed by the military junta after it seized power in May 2014, security officers can search properties without warrants and detain people without charges for up to seven days.
The junta's prolonged use of martial law and suppression of civil liberties has drawn widespread condemnation from international human rights groups.
Today, the Thai Lawyers for Human Rights Center released a statement accusing the military of torturing four men who were recently arrested in connection with the alleged militant network.
According to the lawyers, the four suspects, identified as Sansern Sri-unruen, Charnvit Jariyanukul, Norapat Luepol, and Wichai Yoosuk, were tortured into making false confessions by military officers during the period of 9 – 15 March.
Sansern told Prachatai news that soldiers slapped him in the face, punched him in the chest and rib, and kicked him in the torso. He also told Prachatai he was electrocuted "30-40" times on his legs by military officers because he refused to confess.
The four men are facing a litany of charges for allegedly belonging to the network behind the courthouse attack.