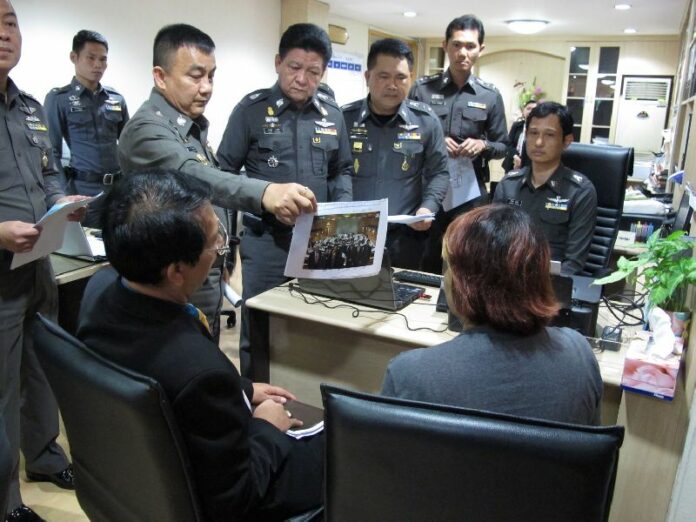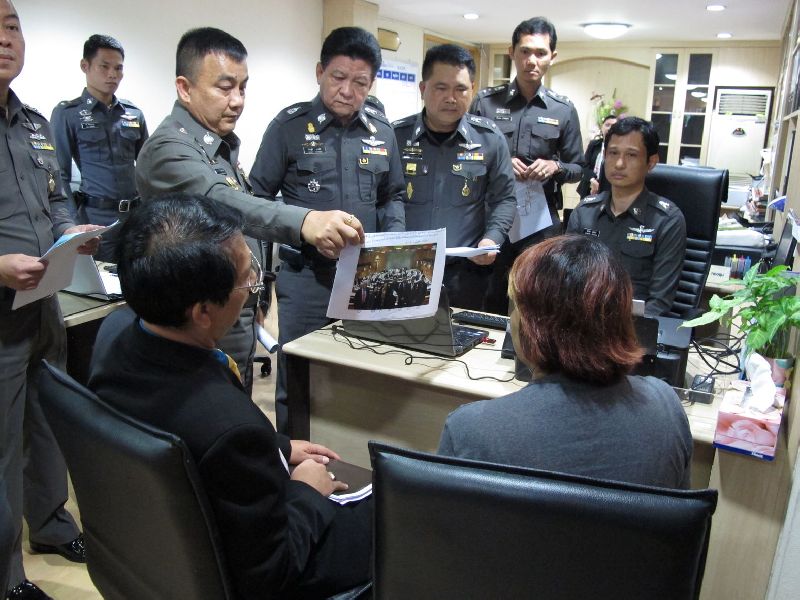 BANGKOK — The 36-year-old woman who was taken by soldiers and held incommunicado for nearly a week confessed to unwittingly aiding a terror plot, police say.
Nattathida Meewangpla re-emerged yesterday when army officers transferred her to police custody in Bangkok, several days after her family reported she was missing.

Nattathida Meewangpla flashing an anti-coup hand gesture while police escort her to their HQ in Bangkok on 17 March 2015.
A junta spokesperson initially denied that Nattathida was in military custody, but later retracted the statement, citing a lack of communication among security units.
According to police, Nattathida confessed to transferring money to members of an alleged terrorist group, but claimed to have no knowledge of their bomb plot.
Yet police say Nattathida's name was found in a LINE chat group that discussed the bomb attacks, which were supposed to take place in five locations around in Bangkok in early February.
After the plan was scrapped, the leader of the network hired another group to carry out the grenade attack on a criminal court on 7 March, police say.
Nattathida and other alleged members of the first group are still liable for prosecution, because they procured funding for the attacks, said Pol.Maj.Gen. Chayapol Chatchaidech.
"Both groups were financed by a capitalist living in a foreign country," the officer said. "The network plotted to use violence to cause fear among the people."
Nattathida has been charged with conspiring in terrorism, conspiring in a secret society with an intention to break the laws, and hiring other persons to attempt murder.
At least 12 people have been arrested in connection with the alleged terror network, which police believe is led by Manoon Chaichana, aka Anek San Francisco, a Thai Redshirt activist who is currently living in the United States.
Pol.Lt.Gen. Prawut Thawornsiri, spokesperson of the Thai police force, told reporters that Nattathida said she was introduced to Manoon by Supaporn Mit-arak, another alleged member of the network arrested on 12 March. When asked whether Nattathida identified as a Redshirt herself, the spokesperson replied that he did not know.
Nattathida was later taken to the military court, where a judge denied her request for release on bail.
Her lawyer, Winyat Chartmontree, insisted that Nattithda knew nothing of the bomb plot and called the allegations against her "far-fetched." According to Winyat, she merely borrowed money from some members of the group to open her a laundromat.
He also voiced concern that this case may disqualify Nattathida from serving as a witness in future court inquests related to the 2010 crackdown on Redshirt protesters.
Nattathida, who was a volunteer medic during the crackdown, provided testimony during a 2013 court inquest that found soldiers responsible for the deaths of six civilians inside a Buddhist temple on 19 May 2010.
"The court may say she is a witness of no value, she has no credibility, she has hostility towards a certain party," Winyat said.
The lawyer also said he was prevented from talking to Nattathida during her interrogation by police at the Metropolitan Police Headquarters, and that the military tried to appoint a new lawyer for her against her will.
"I have been a lawyer for 17 years. I have done more than 1,000 cases," Winyat wrote on his official Facebook account. "I have met hundreds and thousands of police officers and bureaucrats. But nothing has matched what I've seen today."