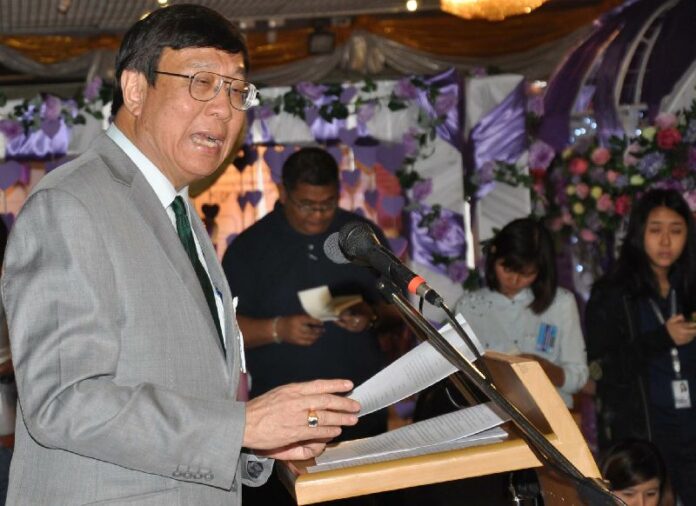 BANGKOK — Although the plan to replace martial law with Article 44 of the interim constitution has been widely condemned by legal experts and rights advocates in Thailand, members of the military government publicly defended the proposal today, urging the public to trust that Gen. Prayuth Chan-ocha will judiciously exercise the Article's broad powers.
"In the past, Gen. Prayuth has never used power in a wrong or excessive way," said Pornpetch Wichitcholchai, the chairman of the junta-appointed National Legislative Assembly. "I think the exercise of power under Article 44 will be done in a creative way."

Gen. Prayuth Chan-ocha speaking at the Ministry of Transport, 30 March 2015.
Gen. Prayuth announced last Friday that he may lift martial law, which has been in place since the coup last May, and replace it with Article 44 of the interim constitution, effectively a carte blanche to unilaterally intervene as he sees fit.
Under Article 44, the junta chairman may issue any order to "disrupt or suppress" an act that threatens to undermine national security, the monarchy, the economy, or the "administration of state affairs." These orders will be immediately deemed "legal, constitutional and conclusive," the article states.
"If [Gen. Prayuth] does good things and uses the law within proper boundaries, I believe Section 44 will be beneficial," Pornpetch said today. "From my own personal experience, the junta chairman has never used his powers harshly."
Gen. Prayuth, who is also Prime Minister, has refused to say when the transition will take place. Yesterday he told reporters, "It will happen when it does."
Human rights groups, legal experts, and politicians on both sides of the aisle have spoken out against the plan, arguing that Article 44 will only augment Gen. Prayuth's ability to trample on civil liberties.
"At least martial law has the format of detaining individuals and trials, but Section 44 gives unlimited power to the Prime Minister," said Niran Pitakwatchara, chairman of the National Human Rights Commission (NHRC). "The government already has full control over the armed forces and the police. I want them to think whether it is appropriate to use Section 44 when there are reforms of many issues in the country, including problems about inequality."
Gen. Prawit Wongsuwan, deputy chairman of the junta, dismissed Niran's concerns over the use of Section 44, which he said would be used to mimic the powers granted to the military by martial law.
"Martial law may look harsh in the eyes of foreigners, so we are considering to use Section 44 instead, in order to maintain peace and order," said Gen. Prawit, who also serves Minister of Defense. "The power will rest on the Prime Minister, who will know well what to do. Section 44 and martial law will have the same values, because they can be used to control situations. Section 44 will be focused on detention and searches, like martial law."
The general also urged the media to stop asking about the issue, because Gen. Prayuth has already "answered many times."
"I don't think I need to lecture anyone about this, because the law will be used for guarding against people who have ill will towards country. Therefore, good people need not to be worried. There will not be any violation of human rights."
Since seizing power in a military coup last May, the Thai junta has come under steady criticism from international human rights groups for using martial law to suppress civil liberties. The army has cited the 100-year-old law to arrest and detain individuals without charges, search properties without warrants, try civilians in martial courts, and ban public protests and political seminars.
Related coverage: