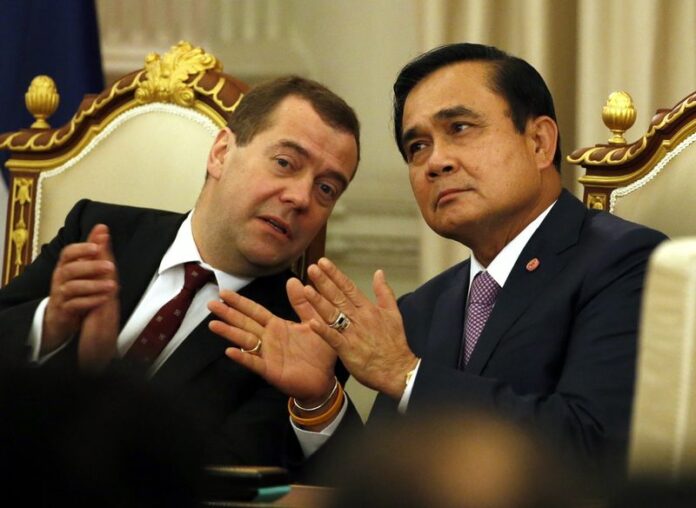 BANGKOK (DPA) — Thailand and Russia signed bilateral agreements to combat drug trafficking, boost investment and develop the Thai energy sector Wednesday.
Russian Prime Minister Dmitry Medvedev met his Thai counterpart Prayuth Chan-ocha in Bangkok to strengthen ties.

Thailand's Prime Minister Prayut Chan-o-cha (R) shakes hands with Russian Prime Minister Dmitry Medvedev (L) at the end of their joint news conference at Government House in Bangkok, Thailand, 08 April 2015. EPA/RUNGROJ YONGRIT
Russia will lend expertise in the military and civil aviation industries.
"Thailand is a close friend in the Asia Pacific region and we have long diplomatic relations. In two years we will mark our 120 years of relations," Medvedev said.
He said he had extended an invitation to Prayuth to visit Russia in the coming months.
"Friends prove their worth when one is in trouble. Friends will help and understand," said Prayuth, who has courted Beijing and Moscow after being spurned by Western countries for seizing power in a coup.
"I thank you Russia for understanding."