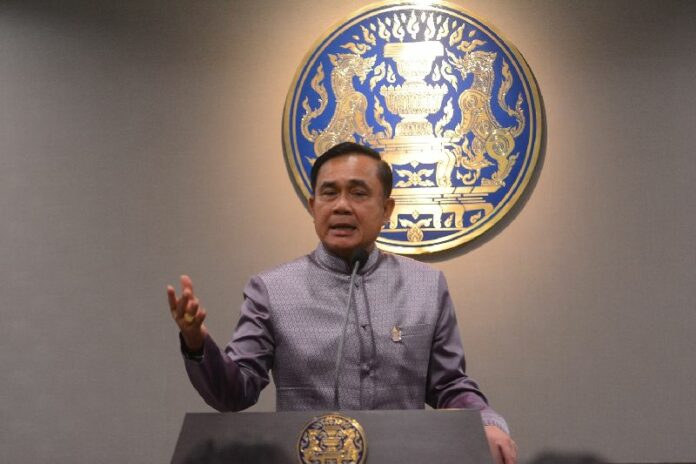 BANGKOK — The Thai military government has approved the draft of a law that will criminalize begging, a common practice in streets of Thailand's major cities.
The new law, which will replace previous legislation on begging enacted 74 years ago, was approved in a Cabinet meeting today, said Maj.Gen. Sansern Kaewkamnerd, a government spokesperson.
Named the Control of Begging Act, the law is intended to reduce begging and provide panhandlers with rehabilitation and job training programs, said Maj.Gen. Sansern.
Under the act, those who cannot be trained to work – such as children, the elderly, and the disabled – will be sent to shelter homes and provided with welfare assistance.
According to the draft of the legislation, the following actions constitute begging:
– asking for assets of others with words, texts, or any other gesture, without compensating the giver with any form of work or assets. (The clause excludes asking for money from family members and lawful charity fundraising)
– committing any gesture that compels others to donate assets out of pity without compensating the giver with any form of work or assets.
The spokesperson said that busking and other types of street performance will not be considered begging, but that performers will be required to inform local authorities and comply with guidelines set by law enforcement officials.
The law will also punish individuals who encourage begging, beggars who escape shelter homes, buskers who do not obtain permission from local authorities, and individuals who coerce other persons to beg for their own benefit. Foreign beggars will be deported to their home countries.
"We have also instructed the Ministry of Social Development to study other laws about providing assistance to beggars who are … in dire situations in order to help them escape the status of being beggars, and to take care of and rehabilitate them, so that those individuals can look after themselves in the society," Maj.Gen. Sansern said.
The new law will replace the existing law on begging, enacted in 1941, which did not make any distinction between begging and busking.
Beggars are common in many parts of Thailand, especially in metropolitan areas and popular tourist locales. NGOs and state agencies say many of the beggars, especially children, are victims of human trafficking by crime syndicates. The Mirror Foundation, a prominent charity organization focused on combating child trafficking, has repeatedly urged members of the public not to give money to children, but alert authorities to rescue them instead.
Since seizing power from an elected government in a military coup d'etat in May 2014, Thailand's military government has cracked down on organized crime and publicized efforts aimed at curbing human trafficking.
As a part of the junta's campaign to end begging in Thailand, security officers arrested at least 1,186 beggars across the country in series of coordinated raids in January. According to the Ministry of Social Development and Human Security, 436 of those arrested are foreigners who entered Thailand with tourist visas and work permits, but ended up begging on the streets.
In February, a beggar in Mukdahan province made national news after police arrested him and found more than 131,000 baht in his possession. The man, Preeda Kammoongkoon, reportedly told police he once made 400,000 baht from begging in Nakhon Ratchasima province in a month. Preeda was later released on the condition that he would cease begging and find employment.