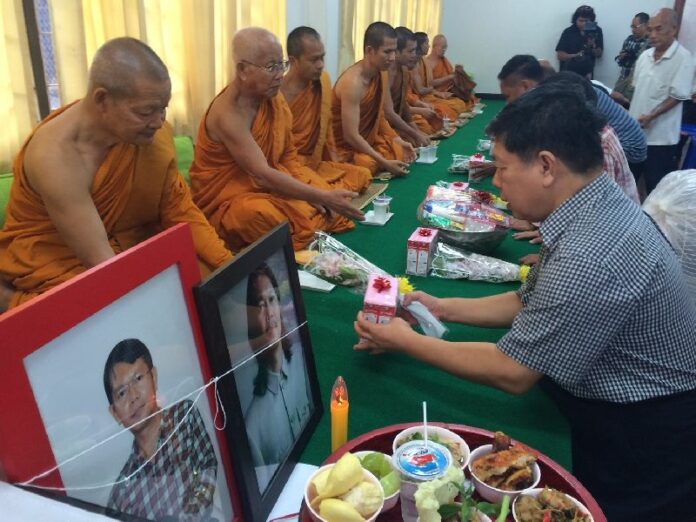 BANGKOK – Several dozen activists commemorated the one-year-anniversary of the unresolved murder of a Redshirt poet and activist in Bangkok yesterday.
Kamol Duangphasuk, aka Mai Nueng Gor Gunthee, was shot dead at point blank by a masked gunman in the parking lot of a restaurant in Bangkok on 23 April 2014, during the height of protests against a Redshirt-backed government. Redshirt supporters believe the assassination was politically-motivated.

Activists lay flowers at the spot where Redshirt poet Kamol Duangphasuk was shot, 23 April 2015.
Around 50 people gathered at Wat Sri Mahathat Temple in northern Bangkok yesterday for a religious merit-making ceremony in Kamol's memory. Around ten plain-clothed security officers observed the ceremony but did not interfere.
Activists also laid flowers at the spot where Kamol was shot dead one year ago, and stood in silence for two minutes before dispersing peacefully from the scene.
Kamol, 45 at the time of his death, was a vocal Redshirt activist who frequently criticized the establishment and helped lead a campaign in 2012 to repeal Thailand's lese majeste law, which criminalizes defamation of the Royal Family.
He is also thought to have been active in a radical wing of the Redshirts that had ties to underground armed militants.
Redshirts-allied militants are believed to have been responsible for numerous shootings and grenade attacks on the anti-government protesters who camped out in Bangkok prior to the May 2014 coup. Nearly 30 people, mostly civilians, were killed in the six months of anti-government protests.
Suthachai Yimprasert, a historian at Chulalongkorn University and Redshirt activist, said he is convinced that Kamol's killing was a political assassination.
"It's been a year since Mai Nueng's death, but I have no seen any progress in the case at all," Suthachai said, "It reflects that Thailand has no justice."
Suthachai also celebrated Kamol's poems as an inspiration for pro-democracy thinkers.
"His poems praise the common people and support democracy. Today, the military government tries to talk about reconciliation. But there is still suppression of freedom and rights, and attempts to force people to think in the same way. I want people in power to read Kamol's poems as a way to study democracy and how to respect the people."
After six months of anti-government protests, then-army chief Gen. Prayuth Chan-ocha overthrew the elected government on 22 May 2014 with the stated aim of restoring public order and resolving the country's political crisis.
Since seizing power, the military has extensively curtailed civil rights in Thailand by banning all political activities, censoring the media, and trying dissidents in military court. Critics say the junta's repressive measures and other reforms are an effort to dismantle the influence of the Redshirt movement.
Related coverage:
Arrest Warrants Filed For Alleged Murderers of Red Poet
Red Fugitive Ko Tee Salutes Murdered Poet
Reds Vow To Carry On Murdered Poet's 'Fight For Democracy'