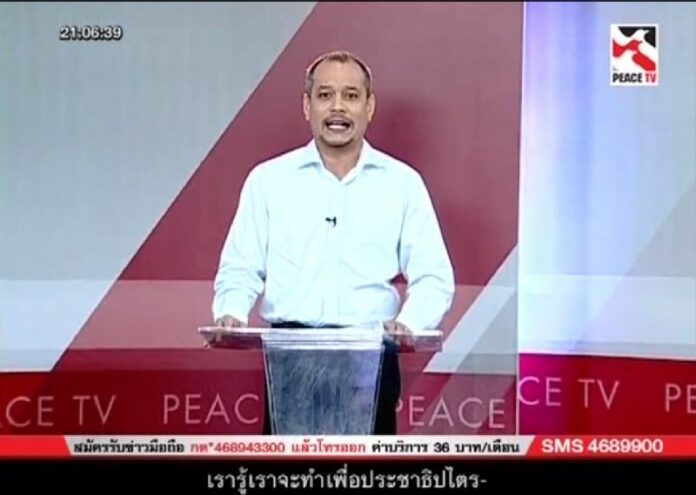 BANGKOK — A Redshirt-run television station has been permanently canceled after Thai authorities decided its news coverage was politically divisive and could "incite unrest."
The decision was announced by Natee Sukonrat, deputy chairperson of the National Broadcasting and Telecommunication Commission (NBTC), on his official Twitter account today.
The station, called Peace TV, was previously suspended for a week in April after the NBTC said its news coverage violated the ruling junta's Order No. 97, which forbids media from fomenting violence or causing "divisions in the Kingdom."
The station, which is operated by the largely anti-coup Redshirt movement, often featured core Redshirt leaders like Jatuporn Prompan and Nattawut Saikua.
NBTC member Natee said today that the channel violated its agreement not to air politically divisive content.
"The NBTC has carefully deliberated on the action and concluded that it is a repeated offense," Natee wrote on Twitter.
However, another member of the NBTC also took to Twitter to voice her opposition to the board's decision to revoke Peace TV's license. Supinya Klangnarong said she was the lone member to vote against the measure.
In series of Twitter posts, Supinya explained that the NBTC can choose from a variety of punishments, such as suspending the offending talk shows. Yet, the NBTC "skipped" all other possible measures and shut down Peace TV for good, an punishment she called "disproportionate."
"I agree that, by principle, the NBTC should increase its effort to regulate TV channels to prevent the problem of reproducing hatred and incitement, but it should be proportionate," Supinya wrote. "We should not just jump from not using power to using power in the highest way."
According to Supinya, Peace TV has recently focused on discussing the draft of the new constitution, which was written by a junta-appointed body, and a car bomb in the southern island of Koh Samui last month.
"From what I have listened, Peace TV does not use rude language like another channel that belongs to the same political group. The content may be seen as criticizing the state power with a skeptical viewpoint," Supinya wrote.
Core Redshirt leader a co-founder of Peace TV Nattawut Saikua said he will appeal the NBTC's order in Administrative Court and seek an injunction.
"Peace TV is a private organization that does its business legally," Nattawut wrote in an official statement. "This motion does not only affect the rights and liberty, but also affects business of the station. Therefore, our legal team is using legal channel to defend our station."
He also said he believes the NBTC, which has yet to formaly notify the channel, has been plotting to shut down Peace TV from the beginning.
"It's like they gave us yellow card first to build some legitimacy for giving us red card later," Nattawut said. "I don't understand those in power right now. The current situation requires diverse opinions to benefit the drafting of the constitution and create reconciliation, but they end up blocking a channel that voices different opinions. It means the opinions of certain people that do not match those in power will be rejected. With thing like this happening, how could this country move to democracy?"
Both of Thailand's Redshirt and Yellowshirt movements operate their own TV and radio channels featuring news programs and live broadcasts of their political rallies. Media agencies affiliated with the two groups played significant roles in the pro- and anti-government rallies last year that culminated in the May 2014 coup.
On 20 May 2014, then-army chief Gen. Prayuth Chan-ocha unilaterally imposed martial law and ordered all partisan media agencies to shut down. Two days later, the general staged a coup d'etat and toppled the Redshirt-backed government.
The partisan media outlets were later allowed to resume operations under the conditions that they change the names of their stations and adhere to the junta's guidelines. The junta has also enforced a ban on political gatherings and protests in an effort to promote "national reconciliation."
Critics say the junta is particularly bent on curbing the influence of the Redshirt movement, which has commanded the polls and elected majorities in congress in every national election for the past decade.