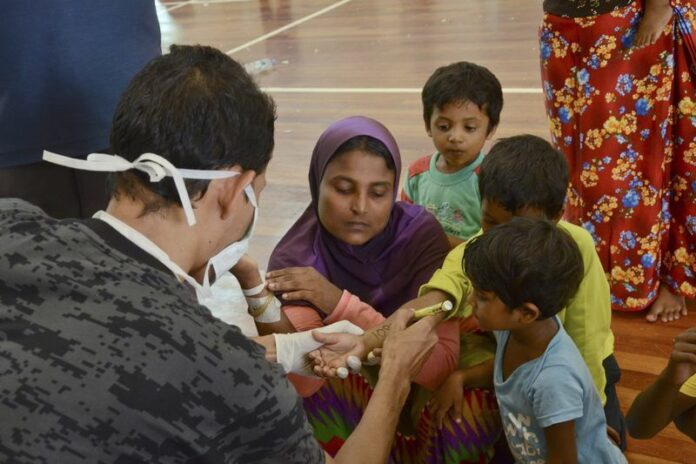 BANGKOK — One hundred and six migrants landed on a Thai island in Phang Nga province yesterday, while thousands of others languish at sea, unable to find ports willing to take them in.
The group, which consisted mostly of men but also some women and children, were found on Surin island northwest of Phuket and taken to the mainland for questioning.
"It's not clear how they ended up on the island," Phang Nga's governor told AP. "We are in the process of identifying if they were victims of human trafficking."
The Thai Navy encountered another boat carrying between 300-400 migrants from Myanmar in Thai waters off of Lipe island yesterday, but did not bring the vessel to shore.
According to a military spokesperson, the refugees told Navy officers they intended to travel to another country, likely to be Malaysia or Indonesia, although the boat's passengers told the New York Times they had already been rejected by Malaysian authorities.
Following a crackdown on established human smuggling routes in Thailand, a surge of boatpeople from Myanmar and Bangladesh have been left out at sea, with every country in region making it clear that the migrants are not welcome.
Thai authorities say their policy to is provide food and humanitarian assistance, and then encourage the boats to continue to their final destination, usually Muslim-majority Malaysia or Indonesia. Migrants that land on Thai soil will be prosecuted for illegal entry, a government spokesperson said yesterday.
Indonesian and Malaysian authorities have also balked at the influx of migrants, pushing some boats back out to sea.
"Our job is to prevent undocumented ships from entering our territory, but if it is a humanitarian situation we will help," an Indonesian military spokesman told dpa.
Human rights workers say as many as 8,000 people are currently stranded off shore with dwindling amounts of food. Some of the boats have been abandoned by captains who fled in fear of the crackdown.
Many of the refugees are Rohingyas, a stateless Muslim minority who face violent persecution in Buddhist-majority Myanmar. Most of the others hail from impoverished Bangladesh, where an estimated 300,000 Rohingyas also live in refugee camps.
Thailand has scheduled an international summit to address the mounting humanitarian crisis on 29 May, but the UN and other human rights agencies say immediate action must be taken to prevent a tragic loss of life.
"The first priority is to save lives," Volker Türk, a UNHCR official, said in a press release. "Instead of competing to avoid responsibility, it is key for States to share the responsibility to disembark these people immediately."
The UN's human rights chief, Zeid Ra'ad Al Hussein, also stressed in statement on Friday that the migration crisis will not be resolved until Myanmar ceases to discriminate against the Rohingya people.
"Until the Myanmar government addresses the institutional discrimination against the Rohingya population, including equal access to citizenship, this precarious migration will continue," he said.
Yet Thailand's military leader has suggested that sensitive issues, such as Myanmar's state-sanctioned discrimination against the Rohingya, may be off the table during the 29 May summit.
"Some things can be said, but some other things should not be said," Gen. Prayuth Chan-ocha said yesterday. "Our country has enough problems already. If we affect other people too much, we won't be able to ask for cooperation from them."
He continued, "If we say these things out loud – what about the other countries that keep silent? About human trafficking, Rohingya, fishing. Do they speak about it? They don't speak about it at all. But we keep fanning the issue. In the end, we will be the center of all the evil things in ASEAN."
The crackdown in Thailand was spurred by the discovery of a mass grave of Rohingya corpses near a jungle camp southern Thailand on 1 May. After a sweep of the area was ordered, police found four more major detention sites that they believe were used by human smugglers to imprison migrants and demand hefty ransom fees from their relatives before transporting them across the Malysian border.
Human rights groups say Thai authorities have been aware of the trafficking operation for years, but mostly turned a blind eye in exchange for bribes. At least 19 suspects have been arrested in connection with the suspected trafficking operation, including several local Thai officials.
After the crackdown was ordered, Thai police encountered nearly 300 Rohingya and Bangladeshi migrants who were left to fend for themselves in the jungle after their smugglers fled in fear of prosecution. According to police, at least 187 of the refugees will be prosecuted for illegally entering Thailand, while 63 have been categorized as victims of human trafficking.
Read more:
187 Rescued Refugees to be Prosecuted for Illegal Entry in Thailand
Prayuth Rules Out Permanent Shelters for Rohingyas
For comments, or corrections to this article please contact: [email protected]
You can also find Khaosod English on Twitter and Facebook
http://twitter.com/KhaosodEnglish
http://www.facebook.com/KhaosodEnglish