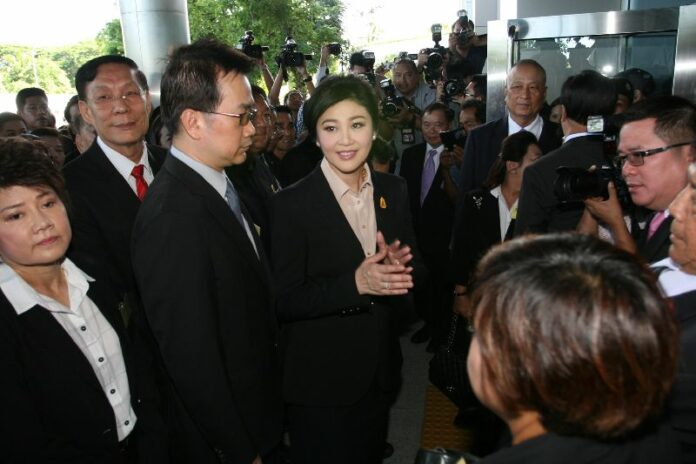 BANGKOK — Thailand's Supreme Court has barred former Prime Minister Yingluck Shinawatra from traveling overseas during a corruption trial that could land her 10 years in prison.
Yingluck is facing 'dereliction of duty' charges in the Supreme Court's Division of Political Office Holders for allegedly failing to stop corruption in her government's rice-subsidy program. She was retroactively impeached by the junta's government on the same charge earlier this year.
According to the National Anti-Corruption Commission (NACC), which filed the criminal lawsuit, her negligence cost the state more than 500 billion baht in damages.
Yingluck plead not guilty to the charges in court today and was granted bail after posting 30 million baht and agreeing not to travel overseas.
Speaking to reporters and a swarm of supporters outside the courthouse this morning, Yingluck insisted on her innocence.
"I am here today as scheduled by the court to fight my case in accordance with the justice system," she said. "I am confident in my innocence. I am willing to cooperate with the court. And please do not criticize or speculate on the case, because the case is now being deliberated by the court."
She is scheduled to submit a written testimony to the court on 3 July, and will return for another court session on 21 July.
Yingluck, the younger sister of influential former PM Thaksin Shinawatra, came to power after winning a national election in July 2011. Her landslide victory was made possible by Thaksin's enduring popularity among the Redshirts, a political faction that hails mostly from rural Thailand and has determined the winner of every national election for the past decade.
Yingluck's rice-pledging program, which involved purchasing rice from farmers at above-market prices, was popular among her supporters, but slammed by critics as poorly managed and rife with corruption.
Anti-government protests against Yingluck broke out in November 2013, after her government attempted to pass a bill that would have dissolved a corruption conviction against Thaksin, who currently lives in self-imposed exile and is reviled by Bangkok's elite establishment.
In May 2014, at the height of the anti-government protests, Thailand's Constitutional Court found Yingluck guilty of transferring an official without due process and removed her from the premiership. The military staged a coup d'etat against her caretaker government two weeks later.
Since the military takeover, the NACC has pursued several legal case against Yingluck and other members of her government, leading critics to accuse the agency of pursuing a political "witch-hunt" in an effort to cripple the powerful Shinawatra clan.
In January, the NACC successfully lobbied for Yingluck's retroactive impeachment over the rice-pledging scheme, which came with a five-year ban from politics. In May, the NACC also saw the impeachment of three more officials from Yingluck's government for their alleged role in the rice corruption.