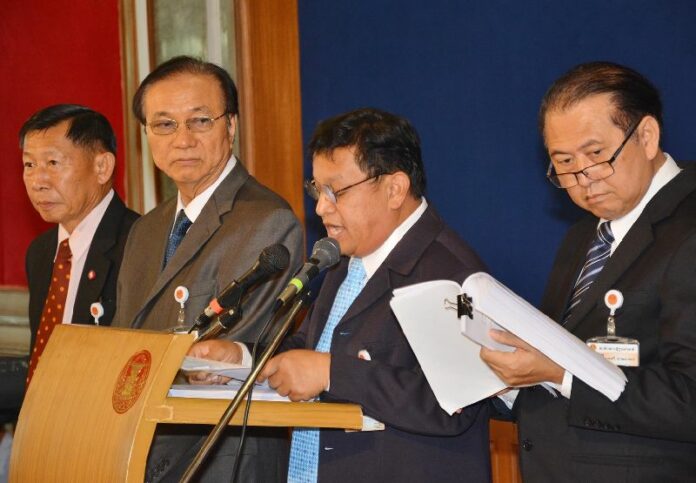 BANGKOK — A member of Thailand's military government has called for a constitutional clause that would grant amnesty to those charged with crimes allegedly committed during political protests over the past decade.
Boonlert Kachayudhadej, a member of the junta-appointed National Reform Council (NRC), said he submitted the suggestion to the constitution drafters yesterday.
The constitution drafting committee now has 60 days to deliberate on suggestions filed by the NRC and decide whether to amend the charter, which will replace the constitution dissolved by the ruling junta that staged a coup last May.
Boonlert said he proposed legal amnesty be granted to all suspects charged with "politically-motivated" crimes, starting from the day the military seized power from then-Prime Minister Thaksin Shinawatra on 19 September 2006, to the most recent coup on 22 May 2014.
The amnesty would be extended to supporters of all political factions in Thailand, including the pro-Thaksin Redshirts and anti-Thaksin Yellowshirts, Boonlert said.
However, those charged with "severe criminal crimes," leaders and chief organizers of protests, and those accused of insulting the monarchy would be exempted from the provision.
Thailand has been rocked by street protests organized by the rival Yellowshirt and Redshirt movements since 2005, when the Yellowshirts first launched a campaign to oust then-PM Thaksin.
Hundreds of protesters of the two camps have been charged with criminal offenses related to the protests, which have occasionally turn violent and twice culminated in military coups.
"This bill once had consent from politicians and political leaders of all sides. A draft was sent to the Parliament but it failed to become a law," Boonlert said, referring to a similar bill that was proposed by the Thaksin-backed Pheu Thai Party after it won a national election in 2011.
The draft, which also excluded protest leaders and alleged offenders of the monarchy, was billed as an effort to promote "national reconciliation" in the country.
However, in November 2014 the Pheu Thai-dominated parliament amended the bill to extend amnesty to all political leaders and politicians charged or convicted of any "politically-motivated" crime.
Anti-Thaksin activists argued that if passed, the bill would have absolved Thaksin's corruption conviction from 2008 and allowed for his return to Thailand. The bill sparked mass protests in Bangkok which eventually escalated into a full-fledged campaign to topple the government and replace it with an unelected "People's Council." The protests came to an end after six months when the military intervened and staged a coup d'etat in May 2014.