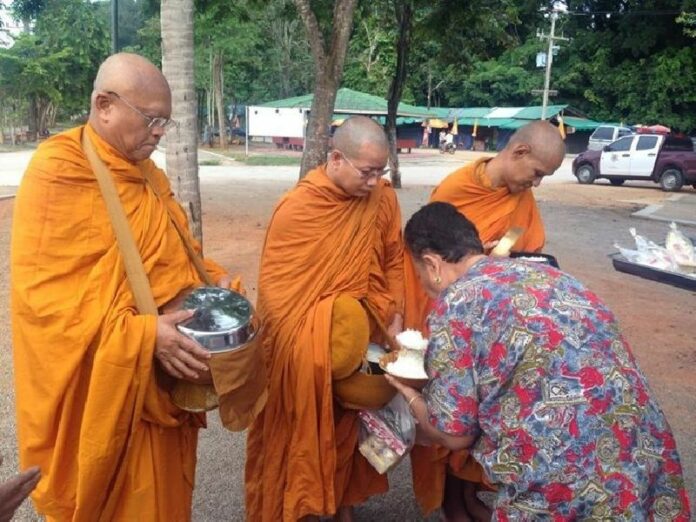 SURAT THANI — The firebrand leader of the ultra-conservative protest movement that helped pave the way for the 2014 coup d'etat says he will leave the monkhood and return to activism in the near future.
Suthep Thaugsuban, a veteran Democrat Party politician who became a monk after leading mass anti-government protests for six months prior to the 22 May coup, told reporters at a forest monastery in Surat Thani today that the rumors about his plan to return to secular – and political – life are true.
"The rumors are true," said Suthep, who is also known by his monk name as Phra Suthep Paphakaro. "I have determined that there are works in the current situation that I have to help. So I decided I will leave monkhood, but when, I have to think about it first."
Suthep said he will return to "campaign on civil issues" with the Great Mass of the People Foundation, a charity founded by the leaders of the former anti-government protest campaign.
"The foundation will work in promoting strength and cohesiveness among the people, such as how to make people have Dharma in their heart," Suthep said. "We will promote a moral and ethical society. We will support self-sufficiency communities projects, and model communities for married, poor couples who want to live  meaningful, moral, and self-reliant lives as farmers."
Suthep said the charity will purchase plots of land on Koh Samui island to conduct these projects.
In November 2013, Suthep quit his position as the deputy chairman of the Democrat Party to lead the protests against then-Prime Minister Yingluck Shinawatra. The protests were sparked by the government's attempt to pass a law that would have granted legal amnesty to Yingluck's brother, former Prime Minister Thaksin Shinawatra, who was ousted in a 2006 military coup and later convicted of corruption.
Thaksin is extremely popular among farmers in Thailand's rural north and northeast but fervently loathed by the Democrat Party and its supporters among the Bangkok bourgeois and other traditional elites. The controversial leader has been living in exile since 2008 to avoid the corruption verdict, but has continued to assert his influence through his political allies and proxies.
Suthep's street protests later evolved into an effort to topple Yingluck's government completely, and replace it with an unelected "people's council." The protests came to an end when then-army chief Gen. Prayuth Chan-ocha stepped in and staged a coup with the stated aim of restoring peace and order.
Gen. Prayuth, who is now acting as Prime Minister, says a new election will be held by September 2016 at the earliest. Critics say the junta has largely taken up the demands of the anti-government protesters.
In today's interview, Suthep insisted that he would not return to parliamentary politics with the Democrat Party.
"I will not take up membership in the Democrat Party," he said. "I will not run as a candidate in the next election. I won't fight in politics in the same way that I used to do."
However, he said he would not condemn other former protest leaders who do return to politics under the wing of the Democrat Party.
"It's their right," Suthep said. "There were millions of people who came out to fight alongside us in 2013 and 2014. I cannot judge them the same way I judge myself. Some have to go back to being MPs. Some have to work in politics. This is up to the thoughts of each person."
When a reporter asked him whether he would still welcome the politicians who seek his counsel, Suthep said, "I am not the most important person in this country. I am only an ordinary person. I would like to do my duty for His Majesty the King, for the country, and the people."