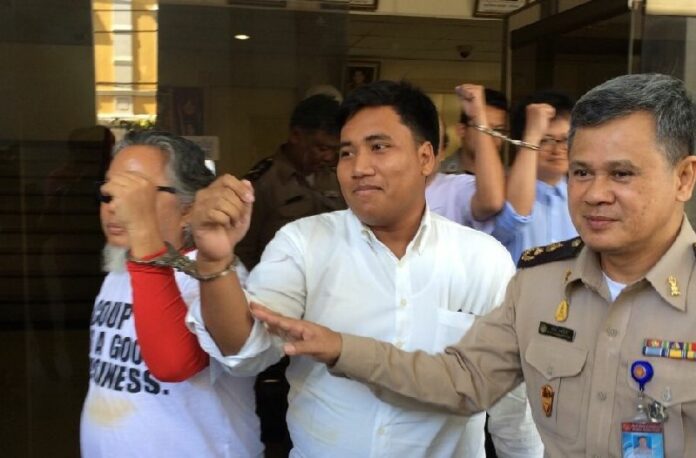 BANGKOK — Four pro-democracy activists charged with violating the junta's ban on political gatherings were released on bail today after being indicted in military court.
The four men, who founded the anti-coup group 'Resistant Citizen,' are facing charges for a pro-election rally they organized in downtown Bangkok in February 2015. The group was arrested while they were preparing for the event outside of the Bangkok Art and Culture Center.
The defendants include Arnon Nampha, 30, a human rights lawyer; Pansak Srithep, 48, an activist whose teenage son was killed in the 2010 crackdown on Redshirt protesters; Siriwit Serithiwat, 24, a fourth-year political science student at Thammasat University; and Wannakiat Chusuwan, 36, a taxi driver.
They were detained in Bangkok's Remand Prison for one hour today before the court approved their request for release on bail, Prachatai English reported.
Shortly after seizing power in a coup on 22 May 2014, the junta granted military courts jurisdiction over cases involving lese majeste (insulting the monarchy) and other offenses that "affect national security," including violating the junta's orders.
Since the coup, at least 166 people have been arrested for expressing their opinions in public spaces, according to data compiled by iLaw, a watchdog group that tracks legal cases in Thailand.