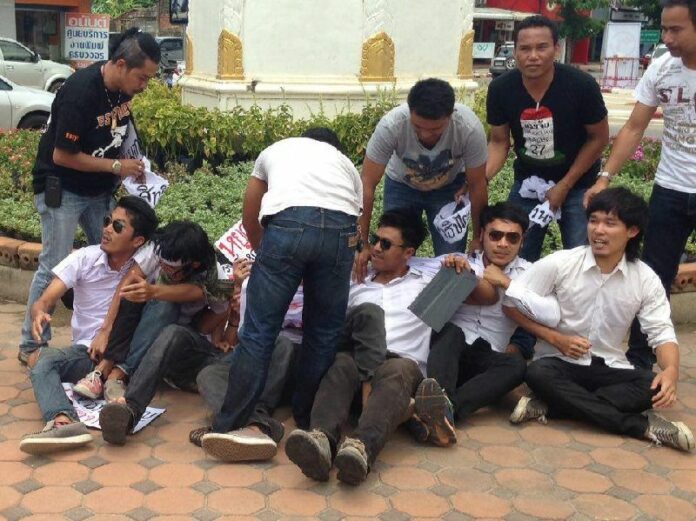 KHON KAEN — A police commander in northeastern Thailand said he will wait for seven student activists charged with illegal assembly to surrender on their own, instead of sending police officers to arrest them by force.
The seven activists were ordered to report to police last week and hear charges of defying the junta's ban on protests after they staged a rally to mark the one-year anniversary of the military coup on 22 May 2015 in Khon Kaen province.
The seven university students, who are leading members of a social justice group called Dao Din, failed to report and said they would not surrender as a part of an act of "civil disobedience" against the military regime.
The activists also posted on their Facebook account that they are currently in neighboring Loei province, where the group was founded by Khon Kaen University students a decade ago, and invited police to come arrest them there. They said the move was an effort to draw attention to the plight of communities in Loei who have struggled to fight harmful gold mining operations in the province for years.
But Pol.Lt.Gen. Boonlert Chaipradith, commander of Fourth Region Police, said yesterday that "police will not accept their challenge, because we believe that this is the type of action that teenagers like to do."
"But we will monitor them at all times," he said.
He said the bond money of 52,500 baht posted by the students has already been confiscated because they failed to surrender on 19 June. Pol.Lt.Gen. Boonlert also told reporters that police will give the students seven more days to reconsider their plans and report to police.
If the deadline is passed again, police will ask a martial court to issue arrest warrants on the activists, and police will have no choice but to arrest them no matter where they are, Pol.Lt.Gen. Boonlert said.
"Police are compromising with the students to the utmost," he said. "I'd like to ask the bond guarantors of these students to find them and tell them to surrender themselves as soon as possible."
The seven students were charged with violating the junta's ban on political activities after they unfurled a banner denouncing the coup on 22 May 2015 at Democracy Monument in Khon Kaen province. Political protests of any kind are currently banned by the junta, known formally as the National Council for Peace and Order, and can be punished with a maximum penalty of one year in prison.
Pol.Lt.Gen. Boonlert also advised students around the country to hold off on their activisim until democracy is returned, a date the junta has repeatedly pushed back and now says will take place in September 2016 at the earliest.
"They should wait for that time to come," Pol.Lt.Gen. Boonlert said. "Students, regardless of the groups, must understand this. Don't come out and protest or oppose the government's administration at this time."
He also urged student activists to attend junta-run forums to express their opinions.
"Our country needs peace, love, and unity, to overcome the economic crisis at the moment," he said. "Please, don't cause any fights or disputes."
Apart from the seven Dao Din activists, nine student activists in Bangkok were also charged with defying the junta's order for staging a protest in front of the Bangkok Art and Culture Center on the evening of 22 May.
The protest was forcefully broken up by police, who arrested more than 30 students that night.
One of the students, Chartchai Kaedum, reported to police at Pathumwan Police Station yesterday with his lawyer and denied the charges, saying that he was only observing the rally on 22 May, and was mistaken as an activist by a plain-clothed army officer.
"I reported to the police today to contest my charge in accordance with the justice system," Chartchai said.
The eight other students charged with defying the junta's orders have not surrendered to police.