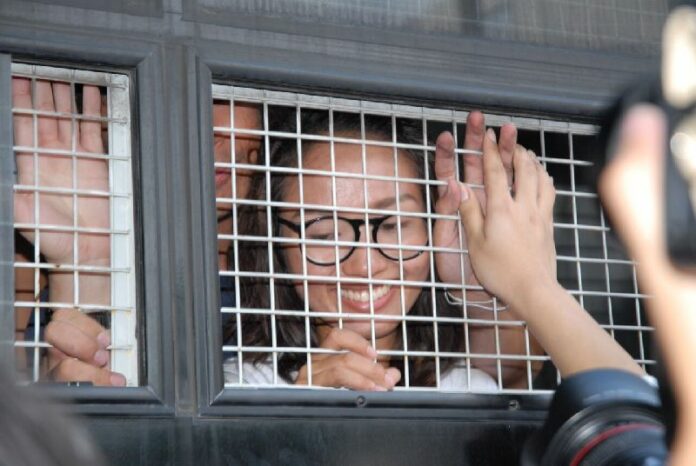 BANGKOK — Pro-democracy activists in Thailand have accused soldiers of intimidating the family of Chonticha Chaengrew, one of fourteen anti-coup dissidents in jail for leading a peaceful demonstration against the military government.
According to the activists' lawyer, Kritsadang Nutcharus, three soldiers arrived at Chonticha's home yesterday and requested to talk to her mother.
The three soldiers reportedly told Lamun Chaengrew that they were dispatched by their commander to discuss her 22-year-old daughter's political activities.
"One of the soldiers asked her, 'How did you raise your daughter into a person with attitudes like this?'" Kritsadang said. "Ms. Lamun replied that her daughter is a grown adult, who has her own thoughts. 'How would you raise your children?' she asked."
The soldiers also asked Lamun who was "behind" Chonticha and the 13 other activists arrested last Friday for leading an anti-coup demonstration in front of Bangkok's Democracy Monument. Junta leaders have accused the activists, most of whom are university students, of being backed by high-level politicians.
Lamun dismissed the allegation, Kritsadang said. The discussion reportedly lasted for around one hour.
The New Democracy Movement, a group formed by the fourteen activists a day before they were arrested on 26 June, called the visit "an act of intimidation."
"We hereby condemn the imperious action of security officers, and we demand the military junta to stop intimidating and threatening families of the students, their lecturers, and the people, regardless of the means," said a statement published by the group on Facebook.
Yodpol Thepsithar, a law professor at Naresuan University, was also reportedly visited by a group of police officers at his office today after he and 280 lecturers signed a petition calling for the immediate and unconditional release of the fourteen activists.
The officers questioned the professor, mostly about the background and political activities of other lecturers who signed the petition, and about the political climate at his university, Matichon reported.
Speaker to reporters today, the deputy chairman of Thailand's junta said the soldiers were only trying to "have a chat" with Chonticha's mother.
"Let me insist that the military is not intimidating anyone,"said Gen. Prawit Wongsuwan, who is also Minister of Defense. "The media has to help people think. Don't ask questions that cause conflicts. I'd like to ask everyone to follow the government."
According to their lawyer Kritsadang, all of the detained activists say they have been "treated with dignity" in the prison so far.
However, Rome Rangsiman, one of the jailed activists who is a law student at Thammasat University, will miss his bar exam this Saturday after Thailand's Lawyer Council rejected his request to take the examination in prison, Kritsadang said.
The group has been charged with inciting unrest, which is punishable by up to seven years in prison. They are now facing trial in martial court, where military officers sit as judges and appeals are not permitted.