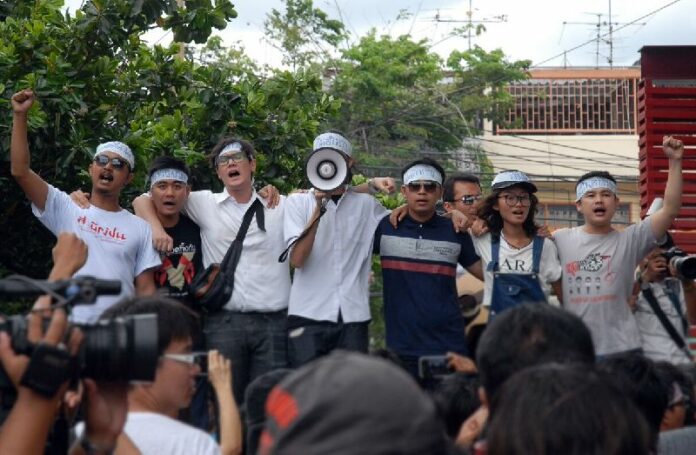 BANGKOK — Prison wardens will transfer one of the fourteen anti-junta activists arrested last week to a prison hospital tomorrow to treat wounds she reportedly suffered from a police crackdown a month ago, an official said.
Niran Pitakwatchara, a member of the National Human Rights Commission (NHRC), delivered the news to reporters after visiting the 22-year-old activist, Chonticha Chaengrew, at Bangkok's Central Women's Correctional Institution today.
Chonticha is one of the fourteen activists arrested last week on charges of violating the junta's ban on protests and inciting unrest. The other thirteen activists, all men, are being held at a separate prison in Bangkok for male inmates.
The Commissioner told reporters that Chonticha is suffering pain in her arms and legs from when security officers forcefully dragged her and other activists away from a peaceful sit-in in front of Bangkok Art and Culture Center on 22 May – the first anniversary of the coup d'etat that brought the current junta to power.

Plain-clothed officers drag activists from a peaceful anti-coup sit-in in front of Bangkok Art and Culture Center, 22 May 2015
According to Niran, Chonticha was seeking treatment from a public hospital prior to her arrest last week, and an MRI scan provided by the hospital showed that she has a herniated spinal disk.
"Based on the latest discussion, I have learned that Department of Corrections officials will transfer Ms. Chonticha to receive physical therapy at the prison hospital on 3 July," Niran said.
Niran also said he is concerned by the prison wardens' decision to separate the 13 other activists to different sections in Bangkok Remand Prison.
"I worry about their safety, and whether it will make them lose opportunities to consult with their lawyers about their legal cases," Niran said, explaining that it will be difficult for the lawyers to arrange a meeting with all of the thirteen activists at the same time.
"The students still insist their actions were right under human rights principles," Niran told reporters, adding that the fourteen will not post bail in martial court because they reject the military court's authority to try them.
After seizing power, Thailand's military junta granted military courts jurisdiction over cases that affect national security. The move has been frequently criticized by human rights groups. In martial court, military officers serve as judges and there are no opportunities to appeal.
This week, junta leaders, including chairman Gen. Prayuth Chano-ocha, have dismissed calls from the UN, EU, and human rights groups to drop the charges against the activists.