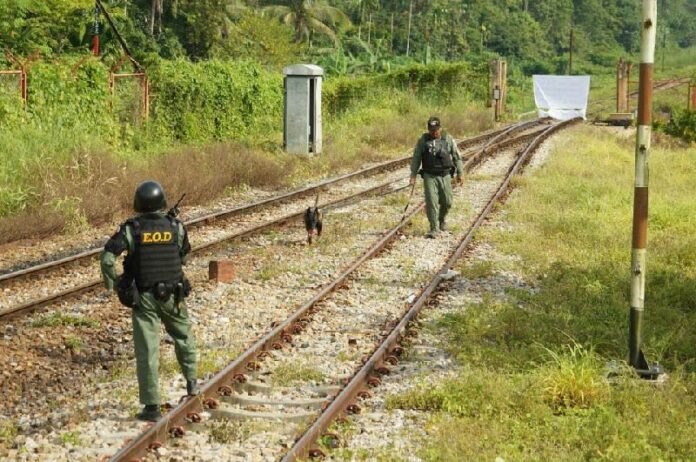 SONGKHLA – More than a dozen banners were discovered across Thailand's insurgent-torn south this morning, bearing Thai and Malay text that accused Thai authorities of lying to the international community.
The banners were found in seventeen sites across the provinces of Songkhla, Pattani, and Narathiwat. The text read: "The nature of Siamese colony hunters: they lack humanitarian [concern], and always lie to the international [community]." Thailand was known as Siam until 1939.
Two of the banners were hung across a railway near To Deng train station in Narathiwat, leading officials to suspend the train service for five hours while security officers searched the area for bombs. The officers reportedly found two fake bombs.
Officers believe the banners were hung by local Muslim insurgents trying to secede the Muslim-majority region, known as the Deep South, which was annexed by Thailand in the early 20th century.
Since the most recent waves of violence broke out in January 2004, the insurgency has claimed the lives of more than 6,200 people, according to data compiled by human rights groups.
The shadowy network of militants do not have an official spokesperson and rarely claim responsibility for their attacks, but often send messages through banners hung around the region. Explosives are sometimes hidden nearby.

A banner found in Songkhla province on 16 July 2015 that accused Thai authorities of lying to the international community.
In December last year, security officers in the Deep South discovered banners written in Thai, English, and Malay that read: "Is it appropriate to negotiate with the coup government? There is no guarantee for sincerity." The banners were found shortly after junta chairman and Prime Minister Prayuth Chan-ocha, who came to power by staging a coup in May 2014, expressed his willingness to organize peace talks with the insurgents.
While the vast majority of Thailand is Buddhist, the Deep South is mostly populated by Muslims who speak a Malay dialect.