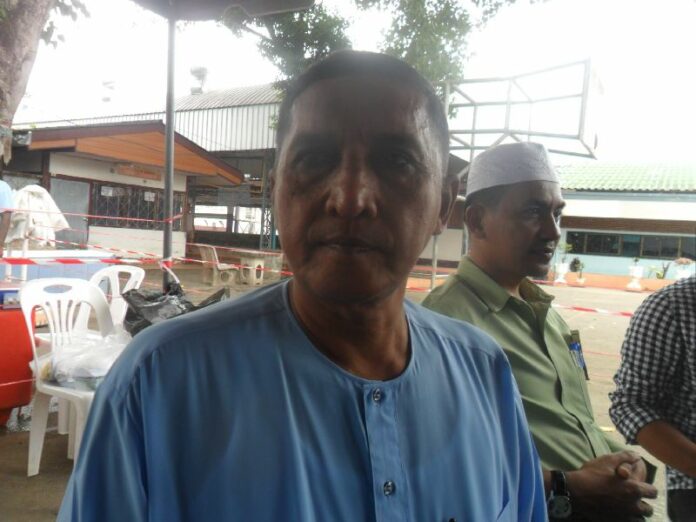 PATTANI — A former separatist leader recently freed from prison has vowed to assist the Thai government's effort to quell the secessionist movement in Thailand's southern border provinces.
Haji Sama-ae Thanam, 63, was released from prison on 17 July after spending 18 years behind bars on terrorism charges. His life sentence was reduced as part of a government policy to pardon former insurgents who have displayed good behavior and renounced the armed struggle.
Speaking to reporters at his home in Pattani province's Panare district on Saturday, Sama-ae thanked the government, the military, and the Southern Border Provinces Administration Center.
"From now on, I will be dedicated to solving problems and developing the border provinces," Sama-ae said, referring to the provinces of Pattani, Yala, and Narathiwat, which local Muslim insurgents are aiming to secede from Thai authorities.
"What I will do is coordinate, talk, and negotiate with different groups, especially groups of people who think differently from the state, and who are knowledgable about many things, so that they can join the effort to build peace in the region."
He continued, "This includes working to develop the quality of life and livelihood of the people. We will uphold the principle of Sufficiency Economy."
Sama-ae also told reporters he is particularly interested in improving Pattani's halal food industry.
"I will invite businessmen from Malaysia to join the investment to increase income and jobs for people in the area, so that the local economy will be better. So it will be necessary for me to travel between Thailand and Malaysia to coordinate and contact with businessmen who will invest in our halal industry estate, and I will talk to my friends to build peace."
Prior to his arrest in 1997, Sama-ae, who was known by his nom de guerre Ismael Gaddafi, was leader of the armed wing of the Patani United Liberation Organization (PULO), one of separatist groups seeking to secede the three southern border provinces – a region known as the Deep South. The Muslim-majority region was an independent Islamic kingdom called Patani until it was annexed by Thailand in the early 20th century.
Although PULO faded from the scene shortly after Sama-ae's arrest, new groups of militants revived the insurgency in January 2004 and have been fighting Thai authorities in the region ever since. The latest wave of secessionist violence has claimed the lives of more than 6,000 people, according to data compiled by human rights groups.