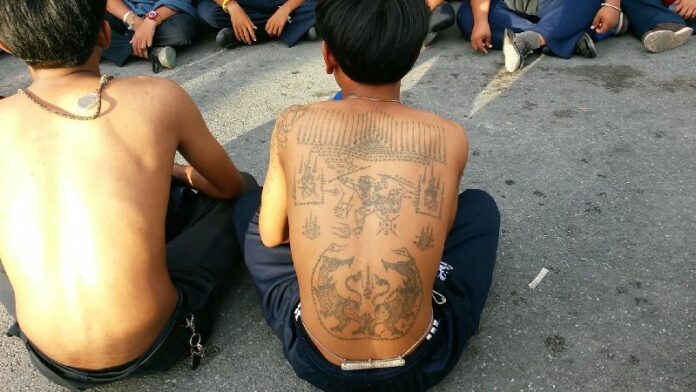 NAKHON PATHOM – Twenty-two teenagers were arrested for attacking a public bus and beating three students from a rival school in a Bangkok suburb on Friday night.
The incident took place at a bus stop near Silpakorn University's Sanam Chan campus in Nakhon Pathom province at around 6 pm, police said.
According to the bus driver, Suriyan Thonglek, a group of students rushed onto his Bangkok-bound bus and beat around 10 other students from a different polytechnic school with bricks and metal pipes. Other students stood outside and threw bricks at the windows of the bus, which was carrying around 30 passengers at the time, Suriyan said.
According to Suriyan, the assailants then jumped onto the back of a pick-up truck and sped away from the scene.
Police officers later intercepted the pick-up truck, which was carrying twenty-two students from Nakhon Pathom Municipality Vocational College. The students, ages 15-18, were charged with physical assault and damaging property. Police said three people were injured in the incident.
The driver of the pick-up truck was identified as a 38-year-old man named Pichet Srirachan, who told police he was the father of one of the students.
Gang violence between rival vocational colleges in Thailand is common, and occasionally leads to injuries and deaths of students and bystanders.