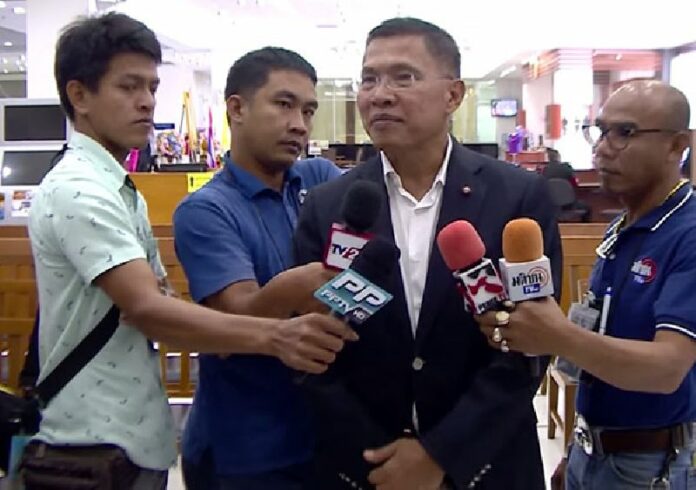 BANGKOK — A pair of soldiers shadowing a former politician who filed a lawsuit against the military government were only doing so to have a polite conversation with him, a government spokesman explained yesterday.
Responding to former Pheu Thai MP Wattana Muengsuk's complaints that two soldiers came to his home Wednesday night to intimidate him, junta spokesman Winthai Suvaree told reporters yesterday the soldiers were merely making conversation with Wattana and ensuring he was safe.
"The officers were following guidelines to provide orderliness in a polite and respectful manner, as have been practised in the past," Col. Winthai said at a news conference. "It was an effort to engage in conversation, exchange opinions and coordinate information."
Earlier Thursday, Wattana accused authorities of trying to intimidate him over a lawsuit he filed Monday in the Upper Administrative Court seeking the repeal of a travel ban imposed by the regime on more than 100 people, mostly members of the former ruling Pheu Thai Party.
Wattana said the two soldiers came to his Bangkok home where they took photographs and grilled him about his daily activities. He said soldiers also visited his family home in Prachinburi province.
"What the soldiers were doing was intimidation and a violation of my right to privacy," Wattana said, adding he had formally complained the junta, which is formally known as the National Council for Peace and Order.
But spokesman Winthai said the soldiers were dispatched to engage in conversation and provide security. He did not explain why the soldiers were sent or on whose orders, but instead opined on the usefulness of such interactions.
"In the past, we have received good cooperation. Some people even gave us constructive and useful suggestions," Winthai said. "But sometimes, some individuals gave information based on their existing personal attitude, which have not considered circumstances and facts around them."
Soon after it seized power, the junta forbade Wattana and others from leaving the country without its permission. After it rejected without explanation Wattana's request to lift the ban in July, the 58-year-old Prachinburi native took his case to the court.
"I have to communicate this matter to the leader of the NCPO and to the people, who are my masters. I have always believed that the people are the owners of sovereign power," Wattana said.
The former politician added, "I am never afraid of powers that do not come from the people. I have to say this because in the past year since you [the junta] have seized power, you have caused so much damage to this country. Otherwise, I wouldn't waste my time talking about this. I would like to advise you to do something beneficial to the country, such as returning power to the people quickly."
After staging the coup d'etat in May 2014, junta chairman and Prime Minister Prayuth Chan-ocha summoned hundreds of people, mostly politicians, activists, and academics for "attitude adjustment" sessions in army camps for up to two weeks. They were later released on the condition they would not engage in political activity.
Prayuth has also enacted a ban on protests, forums and other political activities, and sent violators of the ban to stand for trial in martial courts. The junta has insisted these clampdowns on civil rights are necessary to restore peace and order to the country, and that they are equally applied to all sides.
But Pheu Thai supporters and anti-coup activists have routinely complained they are on the losing side of a double standard and uneven enforcement.
Related stories:
Ex-Pheu Thai MP Appeals Junta's Travel Ban
Junta Bars Pheu Thai Politician From Leaving Country
To reach us about this article or another matter, please contact us by e-mail at: [email protected].