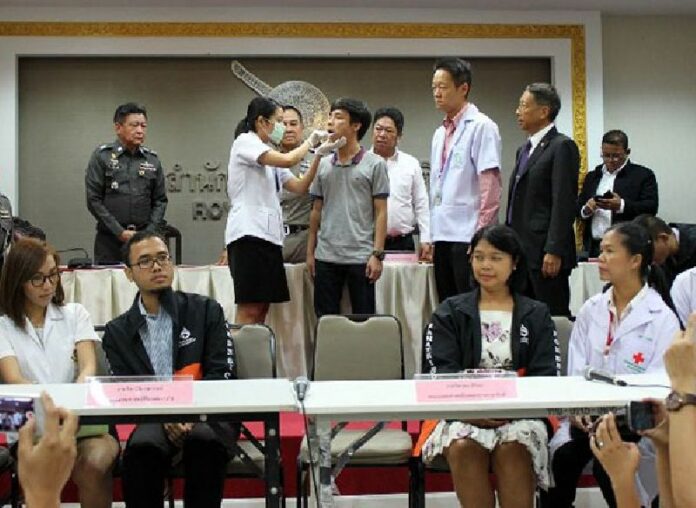 BANGKOK — A Thai newspaper today published an apology for its coverage of the investigation into the murders of two British travelers in September on Koh Tao.
Khaosod newspaper apologized for two headlines suggesting the Warot Toovichian, the son of a village chief on Koh Tao, was responsible for the savage murders of British tourists David Miller and Hannah Witheridge on the island.
The newspaper also accused Warot, 22, of being the son of local "mafia" in two articles published on 24 and 25 Sept.
"We have verified facts and discovered that the aforementioned news items were inaccurate," a statement published in today's newspaper read.
In the statement published today, Khaosod said it was publicly apologizing as part of a settlement agreement with Warot, who filed a libel suit against the paper over its coverage.
It added the newspaper paid compensation of an undisclosed amount to Warot's family.
Khaosod and Khaosod English are both owned by Matichon Group.
Miller and Witheridge were found dead on Haat Sai Ree beach on the island in the morning of 15 Sept., 2014. The two were bludgeoned to death and Witheridge was also raped, according to police.
EXPLORE: Timeline of the Koh Tao murders, investigation and trial
Two Burmese migrant workers were soon accused of the murders and are currently on trial. The two men, Zaw Lin and Wai Phyo, confessed to the crime upon their arrest in early October but later recanted, saying the confessions were beat out of them by police. Police have denied the allegation.
The pair has been held in prison since last October. If found guilty, they face the death penalty.
Observers and rights groups have accused authorities of using the migrant workers as scapegoats to sweep the matter under the rug.
Days before their arrest, police had identified Warot as a "primary suspect" on 24 Sept. and told media agencies they were seeking him for questioning. According to police reports at the time, Warot fled the island to Bangkok shortly after the murder.
However police later said they had established that Warot was in Bangkok at the time of the murders and was no longer considered a suspect. They later publicized the results of a DNA test they said cleared Warot of any connection to the murder.
Warot's father, Woraphan Toovichien, also told reporters at a news conference his son was not involved in the killing and denied the characterization of his family as island "mafia."
"We are not mafia or influential figures as reported in the news. My family has been helping authorities … and police in the investigation since the first day," he said on 25 Sept. "The media coverage has saddened me. It's really serious, and it damages me, my family, and my relatives."
Related stories:
Koh Tao Murder: Top Forensic Scientist to Testify for Defense
Koh Tao Murder: More Forensic Evidence Available for Re-Test, Witness Reveals
Bangkok Suspect Cleared of Connection To Britons' Murder
Koh Tao Leader's Son Cleared in First DNA Test: Police
Bangkok Suspect Cleared of Connection To Britons' Murder
To reach us about this article or another matter, please contact us by e-mail at: [email protected].