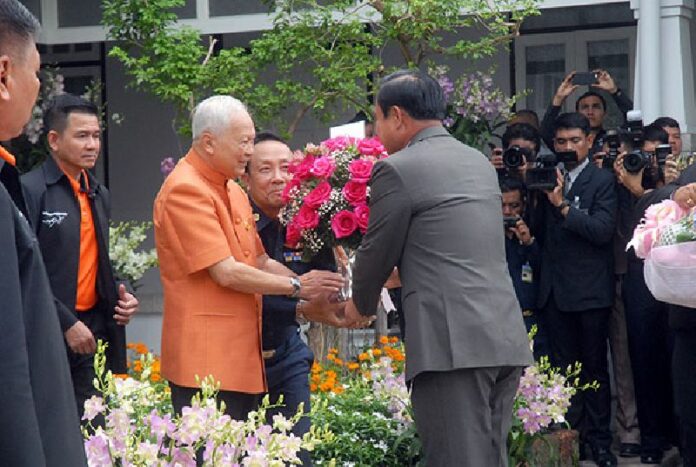 BANGKOK — Leaders of the military government and the armed forces traded praise with the top adviser to His Majesty the King on the occasion of his 95th birthday today.
Privy Council chairman Gen. Prem Tinsulanonda, whose vast influence has far outlasted his eight-year stint as premier in the '80s, welcomed high-ranking delegates including junta chairman Prime Minister Prayuth Chan-ocha to his residence in Bangkok where they extended mutual plaudits.
"Today is a day that I am very proud, happy and confident, to see the prime minister, Khun Pom and all military branches displaying their love, unity, sacrifice and loyalty for the people to see," Prem said, referring to Prayuth deputy Gen. Prawit Wongsuwan by his nickname.
Gen. Prayuth was also joined by members of his new cabinet and and top commanders from the army, navy, air force and police.
Prem, who served as Prime Minister during a period of "semi-democracy" between 1980 and 1988, remains extremely influential in the armed forces despite retiring decades ago. Due to his position as the chief adviser to King Bhumibol, he is also widely recognized as being near the center of the palace's inner circles.
Prem, once called the "invisible hand" by former Prime Minister Thaksin Shinawatra for his role in the 2006 coup which saw Thaksin ousted from power, did not appear to play an active role in Thailand's latest coup d'etat staged by Prayuth against the pro-Thaksin government in May 2014.
Prayuth wished Prem a happy 95th birthday and thanked him for his "contributions" to the country. "You are most loyal to the nation, the religion, and the King, which earns you respect and admiration, and you have become a role model for us," he said.
Prem returned the praise, referring to Prayuth and his Prawit by their nicknames – Tuu and Pom, respectively.
Prem similarly praised the junta in a December speech, saying that Prayuth's coup d'etat against the elected government in May 2014 was a necessary effort to "rescue" the nation from chaos.
"Uncle Tuu has rescued the nation and brought peace to all Thais. We have taken action, and will continue to do so. I want to tell all of you that this opportunity is an important one. It is the opportunity that shows that when the nation is in crisis, when there is no reconciliation, we will always step in and take care of it. That is our duty," Prem said 29 Dec.
Prayuth seized power following six months of anti-government protests, in which nearly 30 people were killed. The military junta said it was forced to intervene to prevent the situation from spiralling out of control.
Since the coup, there has been several waves of rumors among the Redshirts, who supported the toppled government, about discord between Prayuth and Prem. One rumor, circulated in June, went as far as claiming that a group of generals loyal to Prem was about to launch a counter-coup against Prayuth's government. The purported putsch never happened.
Chayapha Chokepornboonsri, a 49-year-old woman, was accused of spreading the rumor and arrested in June.
Police initially charged her with violating the Computer Crime Act, which outlaws spreading false information online that "affects national security," but later added an additional charge of lese majeste (insulting the monarchy) after they reportedly found she had posted critical remarks about the monarchy on social media.
Chayapha is awaiting trial by military tribunal.
Related stories:
Counter-Coup Rumor Suspect Charged With Lese Majeste
Thai King's Chief Adviser Praises 2014 Coup
To reach us about this article or another matter, please contact us by e-mail at: [email protected].
Follow Khaosod English on
and
Twitter
for news, politics and more from Thailand.