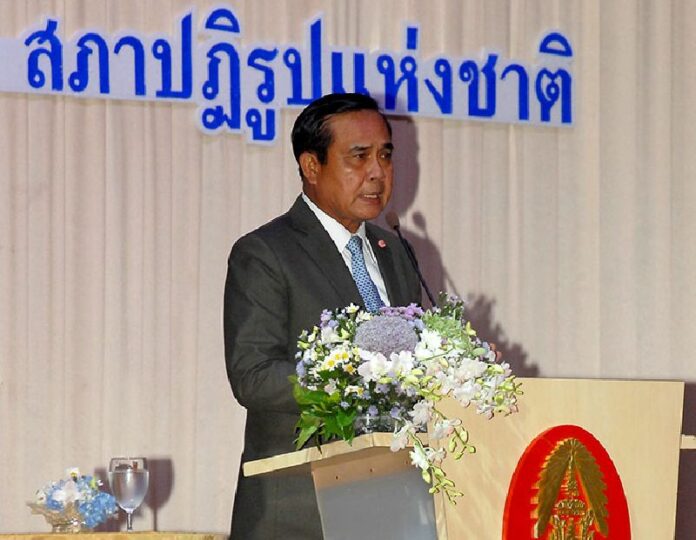 BANGKOK — Junta chairman and Prime Minister Prayuth Chan-ocha said politicians have no right to criticize the new constitution being drafted under the junta's oversight.
The retired general today lashed out at politicians from rival factions who have urged his appointed National Reform Council to reject the new charter when it goes to a vote early next month – a move that could torpedo the junta's promise of a smooth transition to the next election.
"They have no right to suggest that to anyone. Do they have the right?" Prayuth told reporters yesterday. "Why do the media give a platform to these people?"
Several top politicians from rival factions have suggested that the council reject the draft, citing numerous defects that they believe would hamstring elected administrations in the future.
Their main grievance is a clause creating a military-stacked committee with the authority to unilaterally intervene and take any action in the event future governments are unable to exercise their power due to "chaos."
Any action taken by this "Committee of Reform Strategy and National Reconciliation" would be considered administratively and legislatively binding, according to how it's written.
The new charter also permits a non-MP to be appointed prime minister and abolishes direct election to the Senate. In the new constitution, 77 out of the 200 senators would be indirectly elected from a pool of chosen candidates, and the rest appointed by panels of "experts."
The council is due to vote whether to accept the new charter on 6 Sept. If the draft is accepted, a referendum will be held January 2016 and a new election in late 2016; if not, the entire process will be restarted.
However Prayuth stated unequivocally his opinion that civilian politicians are overstepping their bounds by expressing opinions on the proposed constitution's merits.
"Politicians are not involved," he said in his characteristically gruff and querulous style. "It's already generous of me for letting these people talk. "Usually, these people shouldn't be allowed to speak at all."
But speak they have, from across the fractious political spectrum.
"The Democrat Party believes that it is best if the council rejects this constitution," former Prime Minister Abhisit Vejjajiva, who leads the pro-establishment Democrat Party, said yesterday. "If it makes it to the referendum … there will be more confusion and complication."
He continued, "I want you to remember that we will have to adhere to that set of rules [new charter] forever. Don't think that we should just pass it first. You cannot do that."
Jatuporn Prompan, core activist of the Redshirt movement which opposes the Democrat Party, said Sunday that he and other Redshirt leaders will campaign against the charter should it win the council's approval.
"If this constitution is to be used, this country will be in ruins, because the content of this constitution has been a problem since the very first day," Jatuporn said. "There is no good option for the people. There are only big losses and small losses. If this charter is rejected, there will be small losses, but if it is passed, there will be big losses."
Wattana Muangsuk, a former MP of Redshirt-backed Pheu Thai Party, went so far as to say he would boycott the next election if the constitution in its current form is adopted by public referendum.
Speaking at news conference today, Prayuth responded to these challenges with fury.
"These people, now that they are being harsh to me, I will have to be harsh in return," he said. "Well, they shouldn't reject the laws if there's legal action against them. Don't whine and scream that they are treated unjustly. That would be wrong thinking, because they did it to themselves."
He stopped short of saying he would gag politicians from expressing their opinion.
"There's no need for a prohibition now. But when the time comes, I will deal with them," Prayuth said. "Today I have to teach people to think. Why do they allow anyone to misguide them?"
Expressing frustration, the junta chairman told reporters his reasoning for Thailand's seemingly intractable political strife.
"Today we are still stuck in the trap of democracy, a trap of conflicts," he said. "We still let emotions dictate our judgment. We have to fix these issues."
To reach us about this article or another matter, please contact us by e-mail at: [email protected].