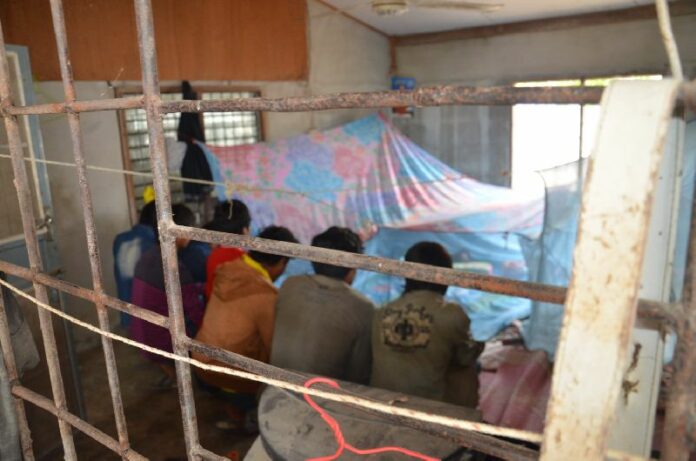 NAKHON PATHOM — A dozen men have been rescued from slavery at a pig farm west of the Thai capital, prompting police officials to hand out administrative slaps on the wrist yesterday to five officers for failing to combat trafficking.
Soldiers rescued 12 Laos men from captivity and forced labor at a pig farm owned by a local bank manager, according to a local military official, after two of them escaped and sought help Saturday; an incident resulting in five police officers being transferred to inactive posts.
At the farm, a three-hour drive west of Bangkok, three soldiers discovered the men locked inside a row of prison-like cells, according to Sgt. Paithoon Sriracha. The men told security officers they were forced to work at the farm without pay.
One of the Laotian men, who asked not to be named, said he ended up on the farm three months ago after being tricked by job broker. The broker, he said, offered to smuggle him from Laos for 5,000 baht and promised the job would pay 7,000 baht per month. However the man said he was never paid.
The locked cells where the men were kept on the farm owned by Chaiyadet Sonut, the manager of a local Krung Thai Bank branch in Nakhon Pathom province.
He also told security officers that he and other Laotian workers were sometimes beaten by the Thai staff, and said they were forced to defecate in bags and dispose of them in the morning because there were no toilets in the cells.
Farm owner Chaiyadet Sonut, who is also a manager of a Krung Thai Bank branch in Nakhon Pathom, was later arrested and charged with human trafficking, physical assault, harboring aliens and illegal detention.
Chaiyadet has since been released on a 500,000-baht bond. He denied any wrongdoing.
Speaking to reporters yesterday, provincial police commander Maj. Gen. Poj Boonmapak said he has ordered all police stations in Nakhon Pathom to inspect every farm and factory to make sure no other slave labor is being used.
"From the past two days of mass inspection, we have not received a report of any irregularity," Poj said.
Poj said he signed an order indefinitely transferring five officers from the Sam Khwai Puek Police Station to inactive posts at the national police headquarters in Bangkok.
He said the order was punishment for failure by the five policemen, which included the station superintendent, to crack down on human trafficking and slave labor in their jurisdiction.
Being transferred to an inactive post are is a routine sanction against officers suspected of wrongdoing.
He added that police chief Somyot Pumpanmuang has also ordered an investigation into whether the five transferred police officers committed any wrongdoing.
Human rights groups have long criticized Thai authorities for failing to stamp out slave labor and human trafficking, which mostly targets vulnerable migrants from neighboring countries like Laos, Cambodia and Myanmar.
Last month the United States government gave Thailand – for the second year in a row – its lowest possible ranking in an annual global trafficking report, citing a lack of serious effort in combating human trafficking.
Three U.S.-based law firms are also suing a California court to stop American retailer Costco from selling prawns unless they are labeled a product of slave labor. According to the plaintiff, the Thai seafood supplier for Costco, CP Foods, regularly uses ships manned by slaves to catch feeds for its prawns.
CP Foods has consistently denied the allegation about its use of slave labor, which first came to light in a report by The Guardian in 2014.