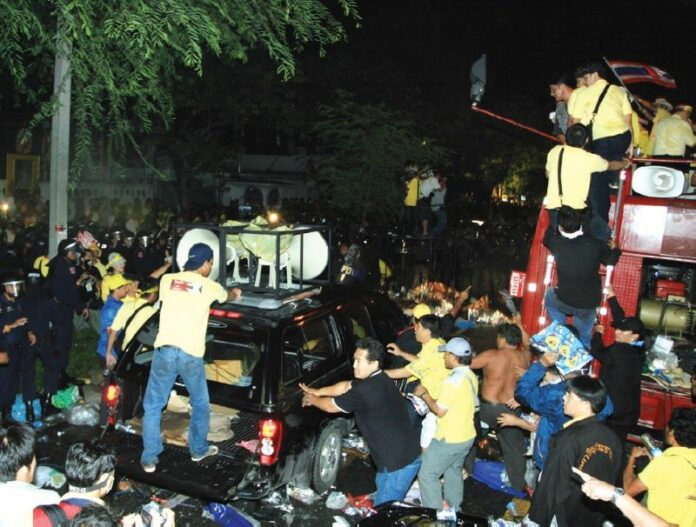 BANGKOK — A court today sentenced five leaders of the Redshirt movement to prison for a protest they organized in front of the home of a chief royal adviser eight years ago.
Weerakan Musikapong, Nattawut Saikua, Wiputalaeng Wattanapumthai and Weng Tojirakarn were convicted of illegal assembly and sentenced to four years and four months in prison, while Nopparut Worachit was convicted of obstruction of justice and handed a jail term of two years and eight months.
All defendants except Weerakan were immediately escorted to detention after the verdict was read out but will seek bail while filing an appeal.
Redshirt leaders Wiputalaeng Wattanapumthai, Nattawut Saikua and Weng Tojirakarn are led to a court detention room today after being found guilty today of illegal assembly for a protest eight years ago.
In addition to the conviction for illegal assembly, the court also ruled the four defendants encouraged protesters to fight off police officers attempting to clear the rally scene where the five men and other leaders of a group called the United Front of Democracy Against Dictatorship, or UDD, were demonstrating.
"Based on the evidence, which is photographs of the incident, it was found that the four defendants gave speeches urging [protesters] to prevent officers from arresting the group's leaders. Protesters then used plastic chairs and bricks to throw at officers," the verdict read. "This was not an act of self-defense as claimed by the defendants."
On 22 July, 2007, UDD demonstrators gathered at the residence of Gen. Prem Tinsulanonda, a former Prime Minister and chairman of His Majesty the King's Privy Council, whom the UDD accused of plotting a coup d'etat the previous year which removed an elected government.
Police moved to disperse the protest after UDD leaders announced that would rally in front of Prem's residence indefinitely, sparking clashes between protesters and riot police.
According to the court, Nopparut was guilty of obstructing justice because he was seen attacking a police officer with a flag pole, breaking his wrist. Weerakan, Nattawut, Wiputalaeng and Weng were found guilty of disobeying a police order to call off the protest.
Weerakan was not present for the judgment today, as his lawyer said his client was in hospital for stomach bleeding. The court accepted the explanation and ordered Weerakan to report to the court on 30 Sept.
Lawyers representing the five defendants said they will appeal the verdict and ask they be released on 500,000-baht bonds each. The court is considering the request.
The UDD is an umbrella organization for supporters of former Prime Minister Thaksin Shinawatra, who was ousted by the 2006 coup d'etat. UDD supporters became known as Redshirts due to their adoption of red shirts in response to the yellow shirts worn by anti-Thaksin activists.
Redshirt leaders and Thaksin have accused Gen. Prem, who led Thailand as the Prime Minister from 1980 to 1988, of engineering Thaksin's fall from power in 2006.
Prem, 95, is considered an extremely influential figure in both palace circles and the military due to his position as a personal adviser to King Bhumibol.
After the abortive 2007 protest, Redshirts staged another larger protest in front of Prem's residence in April 2009, calling for his resignation as chair of the Privy Council. Tens of thousands of protesters joined the rally, which later escalated into the occupation of Victory Monument in central Bangkok and storming of a Pattaya hotel where an international summit was underway.
Responding to the unrest, then-Prime Minister Abhisit Vejjajiva declared a state of emergency and ordered the military to disperse the protests. Redshirt leaders called off the demonstration two days later.
Two people died in the crackdown, reportedly in a clash between Redshirts and residents near the capital's Nang Loeng Market.
Related stories:
Top Adviser to HM King Showers Praises on Junta
Redshirt Jailed For Insulting King's Privy Councillor
To reach us about this article or another matter, please contact us by e-mail at: [email protected].