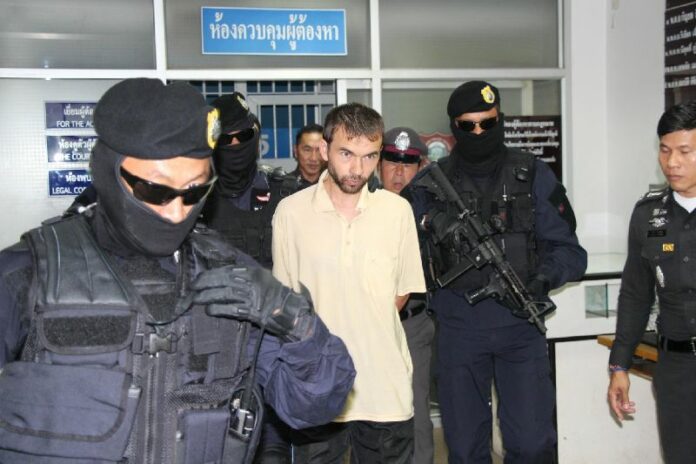 BANGKOK — Turkish officials have refuted claims from Thai police that the two nations were cooperating in the investigation of last month's bomb attack in Bangkok.
Turkey's embassy in Bangkok yesterday denied that Thai police have reached out about a key suspect who reportedly fled to Turkey, saying it has neither been contacted nor received reply to its own inquiries.
"Up to now this Embassy has not been contacted by Thai authorities in this respect, and we do not have information concerning the investigation," read yesterday's statement from the embassy.
A spokesman from Turkey's Ministry of Foreign Affairs is also quoted saying Thailand has ignored requests for information regarding suspects who reportedly fled to Turkey or were Turkish nationals.
"We have not officially received any information about this subject from Thailand," Tanju Bilgic said in a weekly press briefing yesterday in Ankara, Turkey, according to Reuters.
Thai officials have been uncomfortable acknowledging the increasingly international links the investigation has turned up, including a roster of foreign suspects including Turkish and Chinese nationals. Officials had reportedly been instructed to avoid mention of international terrorism or specific groups possibly involved in the attack which killed 20 people, mostly foreign tourists.
It wasn't until Tuesday that any official credence was given to the theory the attack was linked to an ethnic group in the far west of China and those sympathetic to them in Turkey.
Police Gen. Somyot Pumpanmuang's comments from Tuesday and Wednesday are compared side-by-side in a Matichon video today.
A day after saying the attack was linked to anger over Thailand's decision to deport 109 Uighurs under pressure from Beijing, Royal Thai Police chief Somyot Pumpanmuang walked that back today, saying the media "misunderstood" his remarks.
Royal Thai Police chief Somyot Pumpanmuang today walked back statements he made yesterday attributing the attack to anger over Thailand's deportation of 109 Uighurs under pressure from Beijing. Today he said the media "misunderstood" his remarks.
Police Gen. Somyot said he did not intend to suggest the bombing was revenge for Thailand's forcible repatriation in July of the Uighurs, but that the attack was a response to recent enforcement efforts against human smuggling operations in the kingdom.
"I said, the bombing at Ratchaprasong Intersection was a consequence of Thai authorities destroying a Uighur human trafficking network, which had been going on for a long time," he said today. "So they were angry that their business and illegal operations came to an end."
Yesterday he told the press that "The attack at Ratchaprasong Intersection and the violent incident at Thai Consulate in Turkey stem from the same reason."
On 9 July, Turkish nationalists stormed the Thai Consulate in Istanbul in protest to the deportation of the Uighur refugees, who had fled China when they were captured in March 2014. They claimed to be were attempting to flee from alleged persecution in China's Xinjiang province to Turkey, which is home to a large Uighur diaspora.
Five suspects including one man under arrest have been identified as Turkish nationals. Another suspect in custody and one at large are Chinese nationals from Xinjiang province, the Uighur homeland.
On Monday, the Bangladeshi embassy in Bangkok said the one being sought as a key suspect had flown from Dhaka, Bangladesh to Istanbul, Turkey, on 30 Aug.
Correction: A photo caption in an earlier version of this story misidentified the nature of the raid on a Min Buri apartment. Officers were looking for possible suspects in the bombing but found none.
Related stories:
Police: Bangkok Bombing was Revenge for Uighurs
Three Thai Women Detained in Din Daeng Raid
First Suspect Charged in Erawan Shrine Bombing
Mounting Evidence Links Bombing to Turks, Uighurs
Police Search for More Suspects After Arrest
No Longer Whole, a Family Buries its Dead and Waits for Answers
Seen Often on Sathorn 10, Suspect Thought to Use Fake Turkish Passport
Bangkok Shrine Bombing: Those Who Died
Despite Lack of Evidence, Thai Media Points Blame at Uighurs
Bangkok Shrine Bombing: Police Hunt Backpack Man
Tourists Among 19 Killed by Bomb at Bangkok's Erawan Shrine
To reach us about this article or another matter, please contact us by e-mail at: [email protected].
Follow Khaosod English on
and
Twitter
for news, politics and more from Thailand.