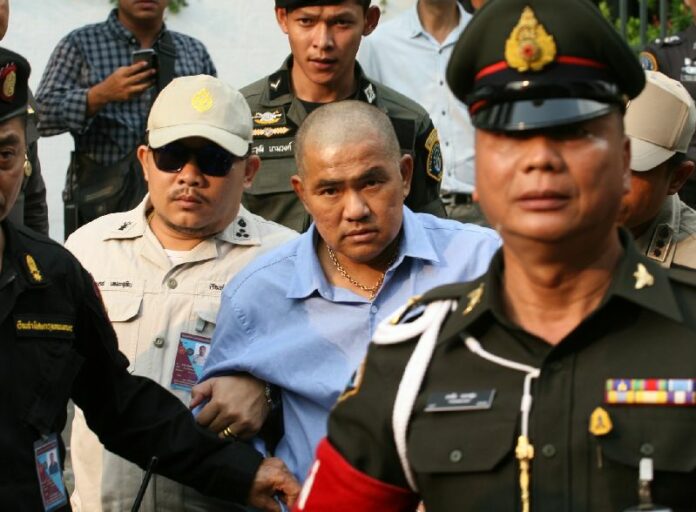 By Teeranai Charuvastra
Staff Reporter
BANGKOK — A nationally renowned astrologer accused of exploiting ties to the Royal Family for personal gain failed to appear in court as scheduled today.
Police said Suriyan Sujaritpalawong, who was recently charged with insulting the monarchy, was too ill to attend today's court session, at which police asked the military tribunal to extend his custody another 12 days. The judges approved the request.
"Mr. Suriyan – or Mor Yong – didn't come here because he's sick," said Col. Chayuth Marayat, one of the police investigators in the case. "We have brought a doctor's certificate to present to the court."
---
Famous Astrologer Among Accused 'Royal Imposters'
---
Four people have been arrested in connection with the case. The latest suspect, Sukkho Tamseri, was reportedly detained yesterday on a charge of lese majeste (defaming the monarchy) and illegal firearms possession. Police said Sukkho was a partner of an earlier named suspect, deceased former police officer Prakrom Warunprapha.
Sukkho was brought to the court day and remanded into military custody.
Suriyan, the astrologer, was last seen in public Oct. 21, when the martial court ordered him and two other suspects into custody at the 11th Infantry Division base in Bangkok, which has been converted into a special prison by the ruling military junta.
Questions and rumors about Suriyan's condition spread on social media after prison officials announced Oct. 24 that one of the suspects, Prakrom, committed suicide in his cell. On the same day, officials said, Suriyan requested a transfer to the prison's hospital, citing high blood pressure.
---
Further Autopsy of Lese Majeste Inmate Unnecessary, Minister Says
---
Witthaya Suriyawong, head of the Department of Corrections, said that Suriyan received a clean bill of health from doctors and was likely faking it. He was returned to the prison.
"Mr. Suriyan was making a retarded face. He contorted his mouth. He didn't make sense. His jaw was hanging open. Officials were afraid his health would be in danger, so we sent him for a CT scan," Witthaya told reporters Oct. 24. "A medical examination found there was no abnormality. His skull wasn't broken. It was likely that he was faking it."
The third suspect, Jirawong Watanathewasilp, who worked as Suriyan's secretary, did appear in court today. Military judges also approved a police request he be remanded into the military facility for 12 more days. Under the law, suspects can be held up to 84 days before prosecution or dismissal.
Security officers escort Jirawong Watanathewasilp to martial court in Bangkok today.
Like other lese majeste cases and issues involving the monarchy, the ongoing investigation into the three suspects have been conducted in secret. Media agencies have been told by authorities not to report anything other than official statements and authorized disclosures.
At a police news conference on Wednesday, investigators said Suriyan and his secretary Jirawong embezzled millions of baht by abusing their positions as coordinators for two mass cycling events organized by the Crown Prince Vajiralongkorn to honor his parents, the King and Queen of Thailand.
Investigators also accused Prakrom of amassing an arsenal of unregistered firearms, conducting illegal surveillance of police transmissions and taking valuables confiscated by police for his own use.
Neither Suriyan nor Jirawong are represented by any lawyer. They denied that charges against them in court Oct. 24.
Asked by reporters whether the suspects could be visited at the military prison, Defense Minister Pravit Wongsuwan said the facility is not under his authority.
"Why do you want to see it?" Pravit said. "Do you want to spend some time there?"
Police said they expect the investigation will continue another two to three months.
To reach us about this article or another matter, please contact us by e-mail at: [email protected].
Follow Khaosod English on
and
Twitter
for news, politics and more from Thailand.