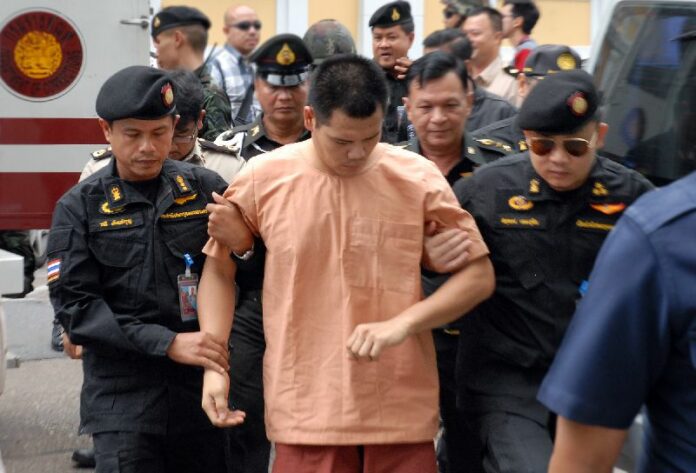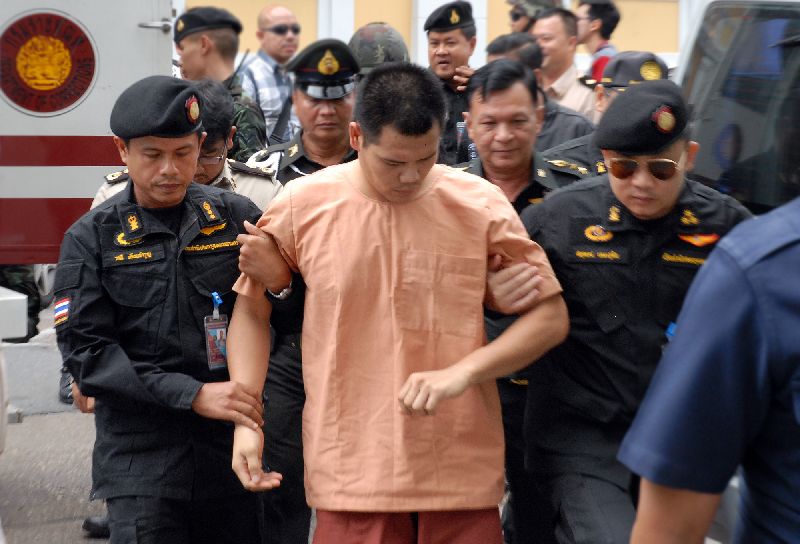 By Pravit Rojanaphruk
Senior Staff Writer
BANGKOK — Seven more arrests warrants have been approved by a martial court in relation to high-profile lese majeste (defaming the monarchy) cases involving people accused of profiting from links to the monarchy.
The latest batch of warrants in the six-week-old investigation brings the number facing charges to at least 14, and comes two days after prominent human rights agencies raised concerns over two suspects' deaths in military custody.
"In the latest [development], the court has issued seven additional warrants on Nov. 25," police chief Chakthip Chaijinda said Thursday. He did not name any of the latest suspects.
On Wednesday the military court also issued warrants for an army official and two police officers, charging them with insulting the monarchy. The three suspects were identified as army Maj. Gen. Suchart Prommai, police Col. Pairoj Rojanakachorn and police Lt. Col. Thammawat Hiranyalekha.
---
Purge Continues as Cops, Army Chief Aide Charged
---
They are accused of embezzling funds intended for the promotion of Bike for Dad, a nationwide cycling event to be held Dec. 11 to honor His Majesty the King. Chakthip said the three men were still at large.
Any remark or action deemed libelous toward the monarchy is punishable by up to 15 years in prison under Section 112 of the Thai Penal Code, a law also known as lese majeste.
Four people were also previously charged with lese majeste: palace aide and famous astrologer Suriyan Sujaritpalawong, his secretary Jirawong Watanathewasilp, policeman Prakrom Warunprapha, and army officer Kachachat Boondee.
Suriyan and Prakrom died in custody at 11th Army Circle base in Bangkok on Oct. 24 and Nov. 7, respectively. Kachachat is believed to have fled Thailand since Oct. 31. On Wednesday the government announced that His Majesty the King had stripped Kachachat of his military rank and royal decorations.
Jirawong is still being detained at the base, which has been converted by the junta to serve as temporary remand facility for cases affecting "national security."
Calls to Close Down Military Prison
In the wake of the two deaths, Human Rights Watch and the International Commission of Jurists released a statement Tuesday expressing concern over the junta's detention of civilians at the military facility.
The two groups stated their concerns in an open letter to the United Nations' Permanent Mission of Thailand and submitted a copy to junta chairman Prayuth Chan-ocha.
The letter called for immediate transfer of all non-military detainees at the 11th Army Circle to an officially recognized civilian place of detention compliant with international law, and urged the junta not to detain civilians at any other military facility in the future.
The two organizations also called for a "prompt, impartial, and effective investigation" into the deaths of Suriyan and Prakrom. Officials said Suriyan died of died of a blood infection, and Prakrom was found hanging in his cell.
Additional reporting Teeranai Charuvastra
Related news:
Police Announce Investigation of 'Royal Imposters'
Famous Astrologer Among Accused 'Royal Imposters'
Further Autopsy of Lese Majeste Inmate Unnecessary, Minister Says
Famous Astrologer 'Mor Yong' Dies in Custody
To reach us about this article or another matter, please contact us by e-mail at: [email protected].
Follow Khaosod English on
and
Twitter
for news, politics and more from Thailand.