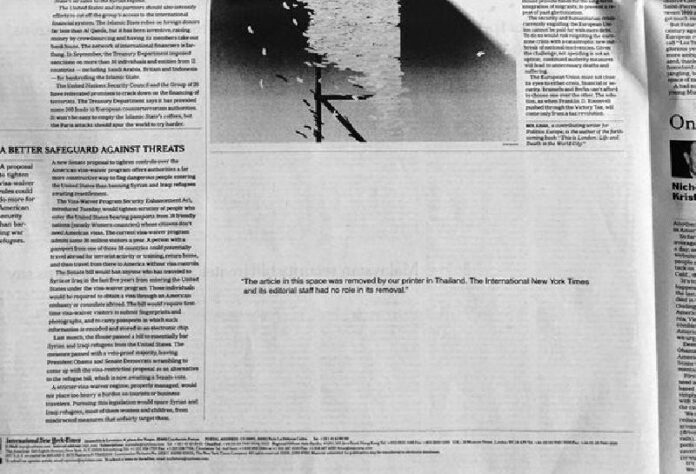 By Todd Ruiz
Editor
BANGKOK — The New York Times complained of the "regrettable" lack of press freedom in Thailand today after the Bangkok publisher of its international version refused to run an article deemed too sensitive for the second time this week.
Two days after the International New York Times was published with an empty space on the front page instead of an article on the kingdom's present economic and social malaise by longtime correspondent Thomas Fuller, today's opinion page in Thailand was missing a critical op-ed on the role and recommended reforms of the Crown Property Bureau.
"We've been notified by our printer in Thailand that they will be blocking another article, an Op-Ed, in today's International New York Times," newspaper spokeswoman Eileen Murphy wrote in a statement to Khaosod English. "This second incident in a week clearly demonstrates the regrettable lack of press freedom in the country. Readers in Thailand do not have full and open access to journalism, a fundamental right that should be afforded to all citizens."
---
New York Times Local Publisher Redacts Article on 'Sagging' Thailand
---
Today's opinion page in the Thailand edition of the International New York Times. Photo: @thomasfullerNYT / Twitter
Reached for comment on today, a representative from Eastern Printing Pcl in Bangkok referred a reporter to statements made by its chairman in Manager newspaper.
Yuth Chinsupakul, Eastern Printing chairman, told Manager that the company inspected the newspaper to be published this morning and found "the headline and article had a sensitive issue relating to the monarchy of Thailand," so they refused to print it.
On Tuesday, Eastern Printing said the company's decisions to withhold stories were made of its own accord and amounted to self-censorship, not by order of the state.
In both cases, the articles were published in other regional editions, including Myanmar, and are accessible online.
In September, Eastern Printing declined to print and distribute the International New York Times in its entirety, as its Asia edition featured a story about issues involving the health of His Majesty the King, 87-year-old Bhumibol Adulyadej.
In October the newspaper announced it would stop publishing and distribution altogether in Thailand.
"Our decision to stop printing in Thailand was primarily a business one, made because of the rising cost of our print operation in the country," Murphy wrote Tuesday in reply to an inquiry.
Despite that, the paper will still be available in nearly all countries throughout the region except Thailand. The International New York Times will still be available in in Singapore, Brunei, Malaysia, Indonesia, the Philippines and Myanmar.
Additional reporting: Simon Duncan and Chayanit Itthipongmaetee