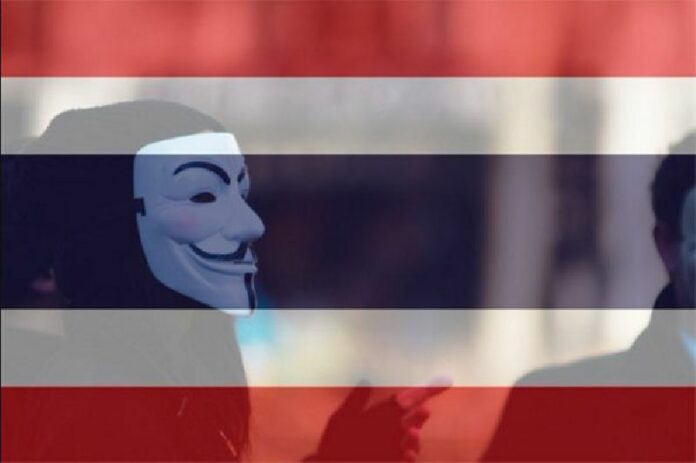 By Todd Ruiz
Editor
BANGKOK — A number of police websites were offline today after the international hacking collective known as Anonymous claimed to have taken them down as part of their campaign against the junta's plan to take control of the internet in Thailand.
Websites for the Office of Police Strategy and Police Administration Information System were unavailable this morning and intermittently throughout the day, after the hack announced Monday on various Twitter accounts used by members of the group using the hashtag #OpSingleGateway.
The attacks were intended to underscore the vulnerabilities of a state-operated internet in Thailand, they said.
"It is unacceptable that you promote your own people, army executives at the Head of the largest Telecommunication operator: CAT Telecom," read a statement attributed to the group. "To prove our point, we are demonstrating the inability of the Thai government to secure even their own police servers, it is pitiful and should worry all of Thailand."
---
'Anonymous' Declares War on Thai Junta
---
The statement suggested the systems were particularly insecure.
"Your police are protecting their files with passwords like 12345; it would be funny if it weren't so sad," it continued.
In October, Anonymous signaled it would target the Thai government online in support of local activists opposed to a government plan to route all inbound and outbound internet traffic through a single point it could manage.
The government has given shifting reasons for needing the system. It has said it wants to control needs the system to protect the monarchy, protect children and go after criminals online. More recently it described the gateway as part of its economic policy.
The junta announced its intention to gain control of the internet within days of seizing power in May 2014. The single gateway project fell quiet for months until it turned up in a series of cabinet resolutions beginning in June, in which it was described as a means "to control inappropriate websites and flow of news and information from overseas."
Officials backpedaled in response to a public outcry and said they were only studying the idea. An online opposition movement was born, which engaged in crude but effective attacks to shut down government web services.
In October the project was subsequently rebranded a "national gateway" and part of the nation's digital economy policy. State-operated CAT Telecom had proposed implementation, but there has been little public discussion since.
Additional reporting Sasiwan Mokkhasen
Related stories:
'Anonymous' Declares War on Thai Junta
No Shock, Awe from 'Cyber War' as 'National' Gateway Moves Forward