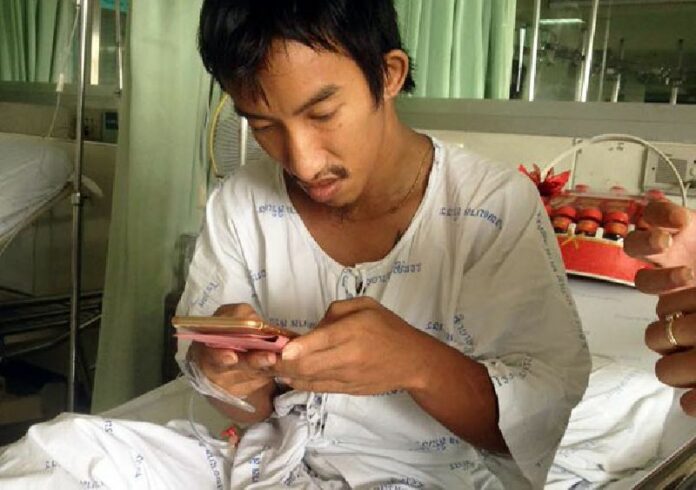 BANGKOK — Doctors at a hospital where a patient was removed and taken into military custody said they have received no information about his medical condition from authorities.
Three days after sedition and lese majeste suspect Thanet Anantawong was removed from a hospital by plainclothes security officers to answer a charge of sedition, the hospital director said Wednesday they have received no information about his medical condition from the military.
"They haven't informed us, [they] only interrogated us, including his physician, but not [myself] yet," said Supaporn Karalak, 58, director of Sirindhorn Hospital. The admission came as New York-based Human Rights Watch issued a statement saying Thanet needs urgent medical care.
---
Officers Snatch Pre-Op Patient from Hospital
---
Thanet, a 25-year-old Redshirt described as impoverished and homeless by associates, was suffering from a hernia and intestinal infection and was awaiting surgery when he was removed Sunday from the hospital, according to his friend, Piyarat Chongthep.
After he was removed, authorities requested that his relatives deliver his medicine from the hospital, including two courses of antibiotics he'd been prescribed, Clindamycin and Ciproflaxacin, which indicate a serious condition, according to Nirand Pitakwatchara, a physician and former member of the National Human Rights Commission.
Supaporn disputed that Thanet's condition is serious and instead described it as "moderate."
"He's definitely not suffering from a hernia, but I can't tell you what he's suffering from," she said, citing patient privacy. " … but we gave [the information] to the military because they had a letter demanding it." Supaporn discouraged the media from speculating on Thanet's ailment.
The hospital director also defended the institution, a public hospital run by the Bangkok Metropolitan Administration in the capital's eastern outskirts, saying reports that it had alerted the junta to arrest Thanet from his hospital bed were simply wrong.
The hospital director insisted the hospital would never do such a thing.
Supaporn said the hospital has no knowledge that Thanet, who was admitted Dec. 10, was wanted by authorities.
Thanet is one of several civilians to charged with sedition for sharing on Facebook an infographic purporting to show those involved in the alleged Rajabhakti Park corruption scandal, including junta chairman Prayuth Chan-ocha and other top officials.