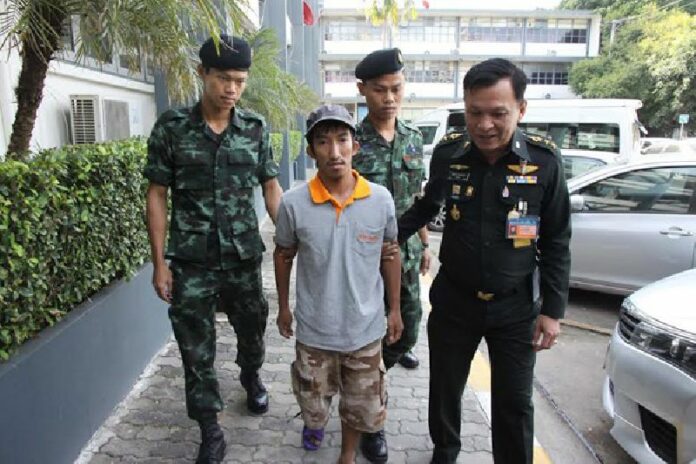 BANGKOK— A largely unknown activist became the subject of a social media maelstrom when his friends described him being pulled from his sickbed at a public hospital Sunday by uniformed security forces.
Loud cries followed of inhumane treatment and disregard for a patient's welfare by the junta, who were accused of sending agents to snatch a sick man from a hospital where he was awaiting hernia surgery.
But was Thanet Aantawong, who resurfaced in military court today where he was granted bail, really taken from his bed, or was he taken into custody after discharging himself from the hospital, as authorities allege?
Nobody except Thanet and those who arrested him seem to know, and if there were any eyewitnesses, they aren't talking.
Police have flatly denied he was dragged from his sickbed. Nurses at the ward on the seventh floor of Sirindhorn Hospital in the eastern outskirts of Bangkok wouldn't speak about what happened Sunday shortly after noon. A nurse who did speak initially said she did not know the circumstances, but several minutes later reversed herself to say Thanet was not taken from his bed.

Thanet Aantawong, second from left, with activists briefly detained Dec. 7 while on their way to visit the Rajabhakti Park in Hua Hin. Photo: League of Liberal Thammasat for Democracy / Facebook

Hearing the charges today in court, Thanet will be tried for sedition and violating Article 14 of the Computer Crime Act for spreading false information that poses a threat to national security. Although the charges were originally said to involve an infographic detailing corruption in billion-baht Rajabhakti Park project, police said today they involved unspecified anti-government activities online. The court granted bail on a 100,000-baht bond at 4.20pm today, according to Thai Lawyers for Human Rights.
But left unanswered today were the circumstances of his arrest.
Thanet's friend, Piyarat Chongthep, who had visited him Sunday, insisted Thanet was most likely taken from his bed because he saw two suspicious-looking men loitering outside the ward, sitting and apparently waiting to do something, but he has no concrete proof.
It was Piyarat's account which led to outrage on social media, with people condemning both the military junta as well as Sirindhorn Hospital, which is operated by the Bangkok Metropolitan Administration.
Sirindhorn Hospital Director Supaporn Kuralak insisted that Thanet – who admitted himself Dec. 10 – was not dragged away, although she said she does not know the circumstances of his arrest either.
Supaporn said the patient went down to the ground floor to pay for his medical bills after 11am on Sunday and the hospital has no knowledge of what happened next.
"If he was arrested, it must have been done by plainclothes officers after he discharged himself. We didn't know that he was wanted," Supaporn said Wednesday, adding that some people called to condemn the hospital's alleged treatment of Thanet because they believed the hospital had facilitated his arrest by alerting the regime he was there.
Supaporn also disputed that Thanet was suffering from a hernia and needed surgery.
"If a patient is really not well, no doctor would allow the patient to be discharged because no doctor would allow a patient to leave and die," she said. Supaporn added that Thanet deserves medical attention under military detention, however.
Two days after saying a medical doctor "should be dispatched to have a look" at Thanet, Supaporn today said that maybe he'd already recovered. She would not divulge his illness, citing patient confidentiality, but added that some medical information was provided to junta representatives at the time of his arrest.
Today the hospital director said that she has seen CCTV footage of Thanet leaving the hospital building alone, which she said proves he was not dragged away from his sickbed on the seventh floor of the building's surgery ward.
Supaporn would not produce even a still image of the said CCTV footage, however, again citing patient privacy.
Piyarat, the friend who visited Thanet just before he was arrested, disputes the idea Thanet was discharged prior to his arrest. Had he discharged himself, Piyarat wrote on Prachatai.com, it's unlikely authorities would have asked his lawyer to fetch medicine for Thanet from the hospital.
Security officers have frequently returned to the hospital since Sunday, Supaporn said.
"I don't know why they want to interrogate us so much," she said, referring to questioning of hospital staff in recent days by police and military officers.
A security guard at the hospital, whose name is being withheld for his own safety, said the military and police interrogated more than 10 hospital staff and appeared furious the hospital had not informed them about Thanet before the arrest.
"Why did you let the criminal go?" the guard recalled one of the officers asking.
"But how could we know that he was wanted? I told them it's because the doctor had already discharged him," the guard said, adding however that he also does not know the circumstances of Thanet's arrest.
Additional reporting Sasiwan Mokkhasen
Related stories:
Condition of Suspect Removed from Hospital Unknown