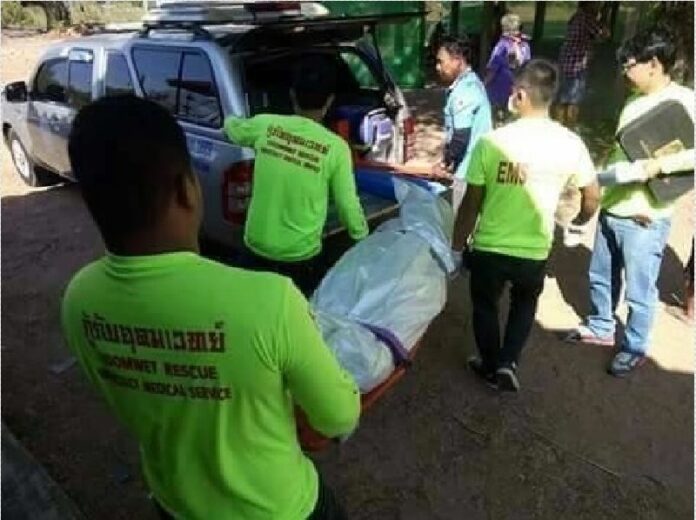 ROI ET — A man arrested by soldiers in Roi Et province on suspicion of selling drugs was found dead in custody on Monday, prompting cries of foul play from his family.
Urai Sattanont, 40, is the fourth suspect to die under suspicious circumstances in military custody in the past two two months, a trend that disturbs civil rights activists in the Kingdom, where a military government has been in power since May 2014.
Police said soldiers arrested Urai on Dec. 20 and took him to an outpost in the province for interrogation. By 6.00am on the following day, Urai was found dead in his bed, said Lt.Col. Suriya Yodwong, an officer at a local police station.
"The military said they do not yet know the [exact] cause of death. They said he died in his sleep," Police Lt.Col. Suriya said over telephone today.
His body was sent for an autopsy at Srinakarin Hospital in neighboring Khon Kaen province on Dec. 21 and later returned to Urai's family, though doctors have not yet specified when the result will be announced, Suriya said.
Maj.Gen. Sathaporn Baipluthong, commander of the military force in Roi Et province, said military intelligence identified Urai as a drug dealer, so he dispatched soldiers to make the arrest at 9pm on Dec. 20. According to Sathaporn, Urai was found with eight ya ba pills on his person, and he was "fully cooperative" throughout the interrogation.
Soldiers detained him at the command post overnight, and in the morning, he was found dead, the major general said. He added that he is awaiting for the autopsy report, and vowed to treat the case impartially.
"If the result turns out [to be] that soldiers beat him to death, we will proceed in accordance with the law in a straightforward way. No one will be exempted," said Maj.Gen. Sathaporn. "I'd like to ask his family not to worry."
Soldiers as law enforcers
According to Suriya, the Roi Et police officer, Urai was never wanted by police, and there is no outstanding arrest warrant for him.
"The military investigated on their own and concluded that Urai is connected to the narcotics trade, so they arrested him," Police Lt.Col. Suriya told Khaosod English. "They invoked Article 44 to arrest him."
He was referring to a special power granted to the military, in April, by junta chairman Prayuth Chan-ocha: Article 44 of the interim charter. Criticized by human rights activists as a martial law by other names, the special order permits soldiers to arrest individuals, search properties and detain suspects in military custody without any court warrant.
After seizing power from an elected government in May 2014, the junta has also deployed soldiers to act as law enforcement officers alongside police, arresting petty criminals, manning checkpoints and even directing traffic on major roads in Bangkok.
Asked whether it is common for soldiers to arrest alleged ya ba peddlers like Urai, Police Lt.Col. Suriya said, "Well, both authorities [police and military] can do it. The military can make arrests, and they can detain suspects for interrogation, but they also have to hand the suspects over to police later."
In the case of Urai, however, police were not informed about the arrest until after he was found dead in military custody, Suriya said.
Family cries foul play
Rescue workers inspect Urai Sattanont's body in military custody on Dec. 21 (photo provided by Urai's family, with permission to be published)
Urai's father, Utai Sattanont, said he believes Urai was beaten prior to his death because there were bruises and marks on his body, suggesting an assault.
The body of Urai was initially sent for an autopsy at a hospital in Roi Et, but his family requested the autopsy to be conducted in Khon Kaen instead, because they feared that local authorities may try to interfere with the hospital in the province, Utai said.
Urai's corpse is now being kept in a refrigerated coffin at his family home. His sister, Lamyao Sattanont, said she will not cremate Urai until the autopsy result is revealed.
Urai's family also planned to stage a demonstration at a government complaint center in Roi Et yesterday, but police officers arrived at their residence and asked them to wait for the autopsy result first before taking any action. The plan for a protest was eventually abandoned.
Malichan Mola, a grocery store owner, told reporters she witnessed the moment when Urai was arrested. According to Malichan, Urai was buying some goods at her shop when three men in plain clothes arrived on one motorcycle and asked for his name.
When Urai confirmed he was the man they were looking for, the men slapped handcuffs on him and made some phone calls. A car later arrived to take Urai away.
"The men didn't say anything at all about who they were or where they came from," Malichan recalled.
Deaths in custody
Urai is the fourth known case of death in military custody since October.
Two high-profile suspects Prakrom Warunprapha and Suriyan 'Mor Yong' Sujraritpalawong died in solitary confinement at an army barracks in Bangkok on Oct. 23 and Nov. 7, respectively, according to prison officials.
Prakrom and Suriyan were accused of defaming the monarchy. Officials said Prakrom committed suicide by hanging himself in his cell, and Suriyan died of a blood infection. No independent autopsy was performed for either men, and their bodies were soon cremated in secret, fueling intense speculation about their deaths on social media.
The third suspect to die in army custody was Abdullayib Dolah, 42, a Muslim man who was detained on suspicion of aiding the separatist movement in Pattani province. Abdullayib reportedly died at Inkayuth army base on Dec. 4, only one day after his family visited him at the base.
To the shock of his family, doctors in charge of the autopsy for Abdullayib announced on Dec. 16 that they simply did not know what caused the man to die in custody.
The National Human Rights Commission said it is working with Abdullayib's family to seek justice over his unexplained death.
Alarmed by these fatalities, two prominent rights agencies – the United Nations' Human Rights Office for South-East Asia and the Human Rights Watch – have urged the Thai authorities to stop detaining suspects in military facilities.
The military government has so far dismissed these protests.
To reach us about this article or another matter, please contact us by e-mail at: [email protected].
Follow Khaosod English on
and
Twitter
for news, politics and more from Thailand.