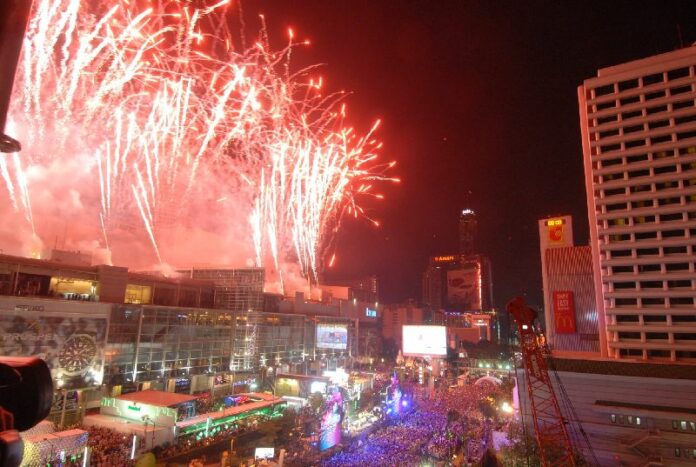 BANGKOK – Here's our list of the most defining moments of the past year, as covered by our publication:
1. The year of living under the dictator's laws
Hopes were kindled when junta chairman Prayuth Chan-ocha, announced early this year that he was willing to repeal martial law, which had been in place nationwide since May 22, 2014. However, the junta chief lifted martial law in April only to replace it with an even more draconian power: the invocation of Article 44 of the interim constitution.
The clause allows Prayuth to make an order to disrupt or suppress any act that "undermines public peace and order or national security, the Monarchy, national economics or administration of State affairs, whether that act emerges inside or outside the Kingdom." Any orders issued by Prayuth under Article 44 are considered legally-binding by default without any civilian oversight – a classic definition of a dictatorial power.
Article 44 ended up serving as a martial law under another name, permitting soldiers to detain suspects and search properties without warrants, and serve as laws enforcement officials alongside police.
Armed with the constitutional clause, Prayuth made no pretense about who's calling the shots in the juntaland. With the mere mention of his near-absolute power under Article 44, the general set up committees, enacted far-reaching policies and transferred bureaucrats at will. Laws issued under the Article range from setting up a special economic zone to cracking down on young street racers.
Further repressive enactments under Article 44 may also await us in 2016, after police threatened to curb political discussion on social media with the clause.
2. Progressive activists take the helm while Pheu Thai slinks back
After losing power in the May 2014 coup, Pheu Thai Party has been forced to the sidelines of the political arena. The party's retreat is partly due to the junta's relentless ban on political activities and intimidation of key Pheu Thai politicians. Meanwhile, top leaders of the Pheu Thai party, including former Prime Minister Thaksin Shinawatra himself, repeatedly showed they had no stomach for a fight with the military regime. Not until a new election anyway.
In the absence of the political machinery of Pheu Thai, the job of resisting the junta's rule falls onto a small group of pro-democracy, progressive activists who are not members of the traditional Redshirt movement.
Groups like the Thai Student Center for Democracy, New Democracy Movement, Dao Din, Resistant Citizens, and New Isaan Movement bravely risk arrests, trial under martial law and jail terms in the David-vs-Goliath campaign against the junta. They held marches and gatherings as much as they can under the ban on protest, while keeping an active presence on social media.
When the junta pushed for a "single gateway" to control Internet traffic in and out of Thailand, geeks and online activists united to oppose the plan. Under the campaign "F5 Cyber Army," they managed to disrupt major government websites and highlighted vulnerability of the state's internet infrastructure. The junta eventually shelved the plan for the single gateway – officially.

Although the regime remains as well-entrenched as ever, these activists' contributions for free speech in Thailand won admiration from many peers, both domestically and overseas.
3. The unspeakable Purge


In October, police abruptly announced a crackdown on a group of individuals who allegedly exploited ties to the Royal Family for their own gains.
Four people were arrested, charged with lese majeste (insulting the monarchy) and placed in military custody. The suspects included palace aide Suriyan Sujaritpalawong and police officer Prakrom Warunprapha, who both died of mysterious circumstances in their cells. A number of police and military officers were also implicated in the alleged imposter ring, including former palace bodyguard Pisitsak Seniwong na Ayutthaya.
No one knew for sure what the suspects were accused of, but a frenzy of speculation and rumors spread on social media. The media was kept strictly shut out of the discussion, however; the authorities placed a blanket ban on news coverage about the crackdown that does not come from official statements or authorized disclosures.
The purge also 'spilled over' into accusations that some military officers were involved in corruption behind the construction of a monument complex called Rajabhakti Park. Again, no one knew for sure who first blew the whistle, nor out of what motive, but the park scandal will likely continue into 2016.
4. Record jail term for lese majeste
Discussion of the monarchy has always been outlawed and considered a taboo for the past few decades in Thailand, where lese majeste (insulting the Royal Family) is punishable by up to 15 years in prison. But the law has been more and more strictly enforced since the royalist military regime came to power in May 2014.
August saw a record-breaking sentence for lese majeste charges. A man from Kanchanaburi province was sentenced to 30 years in prison, while a woman from Chiang Mai was given a 28-year jail term. Their offenses? Facebook posts that reportedly defamed the monarchy.
New lows of the law's harsh enforcement continue to be made. Just this month, a man was arrested and slapped with a lese majeste charge for writing a sarcastic remark about the King's dog, Thong Daeng. Police also reiterated that anyone who "likes" or "shares" Facebook posts that carry sensitive contents will be liable for prosecution.
In spite of condemnation from various human rights organizations, including the United Nations, the junta insisted that the draconian lese majeste law is justified to maintain the dignity of the Royal Family.
5. Erawan Shrine bombing
On the evening of Aug. 17, Bangkok faced its worst terror attack in living memory. 20 people from six nations were killed and hundreds injured when a bomb struck the popular Erawan Shrine in downtown Bangkok.
Only two Uighur men have been arrested and sent to stand trial so far, while 15 other suspects wanted by police remain on the run. Yet, police declared the case closed in October, and the authorities announced no progress on the rest of the suspects since.
The investigation was also marked by the Thai authorities' apparent rush to convince the world that it was "business as usual" in Bangkok. The crime scene was quickly cleaned up within 48 hours after the bombing. Foreign celebrities were hired to tour the shrine. Even terrorism was not included in the charges against the two suspects, likely due to the government's reluctance to acknowledge the bombing as a terror attack.
In line with the Thai government's effort to erase the "bad memory" of the attack on Erawan Shrine, there is no plan for any memorial to honor the victims. As a remedy to this enforced amnesia, Khaosod English published a story in memory of those who died in the senseless attack. We also released an article penned by our correspondent from Butterworth, Malaysia, where a family was forever changed by the killings on Aug. 17.
6. Thai industries came under scrutiny
After years of negligence and corruption, authorities were forced to clean up their dirty acts in some national industries this year. The wake-up call came when ICAO and the European Union warned that Thailand may be punished for their failures to regulate its aviation and fishing industries, respectively.
NGOs also disclosed serious violations of human rights in the seafood businesses, namely the use of slave labor and widespread tolerance of human trafficking.
While serious punishments were eventually averted, the threats highlighted the need for a long-delayed reform in the Thai economic system, in order to comply with both domestic and international laws, and satisfy concerns from human rights watchdogs.
7. A sad end to the human trafficking crackdown
With the discovery of slave camps that held trafficked refugees in southern Thailand, authorities could no longer pretend not to notice the crisis of human trafficking in the region like they have been doing for years.
Police Maj. Gen. Paween Pongsirin was appointed the head of the task force to crack down on the illicit trade. He was told by the junta not to spare anyone. So he went to work. His team was responsible for the arrests and prosecution of over 80 suspects, including a high-ranking army general. Compared to years of silence and impunity, this was unprecedented.
So it came as a sick joke when Paween ended up losing his job, because he was actually doing his job. He was first transferred to southern Thailand, which would leave him open to revenge from the criminal syndicates that he spent months trying to dismantle. His plea to the police force was ignored, forcing him to quit his job for the sake of his own safety. Paween later relocated to Australia, where he is applying for asylum.
The sad case of Paween only served as a warning for investigating others who cannot be touched in Thailand.
8. One man Prohibition crusade
When an avowed Buddhist who publicly denounced alcohol, seeing it as a moral sin, was put in charge of the country's alcohol control board, things went down exactly as anyone might imagine.
As the head of Alcohol Control Board, Samarn Futrakul went on a rampage with the aim of limiting the sale and visibility of alcohol. His achievements include: a new law that bans alcohol producers from promising positive effects, a confusing ban on alcohol sales near schools and threats to prosecute anyone who shares photos of alcohol on social media.
In the end, it appears that Samarn has overextended his reach. He was publicly chided by junta chairman Prayuth Chan-ocha himself, after he expressed his wish to bring an end to beer gardens – an annual gold mine for Thailand's major beer corporations. Samarn faded from public view soon afterwards.
9. Road kill and impunity
Apparently you can kill a police officer in a car accident and walk away from the crime scene without any charge or an alcohol test.
That's exactly what happened in July, when actress Anna Hambawaris (aka Anna Reese), was allowed to go home and have some rest after she crashed into a car containing a sleeping police officer. By the time she showed up at the police station the next day, any trace of alcohol that might have been in her blood system would have already dissipated.
The story was widely shared on social media, largely because many felt it was another example of double-standards in laws enforcement. Many ordinary, poorer citizens don't even get a lawyer when police come after them.
Anna later went on to make a claim at the officer's funeral that his ghost forgave her. No word on what the ghost might have said about compensation though; Anna bulked at paying the compensation to the officer's family for two months, before both parties finally agreed on an undisclosed sum.
10. Bangkok cops win Ig Nobel prize
Finally, let us give a round of applause to the Bangkok Metropolitan Police Bureau, who won an Ig Nobel prize for its innovative idea of paying cops not to take bribes. The strategy is also known as rewarding people for doing their job and obeying the laws of the land.
The no-bribery reward, which was eventually shelved just weeks after it was implemented, again reminds us of the surreal logic shared by the top commanders of the Thai police force.
If we need any more proof of the wonderful bubble the top police brass is living in, don't forget that the Bangkok police chief also lashed out at his own subordinates for doing their job: Pol.Lt.Gen. Sriwarah Rangsipramkul was so offended when he was asked to take a breathalyzer test for alcohol in his system at a police checkpoint in July.
To reach us about this article or another matter, please contact us by e-mail at: [email protected].
Follow Khaosod English on
and
Twitter
for news, politics and more from Thailand.