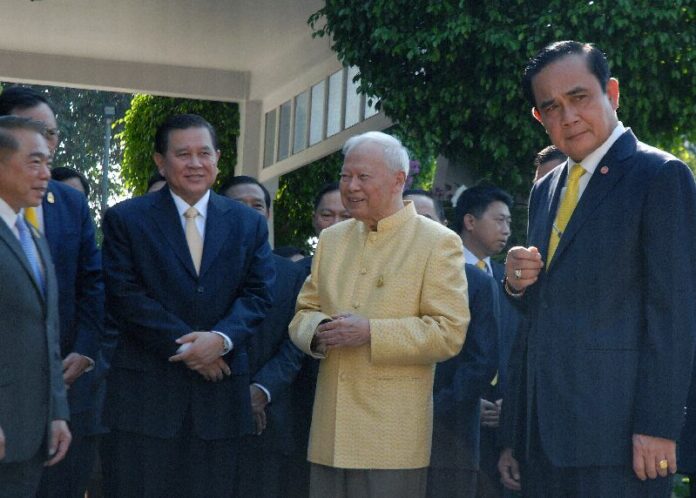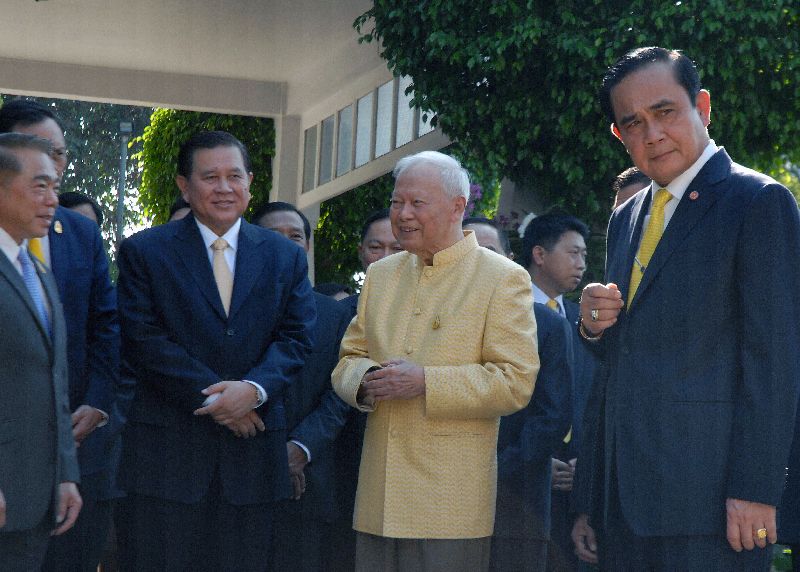 BANGKOK — In a way, former army chief Udomdej Sitabutr, was cleared of the allegation that he is involved in massive graft, even before an inquiry by the Ministry of Defense yesterday formally let him off the hook.
Just hours before the announcement of the Ministry's weeks-long investigation into Rajabhakti Park, the monument complex built under Udomdej's watch and said to be mired in widespread corruption, Udomdej received a glowing endorsement from Gen. Prem Tinsulanonda, the influential former Prime Minister and top advisor to His Majesty the King.
"I believe goodness will bring success to you, Dong," Gen. Prem told Udomdej at his residence on Wednesday, calling him by his nickname. "I believe you are not that kind of person. I believe you are a good person."
Prem made the comment when Udomdej and other leaders of the junta were visiting the 95-year-old statesman, to wish him a Happy New Year.
Leaders of the junta meet Gen. Prem Tinsulanonda at his residence yesterday
Udomdej later told reporters after the meeting that he also chatted with Prem some more in private, and Prem repeated his confidence that the former army chief was not involved in any wrongdoing in the construction of Rajabhakti Park.
"He told me he believes I didn't do anything wrong," Gen. Udomdej said. "And I understand that this allegation isn't directed at me. It's about the project. As the chairman [of the project], it's natural that I have to testify to the investigation committee."
Gen. Udomdej has been embroiled in the scandal since he admitted to reporters in November that he was aware of some financial irregularities in the one-billion baht project. According to Udomdej, the army hired private foundries to make giant statues for the park through a businessman who took a 10 percent cut from the budget. (Khaosod English is withholding the man's identity to avoid a possible lawsuit under defamation laws.)
---
Former Army Chief Explains Royal Park Project Graft
---
His remark was met with ridicule from much of the media, and prompted the Ministry of Defense to set up an investigation committee into the scandal.
But just hours after Prem endorsed Udomdej, the committee announced to reporters that they found no irregularity in the park project.
Gen. Charnchai Changmongkol explained that the committee only looked at transactions made during the construction, so it was beyond their duty to see whether some sophisticated corruption might have taken place.
Rajabhakti Park in Prachuap Khiri Khan province
"We cannot say what is right, what is wrong," Gen. Charnchai said. He added that other agencies could still investigate the matter further if they suspect any wrongdoing in the project.
When a reporter asked whether the result means Udomdej is cleared of any alleged corruption, Charnchai was evasive, "In this point, individuals who are involved with the making of the royal statues, we also looked into that, but we didn't rule about what is wrong, because we only have jurisdiction in inspecting information within the Ministry of Defense."
It is not immediately clear whether any other state agency will take up the investigation against Udomdej.
Read more:
Rajabhakti Scandal: Military Closes Park 'For Maintenance,' Detains Dozens of Activists
Rajabhakti Scandal: Redshirt Leaders Released
Police, Army Disagree Over Which Should Probe Royal Park Graft
To reach us about this article or another matter, please contact us by e-mail at: [email protected].
Follow Khaosod English on and

Twitter

for news, politics and more from Thailand.