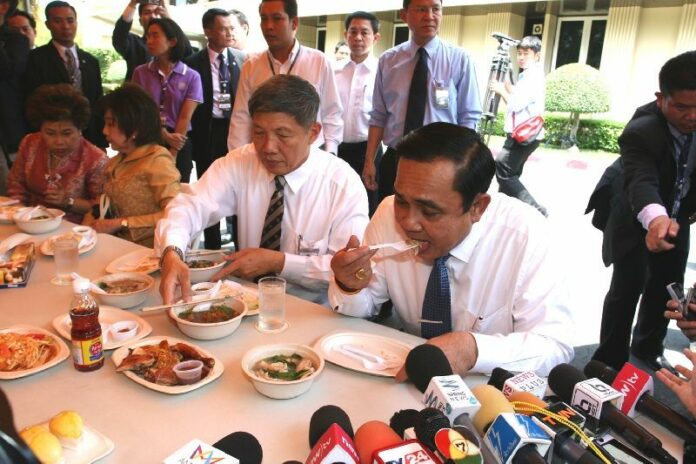 BANGKOK — Where would we journalists be without Dear Leader Prayuth Chan-ocha's colourful soundbites and awkward photo-ops? Here's a list of our favorite and not-so-favorite moments featuring the junta chairman from the past year:
1. The Athletic Leader
Gen. Prayuth isn't a typical, boring politician who sits in his Government House all the time. Throughout 2015 he has displayed his uncanny talents in many fields, such as the sucker-kicking a kickboxer…
making a hat out of a paper krathong…
showing off his swordsmanship…
and driving a tuk-tuk for a Miss Universe contestant.
Take that, Vladimir Putin.
2. Inspired by Lincoln
Gen. Prayuth might be an autocratic leader who came to power by staging a coup against an elected government, but that does not stop him from having anadmiration for U.S. President Abraham Lincoln. Or at least the depiction of Mr. Lincoln in the 2012 Spielberg movie.
In May, the general confided to reporters that he was inspired by Lincoln's long effort to abolish slavery, and even more so by his opinion on protests:
"I also like his other quote about how people's protests are not wrong; insurrection is wrong."
3. 99 Percent Democracy
Quick – from the scale of 0 – 100, how democratic do you think Thailand is? NGOs like Freedom House and Reporters Without Borders think we are sliding back to the Dark Age, but Prayuth has other ideas: We are 99 percent democratic! In fact, the general said in March, we even have too much democracy:
"Our country has seen so much trouble because we have had too much democracy, unlike other countries where the government has more power to restrict freedom. Even the media can't criticize [those leaders], like they do here. I insist that today, we are 99 percent democratic, because I didn't overthrow democracy at all."
4. Media freedom, Thai-style
On National Media Day in March, Gen. Prayuth shares with reporters his wisdom about what kind of ethics the press should uphold and what their mission should be:
"This morning, someone said the media needs to be impartial. No. I don't think they should say that. It isn't good. What they should say is, first, the media should report news that is factual. Second, they should support the government's efforts to move the country forward. And third, they should help reduce conflicts in society, and create understanding about the government's policies that give clear results. Can you not do these three or four things together, dears?"
While they're at it, they should also refrain from reporting about any negative news that may affect Thailand's reputation, the general told reporters several weeks later. The comment came when Channel 3 TV started an investigative report into human trafficking. Prayuth wasn't pleased with the coverage because it could hurt national interests:
"The media should consider the impact the news will have on the country. It may cause problems, and affect national security … If this news gets widely published, [it could raise] problems of human trafficking and IUU [Illegal, Unreported and Unregulated Fishing]."
5. Execution, maybe?
When some of those pesky reporters failed to adhere to the Dear Leader's commandments, Prayuth joked that he would just solve the problem once and for all by executing dissenting journalists.
"Execution, maybe? You ask silly questions. Just don't do actions [that warrant punishment]. Be cautious. The media has to exercise their judgment. Have some ethics. You keep calling for ethics. But they don't know how to use ethics. They don't use them."
The remark was widely reported by foreign media agencies, but often omitted was the fact that Prayuth was also very specific about the method of his execution: a dog-headed guillotine, like the one reputed to have been used by Chinese Judge Bao (999 – 1062) to kill convicted commoners:
"I will use a dog-headed execution device. I will deal with the media. But I still love them. Please, help me out. Don't make excuses for me, please just help me build love and unity."
While International media watchdogs responded to Prayuth's 'joke' with fury, the National Press Council only meekly advised Prayuth to respect the Thai media's internal regulations.
6. The phantom menace
In May, Prayuth reminded Thais why he seized power over a year ago. Apparently there is a sinister movement hell-bent on corrupting the army and the monarchy, in order to achieve its alleged conspiracy to take over Thailand:
"Thai people must love each other, but still some evil people like to distort information about the monarchy. And everyone believes it … People who don't know and don't understand fall for these lies. People who insult the monarchy right now may not be great in number, but they belong to a movement of people who want power and seek personal gain. There are only two things that they want to control, but they cannot do so: the military and the monarchy. If they can destroy these two things, they will definitely be able take over Thailand. It will be done by someone that all of you know, but I don't want to say out loud who this person is."
7. Criticize me at your own risk
In November, Prayuth clarified that progressive academics who criticized his military regime were, of course, welcome to do so. However, he wouldn't be able to guarantee their safety, though:
"If they want to engage in activism or whatever, it's up to them. If they aren't afraid of the laws, it's up to them. I don't know about them. If the people want to join them, and then get in trouble for it, it's up to them. And if someone finds a gun and shoots them, or throws grenades at them, well, they have to live with that. If they aren't afraid, it's up to them."
To his credit, he quickly added that he wasn't personally threatening those lecturers:
"But it wouldn't be me, because I would never do such a thing."
8. Un-Thai activities
There are several things that can disqualify you from being a Thai citizen. One of them is fleeing Thailand after being charged with lese majeste, according to Prayuth in June:
"Since he fled this country to another, it shows that he is no longer a Thai and he cannot stay in Thailand."
9. The Open-Minded Autocrat
Sure, with his suppression of civil rights and media freedom, Prayuth might be the most autocratic leader of Thailand for over a decade, but that doesn't mean the general ignores the voices of the people. For instance, Prayuth said he kept an open mind to a petition from hardline conservative activists who wanted him to stay in power for five more years:
"I'm so-so. If they want me to stay, I will do it. I won't stay by using power. If everyone wants me to stay, I will stay, I will do it for you. But you have to help shield me from domestic and external [pressures] – the accusations that I want to hold on to my power. I don't want power, because I don't have anything to gain from this. I only want to make this country better."
If he does stay for five more years in office, Prayuth will become the longest-serving military dictator in Thailand since the end of the 1970s.
10. Don't trust everything the media says
Lastly, the general reportedly gave some friendly advice to the Leader of the Free World during an international summit In November: that he shouldn't believe news about human rights abuse in Thailand:
"I insisted to [US President Barack Obama] that I'm already trying to take care of these issues, but they were really [the results of] news presented by people with bad intentions. Sometimes, these reports were presented without any facts, so it led to misunderstanding."
No word on whether Mr.Obama took the advice. But hopefully he will pass along the useful tip to his successor who may have to deal with Gen. Prayuth in the next few years, be it Bernie Sanders, Hillary Clinton or Donald Trump.
Can you imagine Prayuth and Trump giving a press conference in the same room? We call dibs on the first press pass for that one.
To reach us about this article or another matter, please contact us by e-mail at: [email protected].
Follow Khaosod English on
and
Twitter
for news, politics and more from Thailand.