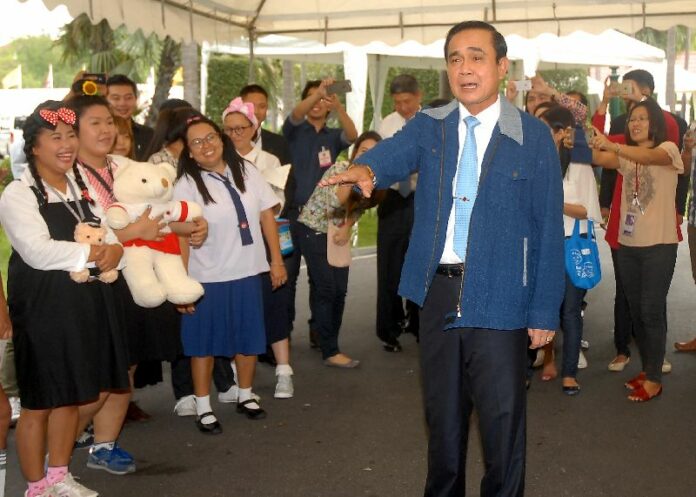 BANGKOK — In a surreal scene at Government House today, reporters dressed up as school kids, joked with junta chief Prayuth Chan-ocha and wished him a smooth year of work – all in the name of marking National Children's Day.
The jovial celebration came at a time when Thai media freedom faces continuous crackdowns by Prayuth's military regime, which came to power in May 2014.
As a lead-up to National Children's Day tomorrow, a dozen Government House reporters 'cosplayed' as school students today for a lunch party. Prayuth joined the party as an honorary guest.
Though Prayuth is more well known for his occasional outbursts and tirades against the media, the general was welcomed by reporters at the party. Some handed him bananas as a present and wished him luck in his job.
During lunch Gen. Prayuth shared some intimate memories of his childhood with the reporters, recalling how he sometimes sneaked out of his school to eat candy. He also revealed his romantic side, telling reporters he was a fan of poetry when he was young.
"I was talkative. I was romantic," Gen. Prayuth said. "I liked to think of good things. I looked at the grass and trees and I wrote poems about them."
As for his romance, Prayuth said he has already forgotten who his first girlfriend was, but still remembered that he met his wife Naraporn in the English class that she taught.
"I married her when I was 34, when I was a captain. But we couldn't be sweet to each other because I was posted at the border. Today I told you all my secrets!" Prayuth said.
Later at the lunch, he turned his attention to the reporters, "I want to stay with Government House reporters, because I see myself as a member of your club. But I don't get much chance to talk with you. I want you to know that I cannot do everything, and I couldn't do everything in the past year. Once my duty is over, I will go home and take some rest and watch my kids grow up. It's worrying, I don't know if I will have another job in the future. I don't know what I do all this for. I want what I did to be a legacy [for the nation]."
Gen. Prayuth went on, "You reporters are all cute. I'm not angry at any of you. I just want to build a safe society. I don't want you to support me with your writing. I only want you to present what the government is doing, so people can decide. Newspapers like to write in a way that helps the other side stay in the front, but keep me in the inside."
Prayuth then wished a happy new year to the reporters, and told them that he "forgave" them for any offense they had caused to him.
Thai media freedom took a plunge under Prayuth's military regime throughout the years of 2014-2015, according to a report by Reporters Without Borders. Under the regime, media agencies have been told to avoid reporting news that may "cause unrest" in society or affect the government in a negative manner, though the government has so far stopped short of  full-blown censorship.
However, critics say mainstream media agencies in Thailand also choose to censor themselves or soften their stance in order to maintain cordial relations with the military government.
In December, Government House reporters voted to refrain from the annual tradition of giving satirical "nicknames" to Cabinet members for the second consecutive year. In a statement, the reporters said they suspended the tradition because Prayuth's government "came to power in an extraordinary way," and because they did not want the nicknames to be "politicized by any particular faction."