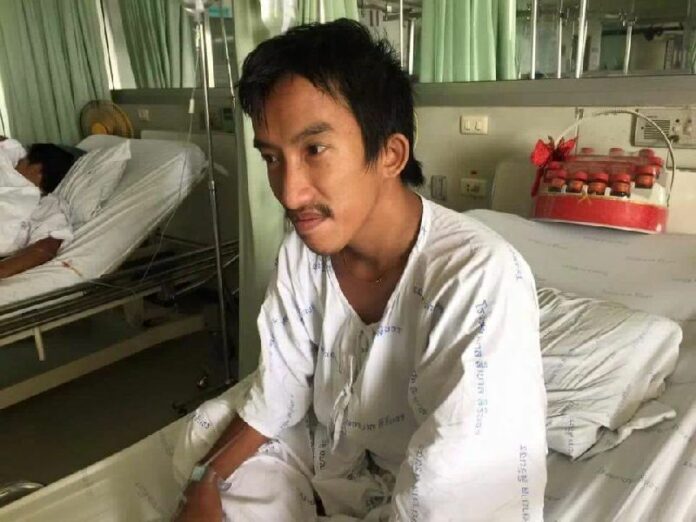 By Pravit Rojanaphruk
Senior Staff Writer
BANGKOK — Fugitive anti-coup activist Thanet Anatawong has vowed to return to Thailand – but not immediately.
After news broke today that he had fled the kingdom, Thanet contacted Khaosod English by telephone to say he will come back to face justice. Sounding desperate and upset after his exit from Thailand became public, Thanet, who was charged last month with sedition for posting anti-junta messages on Facebook, said the precarious circumstances made it impossible for him to return immediately.
"Please convey to others that I am definitely coming back – just not now," he said on the phone this afternoon. "If I return now, it will be worse [for the pro-democracy movement]," he said.
---
Activist Jumps Bail, Reportedly Flees to Laos
---
Information about the activist movement could be compromised if he remained in Thailand, he said. Thanet is believed to have fled to Laos but would not confirm his whereabouts.
He previously failed to appear at the Bangkok Military Court on Dec. 29 after being granted bail Dec. 18 on a 100,000 baht bond.
Disturbed that word had spread about his departure, Thanet said he has since been blamed by a number of others for jeopardizing the prospects of other activists seeking bail.
"I am not the one who is ruining the movement. You must understand me. If I am taken into prison the second time around, I will face worse punishment," said Thanet, who was imprisoned in the aftermath of the crackdown on Redshirts protests in 2010.
"I am still fighting [for democracy]. I did not flee to save my skin or to ruin the movement. I fled because I was severely harassed. Ten to 20 soldiers are now observing my father [in the upcountry]."
Related stories:
Activist Deprived of Freedom, Fresh Air for Five Days in Small Room
Snatched from Hospital Room, Activist Tells Associates
Circumstances of Patient's Arrest from Hospital Disputed
Condition of Suspect Removed from Hospital Unknown
Rajabhakti Scandal: Military Closes Park 'For Maintenance,' Detains Dozens of Activists