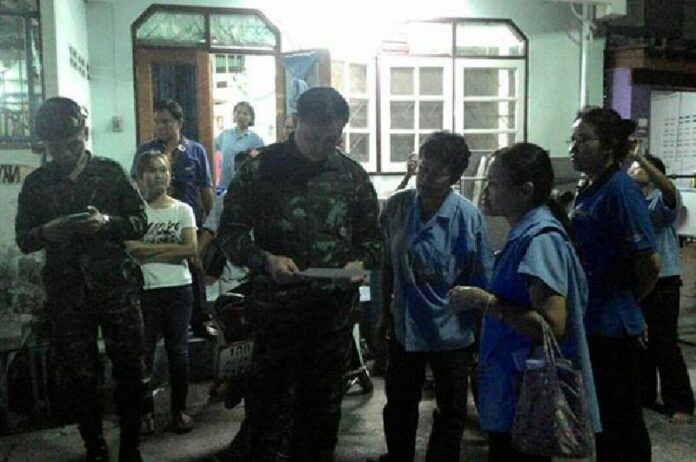 By Pravit Rojanaphruk
Senior Staff Writer
BANGKOK — Earlier this month, veteran labor leader Wilaiwan Sae-tia traveled to Bangkok to lend her support to auto parts factory workers from Rayong province. It was routine for the 60-year-old chairwoman of what is arguably the kingdom's most influential labor group; the kind of thing she's done many times in four decades with the movement.
This time, however, she paid a price for advocating for the workers of Sanko Gosei Technology Ltd. She's now under order by the ruling junta to report any plans to engage in any labor-related activities or even travel to the capital. And since that day on Jan. 6, Wilaiwan said, four or five military officers have shadowed her on and off.
"I don't feel comfortable when they are trailing me like this. There's no freedom," said Wilaiwan, chairwoman of the Thai Labor Solidarity Committee. "Humans should be free to go anywhere, but I am being followed as if I am under their custody. It's not appropriate, and if possible, please stop! It will only make soldiers look negative in other people's eyes."
On Jan. 6, Wilaiwan had traveled to the Labor Ministry in Bangkok to bargain with the Japanese company and ministry officials on behalf of the workers in a dispute over layoffs, Wilaiwan said.
Two other Thai Labor Solidarity leaders, Chalee Loysoong and Amorndech Srimuang, had been briefly detained at the ministry after leading about 300 workers for a sit-in at the ministry before dawn that morning.
Wilaiwan said she tried to explain and plead with the officers assigned to follow her. They reportedly told her they were just following orders from their superiors, who wanted to make sure she is not taking part in any political activity.
Wilaiwan insisted she's not, and that everything she does pertains to workers' rights issues regardless of who is in power.
Now, while the veteran labor leader has soured on the outlook for workers' rights under the junta, she finds her standing eroded among the opposition for organized labor's previous alignment with the forces that paved the way for the military to seize power.
While organized labor finds itself hamstrung by the junta's intimidation tactics, it's on the defensive for labor itself is The intimidation tactics used on Wilaiwan have ignited a debate not just about repression by the military but also Wilaiwan's alleged role in bringing about the coup.
Junta critics have said Wilaiwan reaped what she sowed for participating in the movement which ushered in the coup d'etat.
Wilaiwan and other labor leaders were visible figures on the stage of the People's Committee for Absolute Democracy with the King as Head of State, or PCAD, a group that used the same stage to call for military intervention.
"Although I went up on the PCAD stage in the past, I only made demands about labor rights," Wilaiwan said.
"Even under a democratic regime, labor rights are violated. I don't want to recall old stories; let bygones be bygones. I don't want to see the issue being used to spark conflict," she said, adding that it's impossible to please everyone.
Silence Under the Junta
Two labor experts said what happened to Wilaiwan should come as no surprise, and such repression should be expected to continue as long as the junta remains in power.
"They want absolute stillness, and it doesn't matter what political color you belong to," said labor rights defender Bundit Thanachaisethavut of the Arom Pongpangan Foundation, a Bangok-based labor organization. "I wasn't surprised at all."
Bundit is concerned that the already lopsided power between workers and factory owners is tilting further in the business owners' favor. Staging a strike or protest has become even more restricted in the wake of last year's Public Assembly Act.
Sakdina Chatrakul Na Ayudhya, a veteran labor expert, said the same.
"I wasn't that surprised because they want people to be quiet," said Sakdina, referring to the military junta. "Their goal is for people to not express any views."
Sakdina warned that the labor movement is not alone in facing restrictions and crackdowns. He added that although he is sympathetic to people like Wilaiwan, who he has known for decades, the movement under her committed a strategic blunder by actively joining PCAD. He added that the movement must reflect on past mistakes and strengthen its power base instead of aligning with those who might hold different political ideologies.
"I was among those who disagreed," Sakdina said of the labor movement's alignment with the anti-government protest movement. "The labor movement didn't call for a coup, but they must bear in mind the goal of the movement they joined and the pros and cons of joining. We say we must foster democracy, but should we not care how it's achieved?"
Wasana Lamdee, a former factory worker and current editor of Voice Labor, a pro-labor movement news website, said she feels bad about the situation but blames it on the weakness and diminished size of the labor movement. Only about 300,000 workers are union members out of the 13-million strong formal-sector workforce, she said. Only about 300 of 1,500 registered unions are active, Wasana said, and only 100,000 to upward of 200,000 workers can be mobilized.
"The problem is, we don't believe we can organize ourselves and create bargaining power," she said. "Our strength today is hardly noticeable. What's more, we don't even respect ourselves."
She warned that the junta would be unable to stop poor workers from fighting for their rights because of the economic hardships they are facing.