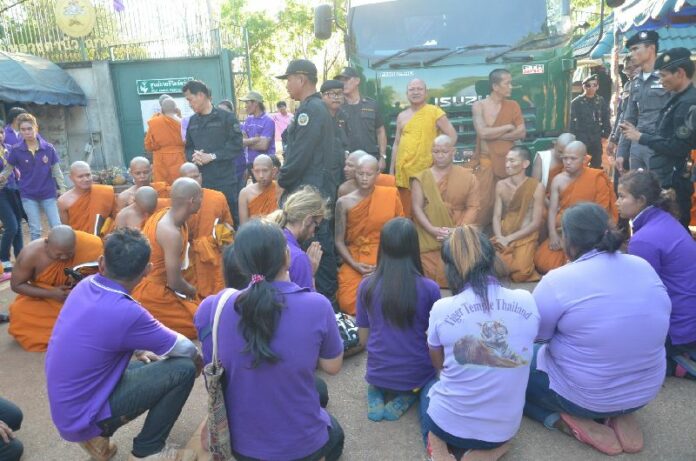 By Teeranai Charuvastra
Staff Reporter
KANCHANABURI — Days after National Geographic published an article accusing the infamous Tiger Temple in western Thailand of trafficking some of its 147 tigers, a lawyer for the temple announced that he's preparing a libel suit against the news agency.
Responding to the Jan. 21 article, "Tiger Temple Accused of Supplying Black Market," the temple spokesman admitted Monday his organization is breaking the law by keeping its tigers there but said the article was wrong to assert that money changed hands with a Laotian breeder, as alleged in the report.
"We are about to press charges. I've already read the article," lawyer Saiyood Pengboonchoo said on behalf of the temple, which is formally known as Wat Pha Luang Ta Bua Yanasampanno in an interview with Khaosod English today.
As to the latest effort by wildlife officials to remove the temple's tigers, most recently delayed to today, Saiyood said the temple did not feel the tigers were ready to go.
According to National Geographic, the Tiger Temple authorized a trade of tigers with a commercial breeder in Laos in 2004. The article went on to note that cross-border commerce in live tigers is outlawed under CITES, an international treaty on wild animals to which Thailand is a signatory.
Although Saiyood confirmed that the temple did swap some tigers with a farm in Laos, it was not done for profit.
"It's defamation. It's a distortion of facts," Saiyood said. "We did swap them once. We asked for an exchange with Laos. But no money was involved. I insist that we didn't buy or sell any tigers."
He continued, "We did not break any laws. We did not violate CITES."
The temple has long been dogged with allegations and accusations it mistreats and trafficks the very animals it says it protects. In late 2014 a former temple veterinarian accused the temple of selling three big cats. The temple denied it and put up fierce resistance to wildlife officials to investigate.
Saiyood said the monk who gave the interview to National Geographic, Jakkrit Apisuthipangsakul, felt "very disappointed" by the article and would name himself as a plaintiff in the upcoming libel suit. He said Jakkrit will file the charge to police within this week.
Defamation is both a civil and criminal offense in Thailand, where the law is defined as causing "damage to the reputation" of any individual.
Saiyood also disputed assertions in the National Geographic article that temple staff secreted tigers out and sold them.
"There's no such thing. The tigers are all here," Saiyood said. "If we want to sell them, we would have just given them to the Department of National Parks already. Wouldn't it be better for us? We would be able to save hundreds of thousands of baht in costs of keeping the tigers."
National Geographic estimates the temple brings in about 100 million baht in annual revenues.
Animals First, Law Second
Breeding tigers without permission, possessing tigers without permission and profiting from those tigers are all considered illegal under the 1992 Wildlife Preservation and Protection Act. Those offenses are punishable by up to three years, one year or two years in prison, respectively.
Saiyood acknowledged that the temple's insistence on keeping the tigers is against the law, but said the temple doesn't want to let them go out of concern for their wellbeing.
"We don't know that if the tigers are removed, will they be sad? Will they die?" Saiyood said. "Concerning the laws, we fully cooperate with the authorities, but only on the basis of the animals' safety. This is our primary concern. The laws are secondary. But of course, directors and administrators [of wildlife agencies] have to say they have to follow the laws. I understand them."
His comment came a week after the Department of National Parks, Wildlife and Plant Conservation renewed its on-again-off-again effort to remove the tigers. All previous attempts have failed, including an operation in April 2015, during which the temple at one point fielded monks and foreign volunteers to blockade the property.
The latest effort also appears to hit the same dead end. Saiyood said wildlife officials visited the temple Tuesday through Thursday to negotiate the tigers' departure. According to Saiyood, the temple asked them not to remove the animals because they may not be in good condition to move.
"They can't move the tigers, because they can't drug them. The weather has been rapidly changing," Saiyood said, explaining that the hot and cold temperatures in recent days may make the tigers ill.
Asked when the tigers would be ready to go, Saiyood said he's not sure. He also said the temple is applying for a permit to open a commercial zoo, like the one in Sriracha, where tigers are legally maintained.
"We are under the process to bring the tigers into the proper system, and we are also taking care of the tigers for now. We are doing both things simultaneously," Saiyood said.
National Heritage
He also said the authorities should think of the acclaim that the temple and its tigers have brought to Thailand:
"Tigers are a part of our national heritage," he said. "Even though what we are doing is illegal, the tigers made us famous. They are the face and fame of our country. People around the world may not know much about Kanchanaburi, but if you mention tiger temple, they instantly recognize it."
But a prominent animal rights activist doesn't share Saiyood's opinion.
"This is a big issue. It's already been concluded that they not only violated Thai law, but also international law, the CITES," said Edwin Wiek, founder of Wildlife Friends of Thailand, an organization that has called on authorities to remove the tigers from the temple.
While Saiyood prepares his libel case against National Geographic, Wiek said his organization plans to file a complaint with local police in Kanchanaburi province for not taking action against the Tiger Temple.
"It's a clear violation of the Wildlife Preservation and Protection Act," Wiek said Monday. "If police are not handling this, they are guilty of negligence of duty. We will send a formal letter to police, to urge them to take action. They cannot let this issue off the hook."
Wiek did not say when his organization will file its complaint.
Related stories:
Temple Refuses to Release Tigers, Again
'Tiger Temple' to Give Up Big Cats, Activist Says
Thailand's Tiger Temple Ordered to Give up Tigers
Asian Black Bears Seized From Thailand's Tiger Temple