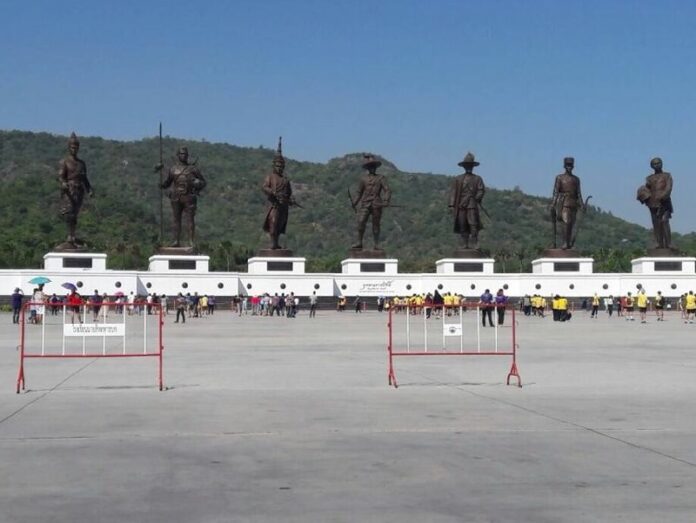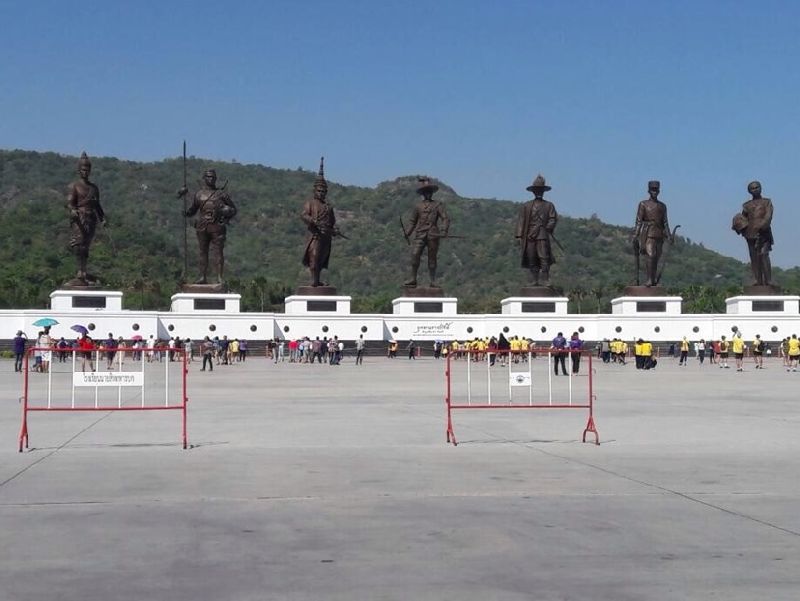 BANGKOK — The manager of the army-built royal monument park which became mired in corruption allegations soon after opening late last year said he's certain those charges will be dismissed by the junta's anti-graft watchdog.
Former army chief Udomdej Sitabutr, already cleared by two previous reviews, said today he believes that two other inquiries into the Rajabhakti Park project will likewise find him not guilty of any fault because he didn't do anything wrong.
"Let me insist to everyone that we're confident in all our procedures, because we have been full of goodwill throughout our efforts," Gen. Udomdej told reporters Tuesday at Government House. "I'm not worried, because the agencies that are investigating me will give me justice."
---
Former Army Chief Explains Royal Park Project Graft
---
As the commander of Royal Thai Army at the time, Udomdej supervised the construction of Rajabhakti Park, a massive park featuring seven enormous statues of Thai kings, from 2014 to 2015. Much of the budget came from donations, with some funds from the state.
But the park, located in Prachuap Khiri Khan province, has been the subject of intense scrutiny by critics of the military government since November, when reports of corruption and shady expenses surfaced in the media.
In response to the scandal, authorities launched two internal inquiries into the park, one led by the army and the other by the Ministry of Defense. Both found no irregularities and declared Udomdej not guilty of any wrongdoing.
---
No Corruption in Rajabhakti Park, Army Rules
Udomdej Blessed by Prem Just Before He Was Cleared
---
Udomdej still faces two more probes, one by the junta's Centre for National Anti-Corruption and the Office of the Auditor General. The centre said it would wrap its investigation before the end of this month.
Udomdej said he believes the issue will be settled once the centre announces its findings.
"I'm confident it will be, because we are very dedicated in our work, and I believe not one of us would do anything bad," he said. "I insist on my honesty, and I ask all of you to be confident in me."
Udomdej, who retired from the army in November but still serves as deputy Minister of Defense, also defended the project for helping to instill loyalty toward the monarchy among Thai people.
"This project is a good project. It's a project that we intend to remind people that we still have this country because of the monarchy, and it meets its purpose," Udomdej said. "It's just some people may not understand us. We are trying to explain everything. I let them investigate me, and I'm not worried."
Members of the public are still welcome to donate to the Rajabhakti Foundation, which maintains the massive monument complex, added the retired army chief,
The Rajabhakti Park scandal is by far the most serious charge of corruption to hit the junta, which positioned itself as crusaders against any and all graft when it seized power in May 2014.
Defying the junta's ban on protests, some activists and politicians attempted to highlight the scandal by traveling to Rajabhakti Park with the press. Both attempts, one in November and another in December, were stopped by security officers.
Leaders of the latter expedition, organized by a pro-democracy group called New Democracy Movement, now face charges for a failed train trip to the royal monument.
Related news:
Govt Not Responsible for Rajabhakti Park Graft, Minister Says
Military Arrest Facebooker Over Park Graft Infographic
To reach us about this article or another matter, please contact us by e-mail at: [email protected].
Follow Khaosod English on
and
Twitter
for news, politics and more from Thailand.