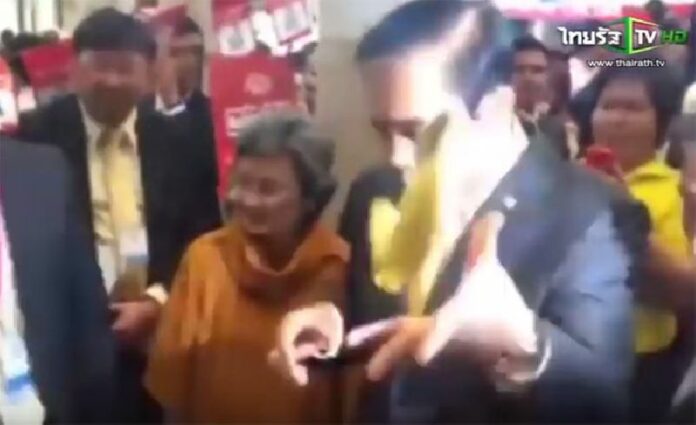 By Pravit Rojanaphruk
Senior Staff Writer
BANGKOK — The surprising thing about a four-minute music video mocking junta leader Gen. Prayuth Chan-ocha, for which a little-known district official now faces up to five years in prison, is that it doesn't appear to contain any obviously defamatory content.
While "For Our Beloved Uncle" alludes vaguely to the notion that Prayuth is corrupt, has a foul mouth and bad posture; it levels no specific allegations in favor of generally showing the general in an unflattering light. Two experts on law and rights said there was nothing about the country song and video to warrant the arrest Thursday of Narong Ruengthanawong, a 39-year-old former Pheu Thai councilman for Bangkok's Bang Khen district.
---
Man Arrested for Sharing Video Mocking Prayuth
---
Human rights lawyer Anond Nampa said he reviewed the music video after news emerged Thursday of Narong's arrest and found nothing legally actionable.
"The military doesn't want anyone to be creating satire against Prayuth," Anond said. "This [arrest and charge] is a deterrent for others not to disseminate it and to ensure there will be no joking [about Prayuth]."
The video splices together news footage of Prayuth collected from different sources. The only user-generated element is a graphic at the beginning of a paper sack raised over the junta leader's face, which plays after a presently popular internet meme suggesting someone's been huffing glue and getting high to explain their bizarre behavior.
The video loops several infamous moments captured on film, such as Prayuth tossing a half-eaten banana and skin at a cameraman in December 2014. Toward the end of the video, the song asks when Prayuth is going to step down, because the longer he stays, the more people will snipe at him.
"To create satire is a right," said Anond, decrying the fact Narong confessed to the crime and publicly apologized in front of police. "I think the man who spread it should have insisted on his freedom to satirize public figures."

Still image from 'For Our Beloved Uncle' makes fun of junta chairman Gen. Prayuth Chan-ocha. Source: YouTube
Narong was charged under the Computer Crime Act for sending a link to the clip to someone over Line. Although the bar for defamation is set relatively low in Thailand, there is a long tradition of inflammatory and sometimes puerile satire of public figures.
Sunai Phasuk, a senior researcher at Human Rights Watch, was briefed about the video's content and noted that there was no hate speech.
"This is about creating a cult of Prayuth where he becomes untouchable," Sunai said. "Being ridiculed or criticized is part of being a public figure and a politician. Someone should remind Prayuth that he's a politician now – only that he wasn't elected. People should be able to criticize and make satire against him."
Former Pheu Thai MP Weng Tojirakarn said this afternoon that Narong has been quietly released and told by police not to do it again. It was unclear at time of publication whether the charge against Narong had been dropped or the case was moving forward, as he could not be reached for comment.
Additional reporting Teeranai Charuvastra
Pravit Rojanaphruk can be reached at [email protected] and @PravitR.
Follow Khaosod English on Facebook and Twitter for news, politics and more from Thailand. To reach Khaosod English about this article or another matter, please contact us by e-mail at [email protected].