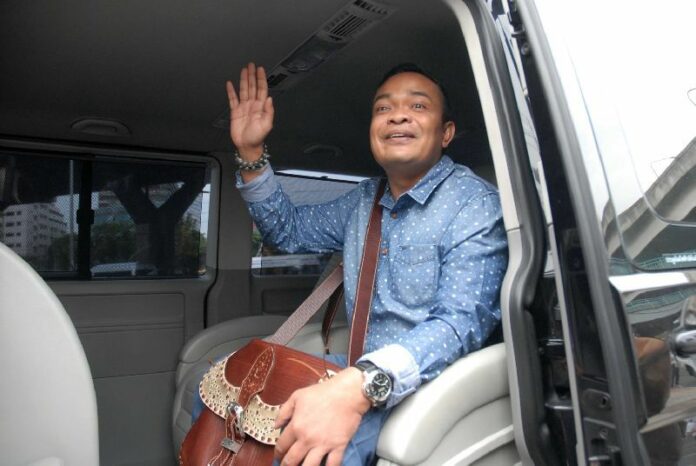 BANGKOK — Prominent Redshirt leader Jatuporn Prompan was released from custody this afternoon after being detained by a group of soldiers Tuesday morning, several days after his movement announced a boycott of the new constitution drafted by the military government.
Jatuporn was detained at the First Region Army barracks on Ratchadamnoen Avenue for interrogation, said Redshirt core activist Weng Tojirakarn, adding that soldiers did not offer any explanation for the arrest.
"The soldiers invited him away," Weng told Khaosod English. "We don't know what the issue is. They are probably worried about the constitution. We insisted that we would not accept this constitution. We will boycott it."
---
The Good, Bad and Ugly of Junta's 'Anti-Corruption' Constitution
---
Jatuporn was later released at about 4pm but has said he would make a statement later Tuesday night at an event organized by Redshirt umbrella group United Front for Democracy Against Dictatorship, or UDD.
According to Weng, soldiers arrived at the studio of Peace TV – a Redshirt-affiliated TV station where Jatuporn works as a host – at around 11am this morning and took him away into custody. He added that he and other Redshirts can't reach Jatuporn at the moment.
The UDD announced Jan. 22 it would urge its supporters to vote against the new constitution draft when it goes to national referendum later this year.
Critics of the charter draft say, if implemented, the constitution will severely limit the power of electoral institutions by many measures, such as allowing a non-MP to serve as Prime Minister, making the entire Senate unelected and granting the Constitutional Court the power to veto any decision taken by elected representatives.
Since coming to power via a coup in May 2014, the ruling junta under Gen. Prayuth Chan-ocha has imposed a strict ban on political activities and any kind of public challenge to the regime. Some violators of the ban have been tried in military court where they face up to a year in prison if convicted.
Soldiers also occasionally arrest activists and politicians who openly criticize the military regime and hold them briefly in army camps for what the military describes as "attitude adjustment" sessions.
Additional reporting Pravit Rojanaphruk
Update: Story edited to reflect Jatuporn's release.
Related stories:
Military Holds 'The Nation' Journalist in Secret Detention
Military Summons Prachatai Reporter Over Lese Majeste Infographic
Burapha University Student Activist Seized by Soldiers
Newspaper Cartoonist Detained by Junta
Teeranai Charuvastra can be reached at [email protected] and @Teeranai_C.