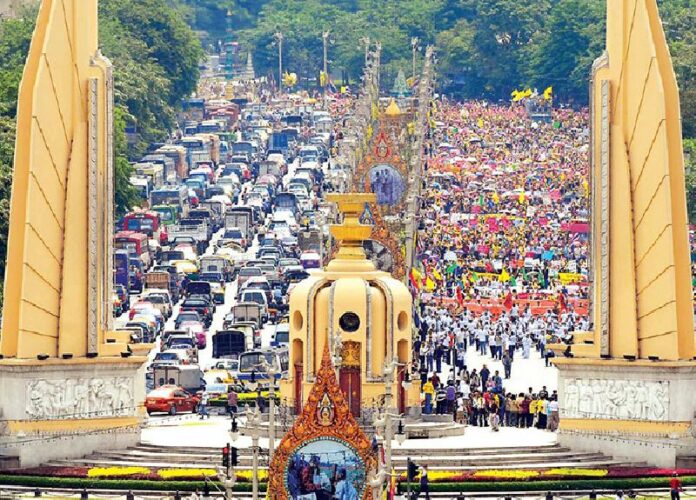 By Pravit Rojanaphruk
Senior Staff Writer
BANGKOK — Uncertainty over what will happen if voters reject the draft charter this July, critics agree, reflects the junta's own lack of confidence in its success. They differ, however, on whether it's failure is intended as a means for the junta to stay in power longer than promised.
Political scientist Puangthong Pawakapan said the whole thing has never been about drafting a new, acceptable constitution but finding excuses for the National Council for Peace and Order, or NCPO, as it is formally known, to maintain its hold on power and allow the political old guard to re-establish its grip on politics and society.
"As long as this goal is not achieved, it will be hard for them to step down. My reading is that there's a lack of confidence in the roadmap [to restoring democracy], as it can always be revised. There may be no election next year. The junta should come clean on how many years they intend to stay on," said Puangthong, Associate Professor of Political Science at Chulalongkorn University. "It seems the draft charter thing is just an excuse [to stay in power]. If it's not passed, there will be new excuses made."
---
Junta Orders Media to Discuss Charter 'Respectfully'
---
Puangthong warned that political history shows that autocratic power tends to corrupt, citing Field Marshal Sarit Thanarat, a military dictator in the 1960s who came into power through a coup and whose huge assets were confiscated after his death when they were deemed ill-gotten wealth.
"Dictators won't step down of their own volition," he said.
Former Pheu Thai Party MP Weng Tojirakarn said the ambiguous situation is a clear signal that the NCPO plans to stay longer that promised.
"I don't believe there'll be an election in 2017 [as promised by junta leader Gen. Prayuth Chan-ocha]," said Weng, who's also a leader of the Redshirt movement. "Do it, stay on and end up being ousted as a tyrant! When people are fed up, they're gonna stand up and get rid of you."
Calling an endorsement of any less-than-democratic charter "suicide," Weng said Prayuth should study the demise of previous dictators such as Sarit; or even field marshals Thanom Kittikachorn and Prapas Charusathien, who were ousted in a popular uprising in 1973; because he could end up like them.
For Red Sunday leader and pro-democracy activist Sombat Boonngam-anong, the uncertainties reflect the junta's increasingly precarious grip on power.
Sombat, who led failed opposition to a previous junta-sponsored charter in 2007, predicts that there may in fact be no referendum if the junta believes the draft charter will go down in defeat.
"Rejecting the draft charter in the referendum is tantamount to rejecting the NCPO," Sombat said.
He said the junta is keeping its cards close to its chest and people guessing because it may resort to using absolute power to impose yet another draft charter, possibly prepared in secret, to avoid losing face with the electorate.
"This is a possibly extreme option," he said, adding however that he believes the current draft charter is destined to be rejected by voters.
"It will be very chaotic," Sombat predicts the aftermath of such a defeat for the junta's second proposed constitution. "I don't think [the junta] can hang on to power. They can't due to the political situation."
Democrat Party deputy leader Niphit Intarasombat is more sympathetic to the situation, saying the junta may not think the time has arrived to reveal to the public what would exactly happen if the draft charter is to be rejected in the plebiscite. "[Letting the public know the option] a month before the referendum should be satisfactory.
Niphit also discounted the apparent threat made by junta-appointed chairman of the Constitution Drafting Committee who said over the weekend that if his draft was rejected, people will have to live with a more draconian charter as a joke and not something to be taken seriously.
Related stories:
The Good, Bad and Ugly of Junta's 'Anti-Corruption' Constitution
The Quixotic Quest to Alternative Charter Drafting
'Supreme Honor' for Junta Charter Salesman
Junta Marks Constitution Day as Drafting of New Charter Drags On
Critics See Insecurity in Junta's Charter Wish List
Pravit Rojanaphruk can be reached at [email protected] and @PravitR.
Follow Khaosod English on Facebook and Twitter for news, politics and more from Thailand. To reach Khaosod English about this article or another matter, please contact us by e-mail at [email protected].