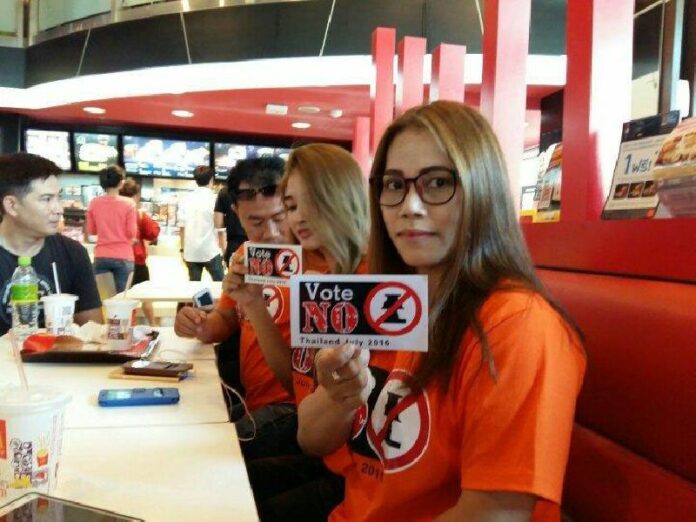 By Pravit Rojanaphruk
Senior Staff Writer
BANGKOK — There's still time to ensure the public referendum on the junta-sponsored draft charter slated for July will be free and fair if the military regime opens the debate to both sides, said veteran elections observer Pongsak Chan-On.
Since it unveiled the proposed constitution Jan. 29, the junta has broadly promoted it while quashing criticism, a strategy that left unchanged would disqualify the upcoming vote as being considered "free and fair," said Pongsak, who for 14 years has monitored elections not just in Thailand but 26 countries around Asia.
"If you don't ensure that there's a participatory environment and freedom of expression [for or against the charter draft], then it cannot be called free and fair," said the coordinator of Bangkok-based election monitoring group We Watch and international observer for the Asian Network for Free Elections. "If it's not free and fair, then the results cannot be trusted."
At right, Pongsak Chan-On
Pongsak said any attempt to threaten those who would campaign against the draft charter will make the process not free and unfair. On Sunday, the Women's Movement in Thai Political Reform (We-Move) condemned the military junta after its scheduled forum in Amnat Charoen province to educate the public about the draft charter was abruptly banned by the National Council for Peace and Order, the formal name of the junta.
Also Sunday, police ordered a group of seven opposed to the draft charter to stop distributing stickers urging rejection of the charter inside a McDonald's next to Bangkok's Democracy Monument.
The Election Commission is weighing a penalty for those using any media to "distort" the content of the charter draft. This comes as the junta-appointed Constitution Drafting Committee has appeared twice daily on all free TV and radio stations to promote the draft with no airtime given to critics.
Pongsak said he's concerned those opposing the charter lack free space to express themselves, and the media are being flooded with only positive information about it. Officials have promoted the draft charter as containing necessary corruption-busting mechanisms, while its critics say it is undemocratic and enshrines intervention in civilian governments by unelected bodies.
"They think Thai people must be dumb. Such a process looks down on its own people. But there's still time to change and let people listen to other voices as well if this government is truly sincere," he said. "What's the point of having a referendum if people have no participation in the drafting process and there's no freedom of expression. It would be like ugly coercion. Do they think the international community is dumb too?"
The veteran observer said what the regime and the Election Commission must do now is open space for both proponents and opponents. He said three months before the plebiscite, people must also be told what will happen if the draft is rejected, otherwise the referendum cannot be considered free and fair.
Pongsak urged those who have already made up their minds to reject the draft charter to go out and vote in the referendum nonetheless, saying they will otherwise lose ownership of the process.
The Election Commission, he added, must be held responsible if they cannot ensure a credible vote is held and urged them to convince the military regime to recognize the importance of such.
"If [the Election Commission] is not confident that they can hold a free and fair referendum, they should insist that they won't go ahead with it, as they will otherwise end up becoming the laughing stock of the whole world."

Related stories:
Junta Threatens to Summon Critics of Charter Draft
Charter's Uncertain Fate Mirrors Junta's Own Lack of Confidence
The Good, Bad and Ugly of Junta's 'Anti-Corruption' Constitution
Pravit Rojanaphruk can be reached at [email protected] and @PravitR.
Follow Khaosod English on Facebook and Twitter for news, politics and more from Thailand. To reach Khaosod English about this article or another matter, please contact us by e-mail at [email protected].