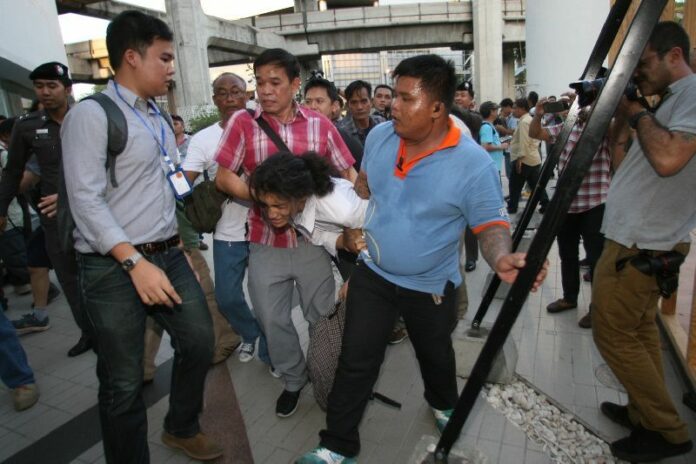 BANGKOK — The military government said today Amnesty International ignored Thailand's political context in its harsh verdict on the human rights situation in the junta-ruled kingdom.
Responding to the NGO's annual report on global rights situation, which called out junta's continued suppression of critics, the Ministry Foreign of Affairs said in a statement the group fails to see the need to balance freedom and stability.
"We regret that the report only presents issues of concern while leaving out several points on positive developments in Thailand," said the English-language statement issued Wednesday evening, the same day the Amnesty report was published.
"The Report also ignores the daunting challenge facing Thailand which is the need to strike the right balance between freedom of assembly and freedom of expression and the need to prevent political conflicts from re-emerging."
In the global report, Amnesty International faulted the military government's iron grip since the May 2014 coup.
It listed examples of the junta's suppression of civil rights since the coup.
"Arresting peaceful critics for activities including staging plays, posting Facebook comments and displaying graffiti; and the military authorities' dismissal of international calls not to extend its own powers to excessively restrict rights and silence dissent in the name of 'security,'" it said.
But the Ministry of Foreign Affairs said the government has also implemented a series of positive laws and measures designed to improve human rights in the country.
The ministry listed the junta's crackdown on human trafficking and a gender equality bill passed by the interim parliament as examples. It also said "the press can freely criticize the government" and insisted that the junta values civil rights.
"Nevertheless, the government is obliged to maintain a minimal degree of restriction to uphold public order and prevent social divisiveness as the country is gradually undertaking the comprehensive reform towards social harmony and a strengthened and sustainable democracy," it read.
Numerous conditions imposed by the junta contrast that claim, however.
Political activities and protests of all kind remain banned by the junta. Dissidents of the regime have been sent to stand trial in military tribunals on increasingly surreal grounds; for example, a retired politician is facing charge for privately sending a link to friends of a video that mocked junta chairman Prayuth Chan-ocha.
On Thursday, it also emerged that soldiers visited the family of Pavin Chachavalpongpun, an exiled academic who has been harshly criticizing the military regime and the monarchy.
Pavin's sister, Pranee, said soldiers showed up at her home again Thursday to request she tell Pavin to stop his vocal criticisms.
Related Stories:
EU Parliament Slams Thai Junta For Rights Abuses
UN Rejects Thailand From Rights Council
Thai Junta Asks Human Rights Watch to 'Look at the Big Picture'
Junta Blocks Forum On Lack of Justice in Military-Ruled Thailand
Teeranai Charuvastra can be reached at [email protected] and @Teeranai_C.