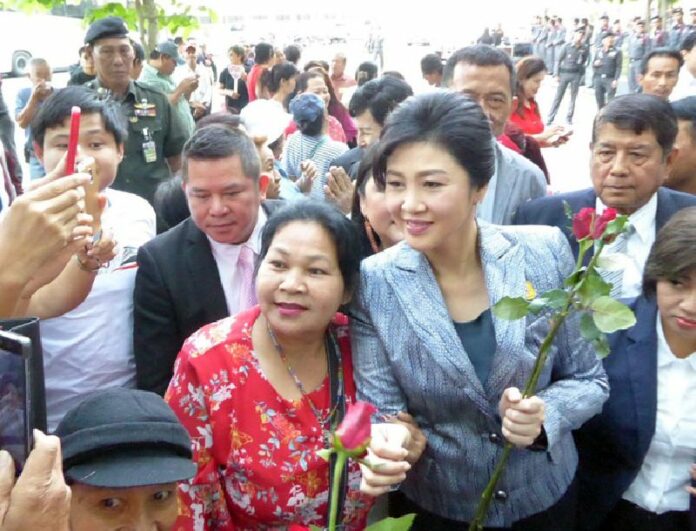 BANGKOK — A leader of the ruling junta said that soldiers have been dispatched to monitor Yingluck Shinawatra not to harass her as alleged by a colleague of the former prime minister, but to protect her.
Responding to a claim that uniformed soldiers trailed Yingluck and took photos of her without her permission, deputy junta chief Prawit Wongsuwan suggested that they probably did so because she is attractive.
"The soldiers took photos of Ms. Yingluck probably she was pretty," Gen. Prawit told reporters at Government House today. "It's not a big deal. Don't think too much about it or be anxious about it."
The claim about alleged harassment of Yingluck was raised by former Pheu Thai MP Worachai Hema, who said the former prime minister was upset at the soldiers' actions.
But Prawit said Worachai misread the situation, as the soldiers were sent to provide security for Yingluck, not intimidate her.
"The NCPO didn't do anything," said the general, referring the formal name of the junta, the National Council for Peace and Order. "We provided security to her. Even the media understands. There's probably only Mr. Worachai who doesn't understand. If Ms. Yingluck doesn't like it, next time I will change it. I will tell soldiers not to wear the uniform, because she doesn't like it."
Prawit also denied reports of soldiers intimidating the family of fugitive academic and activist Pavin Chachavalpongpun.
"I insist there was no intimidation. I never ordered it," Prawit said. "Why would I do it?"
Yingluck headed the elected government prior to the May 2014 coup. She is a sister of former Prime Minister Thaksin Shinawatra, the influential politician who is the de facto leader of Pheu Thai Party and its supporters, the Redshirts.
Since the 2014 military takeover, the military has extensively curtailed her activity, forbidding her from participating in politics and sending security officers to monitor many of her public appearances. For her part, Yingluck insists her days in politics are over.
However, her brother Thaksin granted interviews to a number of prominent foreign news agencies last week, in which he criticized the junta and called for a speedy return to democratic rule in Thailand.
Related Stories:
Soldiers 'Politely' Stalk Pheu Thai Politician
Soldiers Disrupt Pheu Thai's Legal Defense Meetings
Critic's Passport Revoked as Junta Reaffirms Ban on Criticism
Teeranai Charuvastra can be reached at [email protected] and @Teeranai_C.
Follow Khaosod English on Facebook and Twitter for news, politics and more from Thailand. To reach Khaosod English about this article or another matter, please contact us by e-mail at [email protected].