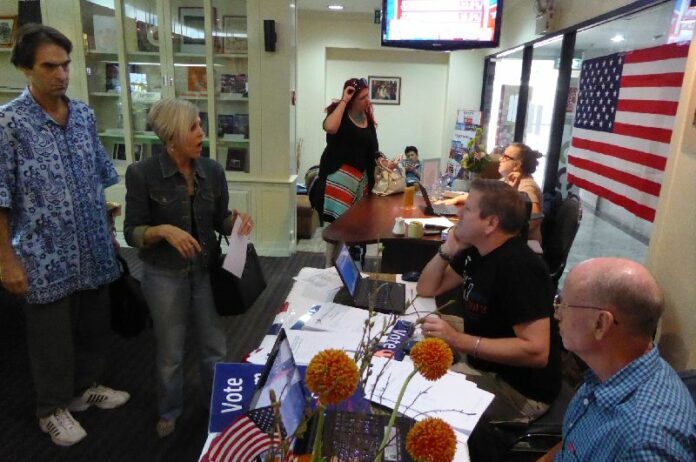 BANGKOK — To each other, they are strangers in a strange land. Some are from the east, some from the south. Some have lived here for decades; others are just passing through.
But almost every Democrat voter who gathered Wednesday at the Foreign Correspondents' Club of Thailand to vote in the U.S. primary election for Hillary Clinton or Bernie Sanders voiced one common goal: stopping the unpredictable Donald Trump from reaching the White House.
The overseas voting session organized by Democrats Abroad Thailand was meant to coincide roughly with Super Tuesday in the United States, where at least seven states went for Trump, giving him a commanding lead to be the candidate of the Republican Party.
Stephanie Porter, a native of Washington DC who's lived in Thailand for 15 years, said she's not only worried by the possibility of Trump winning the presidency but the fact he's become associated with America in Thai media.
"I'm surprised, Thai people are very well informed. They know about Trump," Porter, 67, said after casting her ballot for Clinton. "It worries me because it gives them a bad perspective about the U.S. And there are people like Trump. They are the loud ones."
She fears Trump plays to the worst stereotypes.
"But most of Americans are not like that," she said. "I'm afraid people will think all Americans are like Donald Trump. We are not."
Democrat Martha Benenson casts her ballot Wednesday at the Foreign Correspondent's Club of Thailand in Bangkok, which for one day was turned into a voting station for Democrats Abroad Thailand.
Millions of Americans live abroad, making them an important constituency when national elections can be decided by razor-thin margins.
For 2016, Democrat expats will be represented by 17 delegates at their party's July convention in Philadelphia. Thirteen of those will be chosen by votes from abroad, while the other four are so-called superdelegates free to choose who they like.
In Thailand, the Democratic Party seems to have the most organized machinery. In fact, it may be the only show in town: Republicans didn't organize a primary effort for 2016.

It's unclear how many registered voters or Democrats there are in Thailand. Leading Democrats Abroad is 52-year-old Phil Robertson, also known for heading Human Rights Watch's efforts in Asia. By policy the group doesn't disclose its numbers, but Robertson said they count in the thousands in Thailand.
In addition to being better organized, Democrats in the kingdom simply outnumber Republicans, he believes.
At the correspondents club, voters presented their passports and then completed paper ballots.
Whichever candidate they supported at Wednesday's event in Bangkok, they returned to the threat they saw in Trump.
"I'm worried how the world sees the U.S. because of Trump. This is not how Americans should be viewed – racist and arrogant," said Karlos Brages, a Texan who's called Thailand home for five years and, as the majority of Democrats did back home, also voted for Clinton.
Martha Benenson, who is "traveling up and down" between homes in Bangkok and New York, described Trump as "unpredictable" and frightening. "I feel scared about Donald Trump," she said.
Benenson had yet to decide which Democrat she supported. Those who gave their reasons for supporting either Clinton or Sanders voiced familiar reasons. Clinton is an experienced political operator; Sanders is an authentic progressive.
"I came here to vote for the Red from the Green Mountain State," said Frank Lombard, a Massachusetts native who's spent that past 45 years in Thailand. "I have no choice. I can't stand Hillary. I'm not big fan of Bernie, but I can't stand Hillary."
Lombard also offered a less forgiving opinion of Trump and his hardline supporters after voting for Sanders.
"Trump is white trash. He's the king of white trash," Lombard said. "And he will get the white trash to vote for him. He's a disgrace to the Republican Party. But I'm afraid they will go for Trump."

Democrats Abroad is the official arm of the Democratic Party and is recognized at the state level by the Democratic National Committee.
Democrats Abroad in Thailand will hold similar primary votes through Saturday at various locations in Bangkok as well as events in Chiang Mai and Pattaya.
Teeranai Charuvastra can be reached at[email protected] and @Teeranai_C.