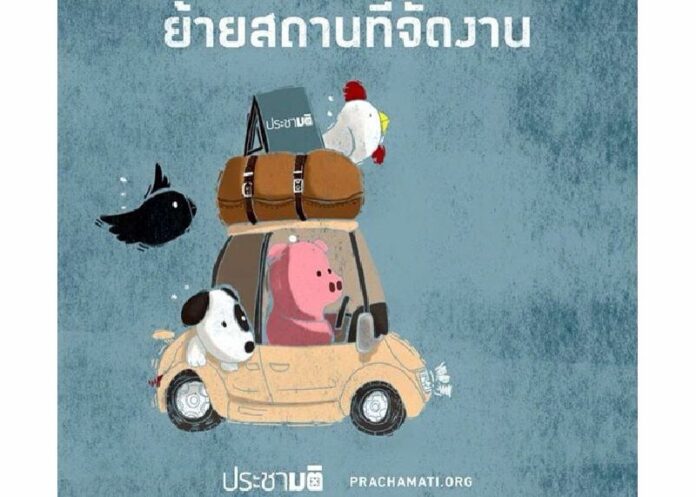 By Pravit Rojanaphruk
Senior Staff Writer
BANGKOK — Critical assessments of the draft charter will continue being made despite the crackdown on dissent, said the coordinator of a group seeking public deliberation on its merits.
Last Sunday on Feb. 28, Yingcheep Atchanont's group Prachamati was denied access to use the Bangkok Art and Culture Centre after police and soldiers told the venue's administrator that the group's activities may constitute a political gathering of five or more peeople, which is banned by the military junta.
"We will continue to go ahead, even if it risks breaking the law," said Yingcheep, who eventually held a discussion at an alternative venue but said such circumstances are undermining the credibility of the adoption process. "As a result, the next charter may not be regarded as legitimate. But we can't stop, as we have to foster participation."
Two days later on March 1, Deputy Prime Minister Wissanu Krea-ngam left no room for doubt by announcing the junta considers illegal any public deliberation except for official events held by the Election Commission.
That ban on any discussion or campaigning organized by the public isn't stopping those who believe it is necessary to adopting the law of the land.
Pro-democracy activist group New Democracy Movement also vows to defy the ban or any restriction imposed to prevent them from critically assessing the junta-sponsored draft charter, which goes to voters for adoption or rejection in July. Since its first draft was released in late January, the military government has blocked any critical discussion.
"We will push for our space despite being forbidden," said Rangsiman Rome, one of the group's student leaders.
It's become clear, Rangsiman said, that the junta considers its mission to be pushing for the public endorsement of the draft charter and believes the only space for expression is that which supports the document. That despite wide criticism of it as undemocratic and a means of deepning the military's hold over the nation.
The Election Commission has proposed those who want to criticize the draft charter can do so at its official events. Rangsiman said the group will use such a venue if it proves fair but will also stage their own public activities after the draft charter's final form is released at the end of March.
Democracy activist Sombat Boonngam-anong, who led a campaign against the previous junta-sponsored draft charter in 2007, said there's even less space for dissent this time.
"This is not fair. More space should be opened. No country is doing what the [election commission] has suggested," he said, predicting that keeping people off the streets will only see them further adopt social media to express their displeasure.
Rangsiman agreed, saying the proliferation of social media will be crucial for people for sharing critical views on the topic and will prove difficult for the junta to counter or control.
Related stories:
The Good, Bad and Ugly of Junta's 'Anti-Corruption' Constitution